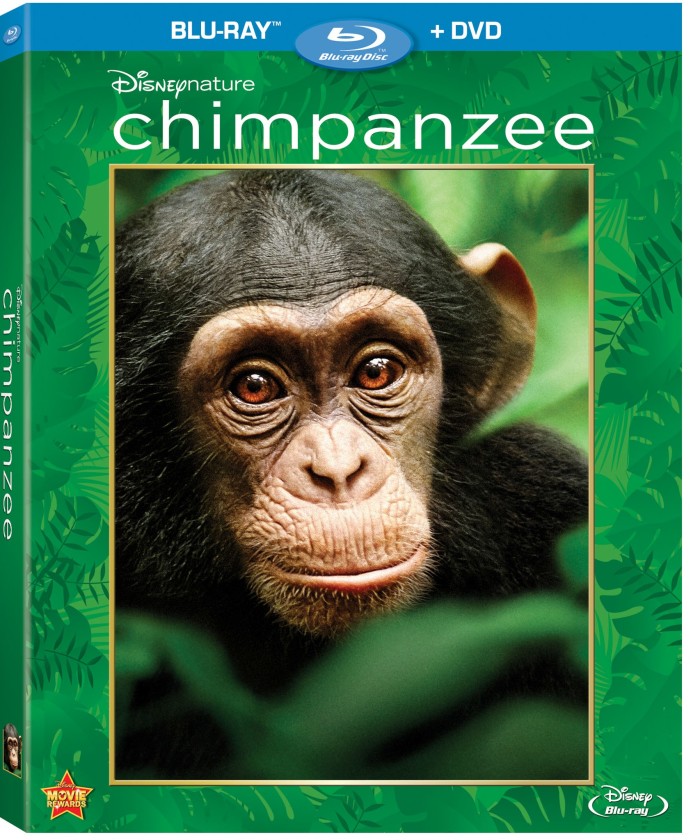 Yesterday, Disneynature's most unforgettable and heartwarming adventure yet, "Chimpanzee," debuted as a Blu-ray & Combo Pack (Blu-ray + DVD), Digital and On-Demand viewing!  My family received an advanced Blu-ray Combo Pack copy and have to tell you I think It is possibly the best nature movie that Disney has released to date.  This review is going to contain some spoilers, so if you haven't seen the movie and don't want to know what happens skip past it and enter the giveaways.
The movie takes place in Africa, deep within the great rain forest. The story follows the life of little Oscar, a special infant chimpanzee who experiences something truly amazing that will transform his life.
Oscar's world revolves around his mom, Isha, and he is completely dependent upon her for food and protection. The tiny chimp belongs to an extended family of 35 other chimpanzees. The close knit clan is lead by the very large alpha male Freddy who's responsibilities are to find food and protect his team from a rival group of chimpanzees.  The enemy has a formidable leader, Scar.  He and his followers have been battling Freddy for years and intend on winning the war over a grove of nut trees in the center of Freddy's land.  The grove is an oasis of food and his army must conquer Freddy to claim the territory in order to survive and thrive.
A storm breaks out which excites Scar's forces to slowly close in on attacking Freddy's territory.  Oscar and Isha's only chance of surviving is to make a run for it.  During all the commotion Oscar lost contact with his mom.  Isha is no where insight.  She was injured and separated from her family by Scar's gang.  Then something unexpected happened that not only is devastating to Oscar,  but also to the crew and potential filming success of the movie.  On her way back to Oscar, the injured mother is brutally attacked by a leopard and killed.
Oscar doesn't know about his mother's death and he searches for her everywhere.  He eventually realizes she isn't going to be returning.  Hours turn into days and Oscar has placed all his focus on survival rather than searching for his mother.  Without his mother the young chimp's survival looks bleak, since he totally relied on her for food and protection.  Not being strong enough to be able to crack his own nuts and his arms too small to reach honey within the tree, the hungry skinny chimpanzee must find a new mother to feed  and groom him to live.  Sadly, most of the other mothers within the group already have kids of their own and unable to help.  Again and again he is rejected by the other chimpanzees who push him away.  The poor little primate is alone and can't even find a friend to take interest in him.
At his last effort for survival,  Oscar approaches Freddy who is not known for his tolerance. It is the same chimpanzee who hunts down monkeys for meat!  Yet,  he figures by following the leader he will be able to find the best food and learn what is safe to eat.  Days pass by and their relationship grows stronger. Then just when things appear to be entirely hopeless for Oscar something TRULY AMAZING occurs.  Freddy allows Oscar to ride on his back as usually only a mother would and it is a sign the leader has completely adopted the tiny chimpanzee.  In fact, he even gives the orphan the first pick of every nut he cracks just as Oscar's mother once did. The big tough leader wholly is devoted to Oscar and they become inseparable.
The remarkable movie takes you on an emotional roller coaster.  From witnessing the beautiful scenery of the rain forest– to the heart break of Oscar's mother's death–and then on the journey of hope found in the most unlikely place makes this DisneyNature film a must see!
I loved every moment of Chimpanzee!  It kept my attention to where my usually compulsion to check my email at least three or four times during a movie did not happen! LOL.  The behind the scenes look of the making of Chimpanzee was incredible as well.  The filmmakers had to endure things like Mango flies that laid eggs in their skin, stinging bugs, poisonous snakes  and the humid conditions of the rain forest.
Also, I enjoyed the breathtaking time-lapse photography such as the growing vines, large highway of speedy ants, and watching a spider spin an entire web within seconds.  There where some comical moments as well like the scenes of the chimpanzees trying to crack nuts open with logs and some of their odd,  but comical behavior.
This film was narrated by Tim Allen,  who in my opinion added a bit of wit and charm to the commentary!
Chimpanzee Trailer
[field name= iframe4]
Chimpanzee Slideshow
[field name= iframe]
"Daily Grind" (Bonus)
[field name= iframe1]
"Oscar Looks Contemplative" (Bonus)
[field name= iframe2]
"What It Takes" (Bonus)
[field name= iframe3]
Bonus Features
DVD:
• "See 'Chimpanzee,' Save Chimpanzees"—This feature details the "See 'Chimpanzee,' Save Chimpanzees" conservation program and how for every copy of the film purchased until August 27, 2012, Disneynature will make a donation to JGI to protect chimpanzees today and tomorrow. The feature also includes an interview with Dr. Jane Goodall, DBE, founder of the Jane Goodall Institute and UN Messenger of Peace.
• Disney's Friends for Change—This feature highlights Disney's Friends for Change, a program that showcases steps that kids and families can take to make a positive impact on the world and the people and animals that live there.
• Disney's Conservation Legacy—This feature provides a look at the conservation efforts that Disney sponsors around the world.
BLU-RAY:
Everything on the DVD, plus …
ON LOCATION: THE MAKING OF "CHIMPANZEE" is a series of exciting short features that delve further into the incredible lengths the filmmakers went to tell the story of Oscar and his chimpanzee family.
30 Years in the Making—The story of the team of researchers who have been observing chimpanzees in the Ivory Coast for 30 years.
The Heart of the "Chimpanzee"—A behind-the-scenes look at how and why the film was made.
Piece of the Puzzle—A cameraman's two-hour daily trek through the forest to get to the chimpanzees.
 Don't Blame the Tool—An observation of the chimpanzees' daily lives and how they use rocks as tools to prepare their food.
 Scar's Army—An inside look at the struggles between the film's two rival chimpanzee groups who share the same forest home.
 Camp Invaders—A featurette on all the creepy, crawly creatures found at the filmmakers' forest camp.
Forest of Bees—A feature detailing how the crew spent two days wading through a sea of bees that inhabited their filming location in order to capture 20 seconds of footage.•
"Rise" Music Video—A music video featuring Hollywood Records recording artists McClain Sisters who wrote and performed the inspirational song that plays during the film's end credits.
Behind the Scenes of "Rise"—An inside look at McClain Sisters music video shoot.
DIGITAL:
"See 'Chimpanzee,' Save Chimpanzees"
 Disney's Friends for Change
 Disney's Conservation Legacy
 "Rise" Music Video
ON LOCATION: THE MAKING OF "CHIMPANZEE"
30 Years in the Making
The Heart of the "Chimpanzee
"See 'Chimpanzee,' Save Chimpanzees" conservation program
To celebrate the in-home debut of "Chimpanzee," Disneynature is proud to continue the "See 'Chimpanzee,' Save Chimpanzees" conservation program initiated with the film's theatrical release. For every purchase of the movie through August 27, 2012, Disneynature will make a donation through the Disney Worldwide Conservation Fund to the Jane Goodall Institute (JGI) to conserve chimpanzee habitat, educate the next generation, and provide care for orphaned chimpanzees.

The conservation program tied to the theatrical release will help protect 129,236 acres (202 square miles) of wild chimpanzee habitat through infrastructure investments in the expanded Tchimpounga Nature Reserve in the Republic of Congo (Congo); educate 60,000 schoolchildren about chimpanzee conservation; and provide food and medicine for nearly all of the orphaned chimpanzees at JGI's Tchimpounga chimpanzee sanctuary for at least the next year.
Social Media
Stay connected with the latest "Chimpanzee" information:
• "Like" the Facebook page at www.Facebook.com/Disneynature
• Follow on Twitter www.Twitter.com/Disneynature
• Website and Mobile Site: www.Disney.com/Chimpanzee
DisneyNature's CHIMPANZEE on Blu-ray Combo Pack
Giveaway!
Courtesy of Disney, one of my readers is going to win a DisneyNature CHIMPANZEE Blu-ray Combo Pack!  To enter the giveaway, please follow the instructions on the Rafflecopter form. Any comments are welcomed below, but won't count towards the giveaway. Only entries using the Rafflecopter form will be eligible for prize. Thank you!
[field name= iframe5]
Another Chance To Win From Disney!
Disney is also giving away a GRAND PRIZE PACK, and taking entries via Rafflecopter! Enter below, for an extra chance to enter to win:
(1) CHIMPANZEE Blu-ray Combo Pack
(1) CHIMPANZEE Inspired Alex Woo Pendant Necklace
(1) CHIMPANZEE: Making of the Film book by Christophe Boesch & Sanjida O'Connell
(1) Reusable CHIMPANZEE Shopping Bag
(1) CHIMPANZEE 'Oscar' plush toy
[field name= iframe6]