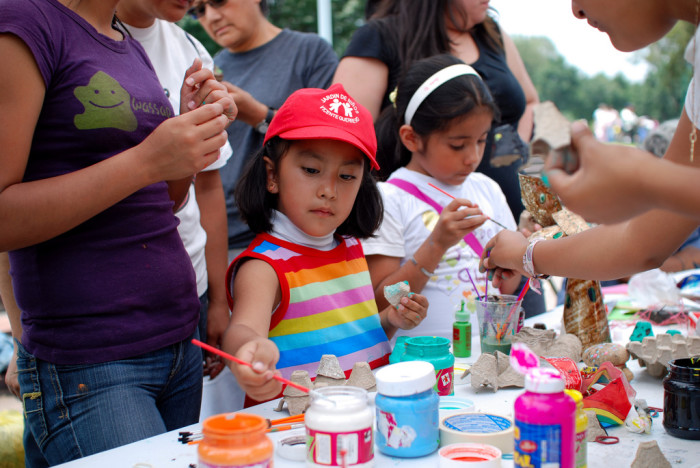 Making your own crafts with your children is one of the best moments of parenting. Eco-friendly crafts will teach them how to be environmentally aware and have fun at the same time. You will both have tons of fun reusing and up-cycling goods for these four crafts.
Crayon Shapes
If you can get your hands on a bunch of used crayons, then you can melt them down to make new ones. You can even put the wax in various molds for crayon shapes. You can get these crayons from yard sales, other parents and art classes. They would otherwise be thrown away, but you can turn them into like-new coloring tools.
Pet Toys
Old clothing that would otherwise be tossed out can be made into pet toys. Hammocks for rodents, small shapes filled with catnip for cats and chew toys for dogs can be made. You will need to help your child with sewing and finishing the product, but it is a great eco-friendly project to do together. If you don't have pets, you can donate them to shelters that need supplies.
Guitar Picks
Your music-enthusiast child can make his or her own guitar picks. Plastic that would end up in a landfill can be made into colorful picks for takelessons.com guitar sessions. Find out more about their guitar lessons by following them on Twitter. You only need one tool for punching the plastic. It's fast and easy to make functional picks. If your child doesn't take lessons, then they can turn the picks into jewelry. It's a great eco-friendly way to use up plastic.
Eco-Friendly Paints 
Your children will love making their very own eco-friendly paints with you. This project is safe, fun and has tons of possibilities for even more crafts later on. You will need pigments, binders and fillers. You can use mineral powders, flour and clay. There are lots of recipes for paint making available online. Once you have completed your paints, your children can make tons of crafts using those beautiful colors.
Other Activities
You can do so much after you complete the above projects. Coloring activities, guitar lessons and canvas painting are just a few fun things you can do together.
Making eco-friendly crafts with your family is better than purchasing over packaged and toxic products. You know exactly what goes into what you are making, but you are also reusing products that would be tossed into landfills. Everyone wins.
*This is a guest post by Becky W.
*Photo credited to Aris Gionis