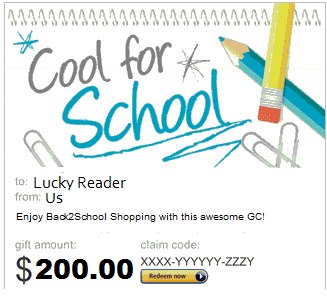 When it comes to shopping,  Amazon.com is at the top of my list for preferred places to purchase back-to-school supplies
, gifts, home essentials, DVDs, music, books, electronics and apparel.   I find the convenience, selection, and prices to be nearly unbeatable.  Not to mention, I adore the way they reward members with totally free MP3 and ebook downloads too!
Furthermore, Amazon.com is consistently searching for ways to further reduce their environmental impact. The online retailer provides  Frustration-Free Packaging that is easy-to-open, 100% recyclable and reduces the necessity to use extra shipping boxes. The eco-friendly
packaging eliminates hard plastic "clamshell" cases and those aggravating plastic-coated wire ties frequently used in toy packaging.
Did you know Online shopping is inherently more environmentally friendly than traditional retailing?  A study showed the efficiencies of online shopping result in a greener shopping experience than traditional retailing!  So, when you shop at places like Amazon.com–you are actually reducing your carbon foot print!
I've teamed up with a  group of bloggers to bring you this awesome giveaway where one lucky reader is going to win a $200 Amazon.com Gift Certificate to get some online retail shopping therapy!  PLEASE make sure you follow all the rules on the Rafflecopter form when entering and visit  MySillyMonkeys who took the time to organize this giveaway! Giveaway ends on  August 31st at 11:59pm and is open to US and Canada.  Good luck!
P.S… If you are ever looking for something quick to get someone for Christmas or their birthday…just send them an Amazon.com Gift Card!  It makes the perfect gift!  I would be happy to accept them too!  Hint Hint!
[field name= iframe]