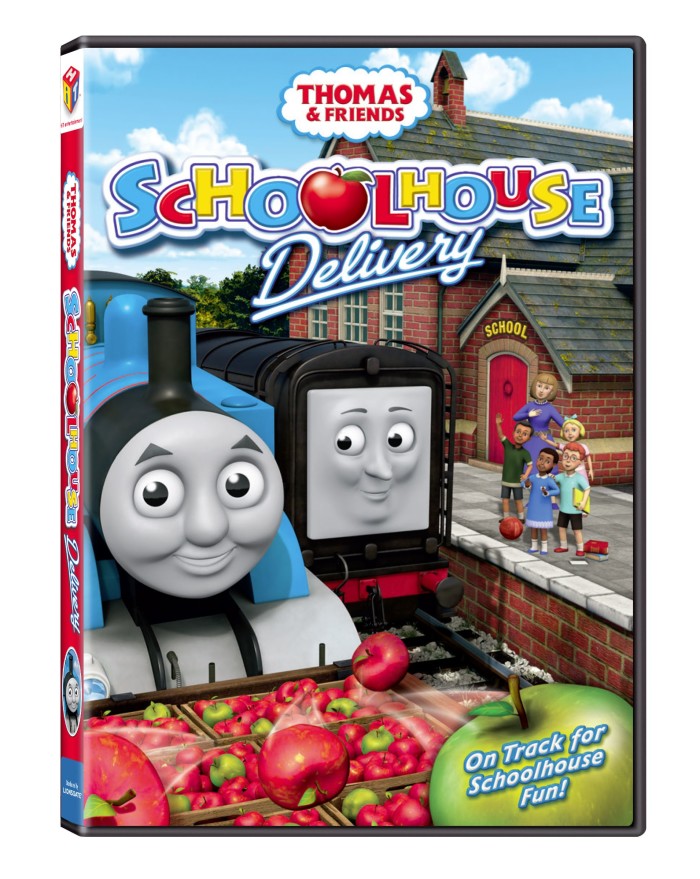 On Track To Learning In This All-New Back-To-School Release!

THOMAS & FRIENDS:

SCHOOLHOUSE DELIVERY

Available On DVD, Digital Download And On Demand

July 10, 2012 From Lionsgate and HIT Entertainment

Street Date: 7/10/12

DVD SRP:  $14.98

 

 

PROGRAM DESCRIPTION

Thomas and his engine friends are taking you right to the head of the class in the all-new, release Thomas & Friends: Schoolhouse Delivery, available on DVD, Digital Download and On Demand July 10, 2012 from Lionsgate and HIT Entertainment.  Get ready to learn about loyalty, friendship and fun with the engines on Sodor with special deliveries and new adventures on the tracks.

 For over 65 years, the award-winning Thomas & Friends has taught timeless life lessons of discovery, friendship and cooperation, inviting generations of children to enter a world of imagination through the tracks of a train and the words of a story.

DVD SYNOPSIS

School's in session and there are important lessons to be learned on the Island of Sodor. Diesel gets a hero's welcome when he makes a Really Useful delivery to the schoolhouse. Percy gets a lesson in responsibility after he runs into trouble trying to be like the bigger engines! Henry gets trained in how to handle health and safety emergencies; while Hiro teaches Thomas about his happy homeland. Join the Steam Team for a bright journey to the Head of the Class!

 

Episodes include:

"Diesel's Special Delivery"

"Being Percy"

"Henry's Health and Safety"

"Happy Hiro"

 

DVD BONUS FEATURES

"The Mighty Magnet" Game

Guess Who? Puzzles
Thomas & Friends Schoolhouse Delivery DVD Review
Thomas the Tank Engine and his friends are back again making tracks to great destinations in  the "Thomas & Friends Schoolhouse Delivery   DVD.  The DVD contains three fourteenth season episodes and one fifteenth season episode from the British children's television series and has an approximate running time of 48 minutes.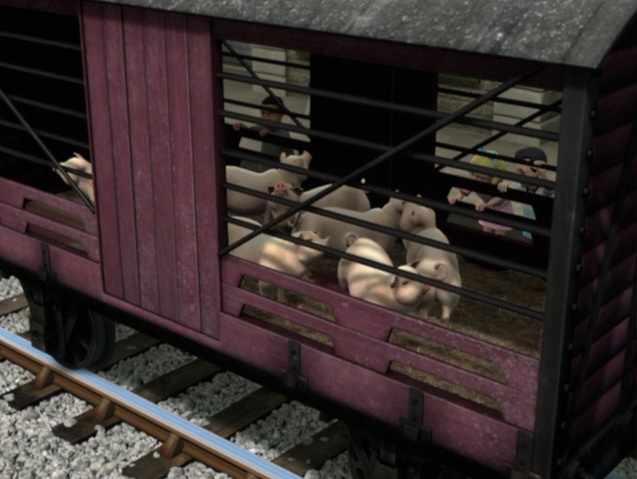 In "Diesel's Special Delivery" it is market day on the island of Sodor.  The engines were very busy taking freight cars of fruits and vegetables to market.  All except Diesel, who had to haul slate to the school,  since the roof was broken and it was going to rain.  At Maithwaite Station, Diesel notices children cheering and clapping for James.  Diesel gets jealous when James begins bragging about how he has been clapped and cheered all morning, because he has a very special special load.  Wondering just what was so special about Jame's delivery, Diesel finds out James is carrying pretty, round,  pink piglets to Farmer's Trotter's Farm.   Wanting to be clapped and cheered as well, Diesel makes one mistake after another until he realizes what he has done wrong.  Following being scolded by Fat Controller, he sets off to put everything right.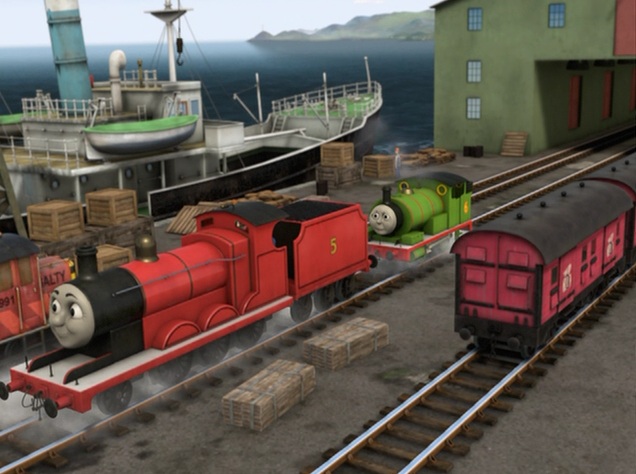 Episode two on the DVD is "Being Percy."  It was a sunny day on the island of Sodor.  The engines clickety-clacked along the tracks to Brendam Docks.   The docks were extremely busy and Percy was there to collect the mail cars.  Thomas and James were in Percy's way of collecting the cars.  Percy asks them politely to move, but neither engine acknowledged him or budged.   Percy frustrated that he won't be on time with his mail and a useful engine, sees Gordon thundering into the docks demanding everyone to get out of his way.  Salty moved out of Gordon's path and Percy took notice.  Then Percy gets a thought in his funnel to be just as load as Gordon.  After causing an accident, he learns a valuable lesson that he is happy and content being Percy.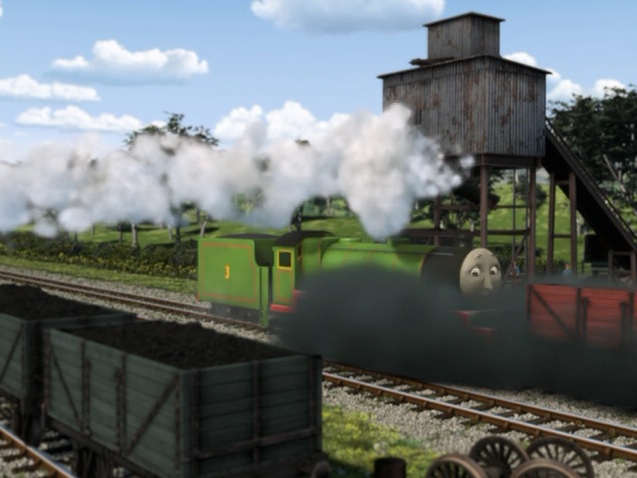 The third story is "Henry's Health and Safety."  The engines all striving to be really useful learn that sometimes things can go wrong.  One morning Henry was huffing along happily when he clickety-clacked around the bend straight into an old freight car resulting in his piston rods to be bent.  Hiro pushes him to the Steamworks where Victor tells Henry all about health and safety.   Henry learns how healthy and safety is about watching out for things that might make accidents happen.   However, Henry takes things a little too far and learns that there is a time and a place for health and safety and he should ask before removing a health and safety risk.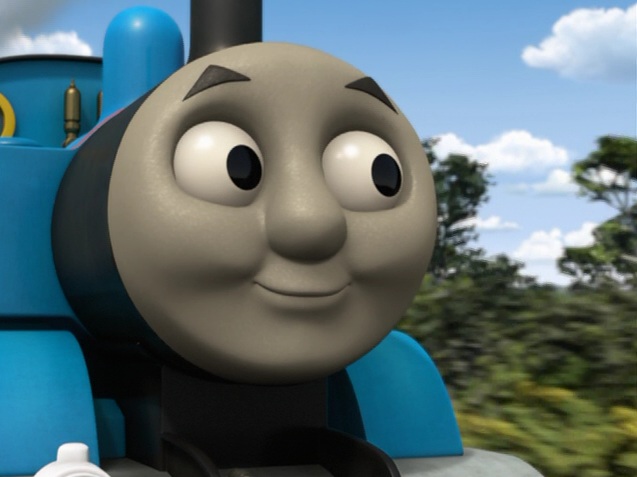 The last episode on the DVD is "Happy Hiro."   Thomas is a very cheerful tank engine and wants all his friends to feel just as cheery.  One morning at Knapford Station, Thomas becomes puzzled as to why Hiro wasn't hooting and tooting and was worried he was sad.  Later on Thomas learns  Hiro is unhappy, due to missing his home in Japan and tries to cheer him up.  Yet he actually has done the exact opposite and becomes sad himself.
My son adores Thomas & Friends and has already seen these episodes before.  He still enjoys watching them over and over again! If your child is a Thomas & Friends fan pick up Thomas & Friends Schoolhouse Delivery DVD.  Like always, the four episodes in this DVD have some important lessons to be told and are great for watching anytime!  Plus your kiddo will enjoy the two fun games on the DVD.  Additionally,  there is also a Thomas & Friends Hide & Peep Mystery book included where they can choose their own Thomas adventure story! 
Connect using these social media sites:
Website: www.lionsgate.com/thomasandfriends
Facebook: http://www.facebook.com/thomasandfriends
BUY IT!
Thomas & Friends Schoolhouse Delivery DVD can be purchased at Amazon.com for $9.99!
[field name= iframe]
Thomas & Friends Schoolhouse Delivery DVD Giveaway!
Courtesy of Lionsgate And HIT Entertainment, one reader will win the new Thomas & Friends Schoolhouse Delivery DVD! To enter the giveaway please follow the instructions provided on the Rafflecopter form. Any comments are welcomed below, but won't count towards the giveaway. Only entries using the Rafflecopter form will be eligible for prize. Thank you!
[field name= iframe1]