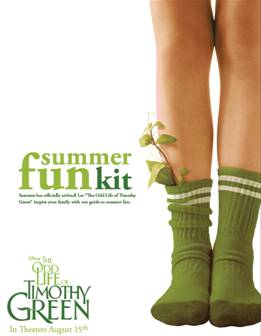 The Odd Life Of Timothy Green is projected to be the most magical movie of the summer!  With it debuting in less than a month (August 15th), I have a brand new Summer Fun Kit inspired by the film to share with you! Hopefully,  it will get you even more excited about the upcoming Disney movie!
Directed by Peter Hedges ("Dan in Real Life," What's Eating Gilbert Grape?"), the movie is about a happily married couple, Cindy and Jim Green (Jennifer Garner and Joel Edgerton), who can't wait to start a family but can only dream about what their child would be like.  When little Timothy (CJ Adams) turns up on their front door one stormy night, Cindy and Jim and their small town of Stanleyville discover that from time to time the unforeseen can provide some of life's greatest gifts.
Also, watch the newest TV spot. Once you meet Timothy you'll never be the same!
[field name= iframe]
Cast includes Jennifer Garner, Joel Edgerton, Dianne Wiest, CJ Adams, Rosemarie DeWitt, Ron Livingston, M. Emmet Walsh, Odeya Rush, Lin-Manuel Miranda, Lois Smith, with David Morse and Common.
The Odd Life Of Timothy Green is rated PG and has an approximate running time of 100 minutes.
Social Media Sites
Stay connected with The Odd Life Of Timothy Green using these social media sites:
"Like" THE ODD LIFE OF TIMOTHY GREEN on Facebook: http://www.facebook.com/OddLifeMovie
 Follow THE OFF LIFE OF TIMOTHY GREEN on Twitter at: https://twitter.com/#!/OddLifeMovie
Download FREE Summer Fun Kit!
Download easy tips to stay cool and safe in the sun, delicious recipes, and fun craft ideas to keep the kids busy this summer.  The Summer Fun Kit is brought to you by Disney and is FREE!
I love the Hunny Bee Cookies recipe included in the kit!  Check it out!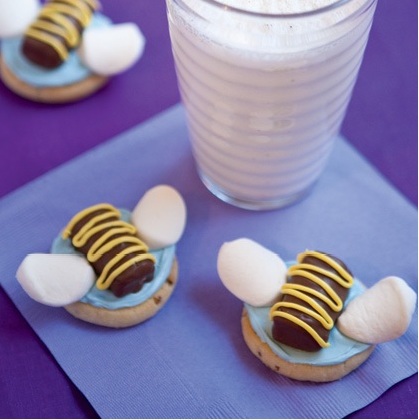 Ingredients
12 Round Cookies
1 and ½ cups Light-Blue Frosting
1 bag TWIX ® Mini Candies
12 Marshmallows
½ cup Yellow Frosting
Directions
Step 1: Frost 12 round cookies (we used Keebler® Sandies® Pecan
Shortbread) with 1 and ½ cups light-blue frosting and place a
Twix Mini in the center of each.
Step 2: For the wings, use scissors to cut the ends from 12
marshmallows, then press them onto the cookies, sticky side down.
Step 3: Spoon ½ cup yellow frosting into a ziplock sandwich
bag, snip off a corner, and pipe stripes onto the bees.
all recipes provided by
www.spoonful.com
"Disclosure – Movie information, photos, and Summer Fun Kit provided by Disney"