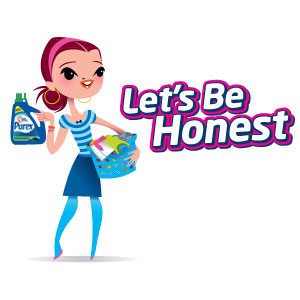 Have you had a chance to check  out Purex's "Let's Be Honest" videos?  They are absolutely hilarious! The short clips feature comedian Molly Erdman and poke fun at life, laundry issues, and awkward moments.  Whether it's the truth about not wanting to pay premium prices for laundry detergent or being honest about skinny jeans,  Purex is shedding some light and laughs on everyday absurdities.
My personal favorite "Let's Be Honest" video is when Molly is making an attempt to get her skinny jeans buttoned!  That video looks all too familiar in my home and I can relate to trying to yank the material far enough over my booty to get them up and closed.  Hence the word "skinny,"  suggests they were designed for only skinny people!
[field name= iframe]
Purex had generously supplied me with three coupons good for FREE bottles of new Purex Triple Action detergent to reward a reader ($18 value).  To enter the giveaway for your chance to win,  please follow the instructions provided on the Rafflecopter form. Any comments are welcomed below, but won't count towards the giveaway. Only entries using the Rafflecopter form will be eligible for prize. Thank you!
[field name= iframe1]