The past few months I have been exploring the health advantages of consuming raw foods and nutritionally loaded superfoods.   I already shared with you about switching my daily cup of coffee with brewed organic ground cacao beans to naturally increase my energy level.  Now,  I want to introduce to you a group of great tasting products manufactured by OMG! Organic Meets Good that makes it easy to "superfood your day!"
These two tasty and powerful multi-ingredient products are 100% Organic, Vegan, Non-GMO, Kosher, and Gluten-Free.  Incredibly easy to use, OMG Maqui Berry Antioxidant and Pomegranate Vitamin powders can be sprinkled on granolas, ice creams, yogurt, or blended in juices, smoothies, milkshakes, and recipes.   A single 2 tbsp serving of the nutrient rich superblends gives an extra antioxidant boost your body needs.
In contrast to other nutritionally packed berry powders I have noticed in the marketplace, OMG! products are sweetened with a touch of organic stevia to enhance the flavor. Additionally, they are not raw indicating the powders tend to be more applicable, water-soluble, and also have a superior overall taste. Even though raw foods are assumed to have more of a nutritious punch, the company has compensated by incorporating multiple ingredients to their powders to make them as healthy, giving the items a fantastic taste. I tried both powders and found them to be absolutely delicious—not too bitter or tart and just the perfect blend of sweetness!
Maqui Berry Antioxidant Powder Superblend
Maqui Berry has the highest amount of antioxidants of any fruit known. Antioxidants remove free radicals from the body, leading to a decrease in cell damage, and ultimately assisting in the anti-aging process. In addition to the antioxidants from Maqui Berries, our Maqui Berry superblend contains several other amazing ingredients like acai powder and a green tea extract, both of which have beneficial compounds. The green tea extract scored more than 10,000 ORAC units per gram! Together, these ingredients make a healthy and tasty superblend. Add the Maqui Antioxidant Superblend to a smoothie, dressing, or your daily granola and superfood your day!

Ingredients:
Organic Maqui Berry juice powder, Organic Acai Berry juice powder, Organic Orgen-GT, Organic Vanilla Flavor, Organic Mixed Berry Flavor, Organic Brown Rice Emulsifier Organic Stevia (Reb A 95%)
Pomegranate Vitamin Powder Superblend
Pomegranate has been consumed for centuries for its magnificent properties. With its high quantity of vitamins, it helps strengthen our bodies' immune systems by fighting against sickness. Our pomegranate superblend combines ingredients like Orgen-Kid (a booster that contains several healthy extracts), Camu Camu powder, and maqui berry powder, providing substantial amounts beneficial nutrients like Vitamin C, Vitamin B12, iron, and potassium, just to name a few. Just add the powder to a yogurt, shake or any other food in need of a healthy and tasty boost! You won't be disappointed.

Ingredients:
Organic Pomegranate Powder, Organic Maqui Berry juice powder, Organic Orgen-Kid, Organic Vanilla Flavor, Organic Brown Rice Emulsifier, Organic Camu,  Camu powder, Organic Stevia (Reb A 95%)
Raw Maqui Berry Brownies
The incredibly awesome individuals at Organic Meets Good created this wonderful recipe for Raw Maqui Berry Brownies which includes their Maqui Berry Antioxidant Powder, dates, and walnuts.  Not being a large enthusiast of walnuts,  I made a decision to tweak the recipe ingredients somewhat by incorporating salted sunflower seeds as an alternative for the walnuts, omitting the salt, using organic raw cacao powder, and increasing the vanilla.  OMG! did it ever turn out scrumptious!  The brownies reminded me of those energy chunks I have searched all over to find the recipe for, but tasted much better than what I often pay for at the local health store.  A few things  I LOVE about this recipe is that the stevia in the Maqui Berry Powder and natural sugar from the dates eliminates the necessity to include additional table sugar.  Furthermore, the rich flavor of the raw cacao powder compliments the slight tart taste of the Maqui Berry.  I can't describe in words how amazingly good these mouthwatering  bites taste.  I do want to warn you although that this is not a relatively inexpensive recipe to make and you are likely to spend considerably more for organic ingredients.  Nevertheless, you get what you pay for and once you taste these chocolaty antioxidant energy squares you will end up undoubtedly hooked!  Here is my version of OMG! Raw Maqui Berry Brownies.
Raw Organic Maqui Berry Brownies Recipe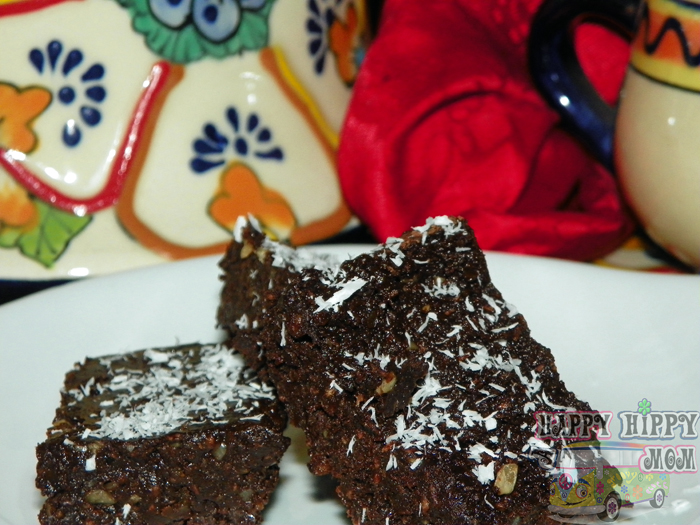 Ingredients
3 Tbsp OMG! Maqui Berry Antioxidant Powder
12 Pitted Medjool Dates, Unsoaked
⅓ Cup Unsweetened Organic Cacao Powder
3 Tbsp Organic Almond Butter
3 Tbsp Organic Coconut Flakes
3 Tbsp Organic Salted Sunflower Seeds
1 Tsp Organic Vanilla Extract
2 Tsp Water
Directions
Combine OMG! Maqui Berry Powder, dates, cacao powder, almond butter, coconut flakes and vanilla in food processor. Process until mixture begins to stick together.
Gradually add the water one tsp at a time until ingredients form a thick consistency.
Add sunflower seeds and process briefly.
Transfer mixture to a container and press down to form a square shape.
Chill for 2 hours.
Optional: Sprinkle with additional flaked coconut prior to serving.
About OMG! Organic Meets Good
[field name=iframe]
Stay Connected
Stay connected with OMG! Organic Meets Good using these social media sites:
Like the OMG! Organic Meets Good Facebook page.
Follow OMG! Organic Meets Good Twitter
Visit the OMG! Organic Meets Good Website
Buy it!
OMG! is available on Amazon and in several stores throughout California.  The company is slowly expanding into other states and countries as well. Use their store locator to find a store near you!