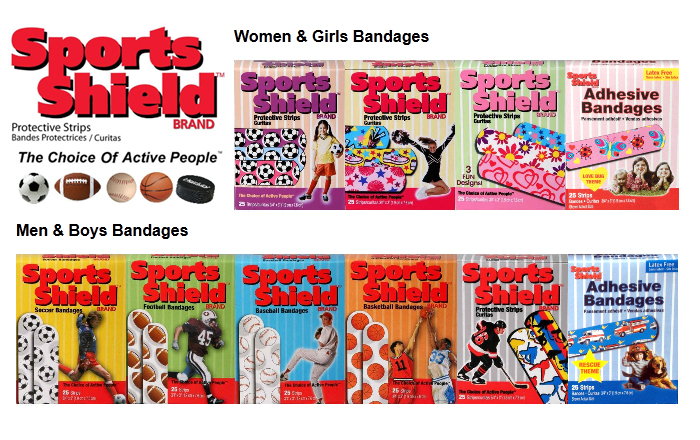 On your back to school shopping ventures don't neglect to pick up a package of your child's favorite bandages!  Scrapes, bumps, and boo-boos are a common part of growing up, therefore it's always best  to have a box of healing bandages ready when life pitches your little one a painful curve ball.
Thanks to Sports Shield and its newest kid-themed adhesive strips, kids don't have to wear those ugly brownish band-aids to cover their boo-boos.  Now  you can flip  that frown upside down by shielding cuts, scrapes, and minor wounds with soft and flexible bandages which are decorated with your kid's preferred sports theme.  Even though the main objective is to protect and help in healing, Sports Shield Brand bandages are a great way to show passion and adoration for your beloved sport.
Sports Shield bandages are irresistible to all age groups and gender, manufactured from ultra lightweight, latex free material and provide top-quality protection and flexibility for even the most active individuals. Their full, non-stick pad design delivers more wound-coverage and readily conforms to the body.  It's like you're not even wearing them!
Sports Shield sports themed bandages are available in two different sizes for adults and kids and come in eight additional designs: "Baseball," "Basketball," "Football," "Soccer," "Hockey," "Cheerleading, "Girls Soccer" and "Fun Fashion."
I received a sample of the Sports Shield Brand Soccer Bandages and was pleasantly surprised in how soft the bandages were.  The breathable material is much lighter than typical protective strips and it moves along with your body.  With a son who freaks over the slightest scrape or cut,  these cute little wound protectors will surely come in handy!  Drop a package in your purse or sports bag just in case you need one at your child's next game!
They only thing I noticed is that the adhesive doesn't seem to holdup under damp conditions and the bandages aren't water proof, so if your child gets wet or perspires a lot you are likely to have to change the bandage.  Make sure you have plenty of them ready to be applied.
Available July 24th, the company in addition offers two new non-sports- themed bandages designs including the Rescue" themed bandage featuring fire trucks and ambulances–perfect for boys on the go and a "Lady Bug" theme adorned with butterflies and ladybugs– cute for little girls.
The new Sports Shield bandages will be available July 24, 2012  from The Jolly Group.  Suggested retail price for 25 count packages is $2.50 each and $4.00 for the super size variety pack with 16 different themed bandages.
Visit www.sportsshield.com for more information, to purchase products and more.