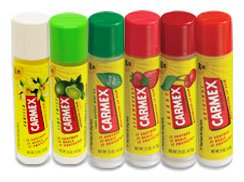 There is nothing more displeasing than granny lips!  What exactly are granny lips you may ask?  They are those dried out,  crusty,  flaky, wrinkled lips you get attributable to  environmental damage from too much sun exposure,  wind, or cold weather.  Granny lips are unattractive, painful, and make putting lipstick on almost impossible!  Furthermore,  no person desires to kiss sticky,  revolting,  scaly lips that feel and look like they belong on a reptile!
The simplest way to prevent the unpleasant granny lips is to protect your kisser with a good moisturizing lip balm that contains SPF 15 sunscreen.  Carmex offers fun lip balm sticks with an ultra-moisturizing formula and SPF15  Water Resistant Sunscreen to help soothe and heal chapped lips. Each easy to apply stick leaves your lips kissably smooth and is available in six distinct flavors including: Original, Cherry, Strawberry, Vanilla , Lime Twist and NEW Pomegranate.

Carmex was extremely generous and sent me a collection containing their latest line of lip balm sticks with SPF 15 along with a very cool beach tote.  I've trusted my lips to Carmex products for many years, so I basically knew I'd love the newest Pomegranate flavor as well.  The lip blam stick possesses a great mild sweet scent that is ideal for the summer months. It doesn't leave lips feeling greasy or heavy and glides on beautifully!  A pleasant addition to their already fantastic brand of lip balms!
Don't be caught with embarrassing granny lips!  Pack a Carmex Stick and whip it out when needed and feel the tingle!  Containing  germ-killing menthol and phenol, Carmex Sticks speed the healing process.  Carmex elegantly said it best "It's a proven fact: soft lips are just more kissable. And since you never know when someone might want to nail you with a big sloppy one, you ought to keep Carmex lip balm with you at all times."
Stay Connected With Carmex
Stay connected with Carmex using these social media sites:
Like Carmex Facebook Page
Follow Carmex on Twitter
Visit the Carmex website
 Carmex Summer Fun Kit Giveaway!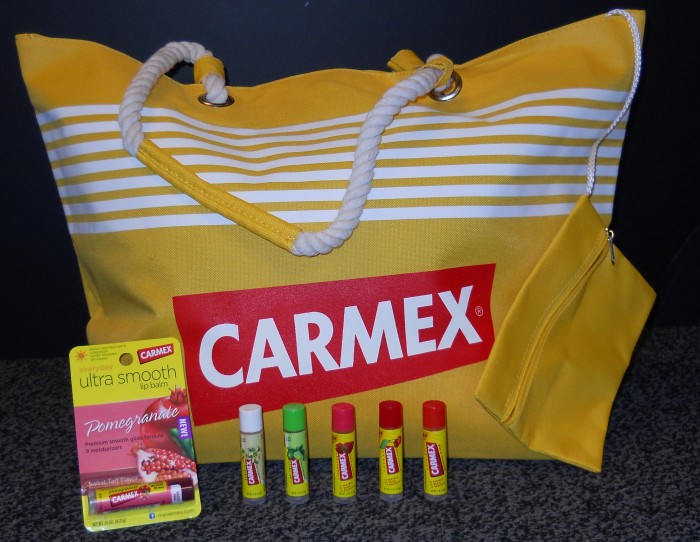 Courtesy of Carmex,  one lucky reader will win a Summer Fun Kit including a collection of six Carmex Sticks with SPF 15 and a fun beach tote! To enter the giveaway please follow the instructions provided on the Rafflecopter form. Any comments are welcomed below, but won't count towards the giveaway. Only entries using the Rafflecopter form will be eligible for prize. Thank you!
[field name= iframe]
"Disclosure: The makers of Carmex contacted me and provided the products for review, but all comments/ideas/opinions are of my own."