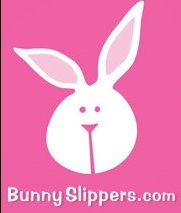 Do you have a favorite pair of slippers?  I've got a pair I wear the first thing each morning for taking the dogs out.  I'm generally half asleep and the slippers are significantly more comfy and simpler to put on than my FiveFinger shoes.  Those take time and effort in order to get on my feet when I'm thoroughly conscious,  let alone being barely alive at 7 a.m.  Also, I do quick errands in my slippers and you can see me scuffing around the house the whole day in them too.  They are severely worn out from daily use and need replacing, so as you can imagine I was delighted when a representative from  Bunnyslippers.com, an online retailer based in Portland, Oregon asked me to review two pairs of  adorable slippers!
You're probably thinking by the name, obviously Bunnyslippers.com specializes in cute fluffy bunny slippers.  You would be correct!  Bunnyslippers.com is your one stop shop for "all things bunny and bunny-slipper related" and currently offers eight varieties of high quality plush Bunny Slippers featuring adjustable ears and cotton ball tails.  But believe it or not,  the company additionally offers a wide assortment of  animal slippers, novelty slippers, stuffed animals,  microwavable slippers and other unique gifts such as Hooded Towels as well as cool items for the home, office and kitchen.   There's even a whole selection of Children's slippers to keep your precious baby's tootsies warm – from soft Duck Baby Booties,  to toddler's cushy Grizzly Bear Paw Slippers, to kid's Fuzzy Bumble Bee Slippers –  that are all affordably priced ready to pamper their little feet.
After looking at the variety of Bunnyslippers.com slippers for women,  I knew immediately I wanted the Monty Python Killer Rabbit Slippers!  These are the Holy Grail of all slippers and I had to have them!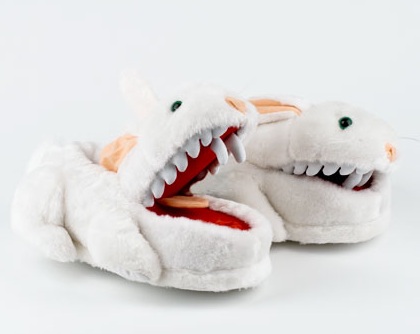 Description:
For fans of Monty Python's Holy Grail, we bring you the Killer Rabbit Slippers with Big Pointy teeth. Beware, The Killer Rabbit of Caerbannog "has a vicious streak a mile wide!" Be sure to keep a Holy Hand Grenade on hand in case these slippers ever turn on you. Comfortable, yet deadly, the killer rabbit's sharp-toothed mouth bounces up and down as you walk. Featuring an elastic back, these slippers fit most, up to Mens size 10.
When my son spotted the slippers he flipped out!  He had a blast walking around the house with them!  I had a tough time prying  them away from him so I could try them on.   OMG…these are incredibly plush making your feet feel like they're walking on clouds.  I just adore the way the mouth area flops open whenever you walk and the pointy teeth show.  The slippers match up with my disposition most mornings!  One never knows when I might  bite before having my cup of organic brewed chocolate!
I actually seriously considered taking my Flip Camera  to Walmart and wearing the Monty Python Killer Rabbit Slippers while doing my shopping to see what kind of reaction I would get!  I guarantee I'd undoubtedly get some strange looks!  I  still may do it and share the video on Youtube.  On the other hand, I'm a tad concerned about getting them dirty, considering that the slippers can't be machined washed and only surfaced cleaned.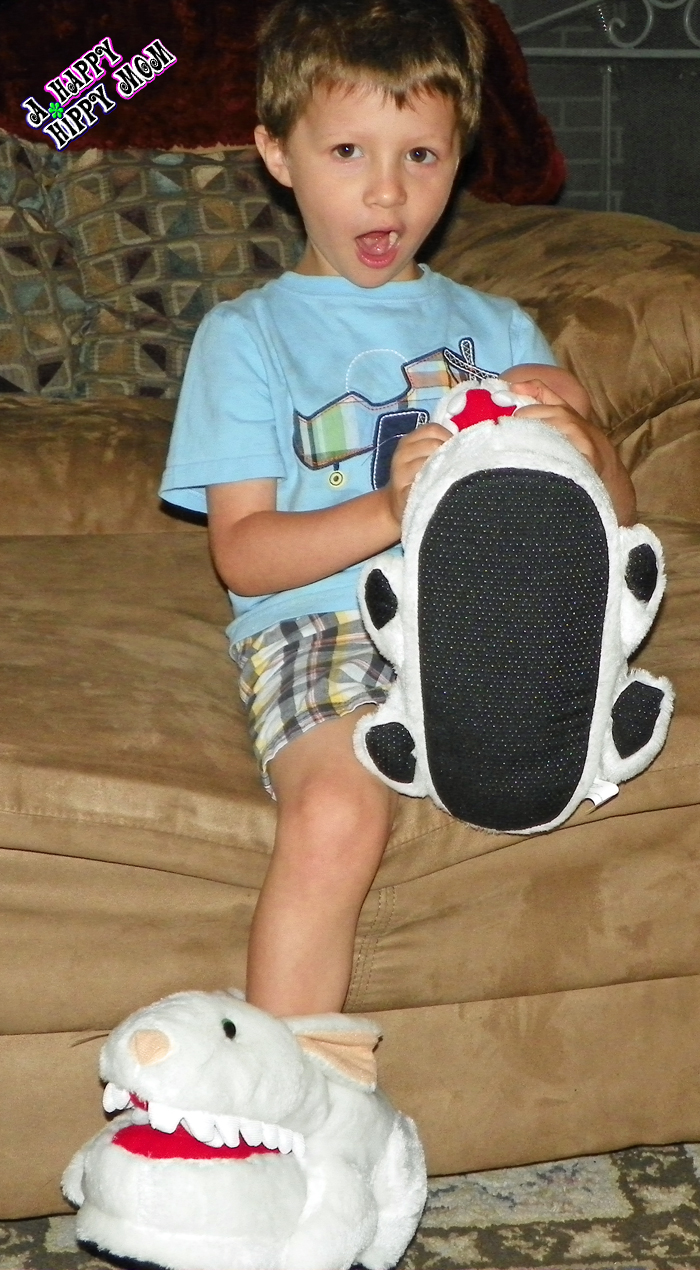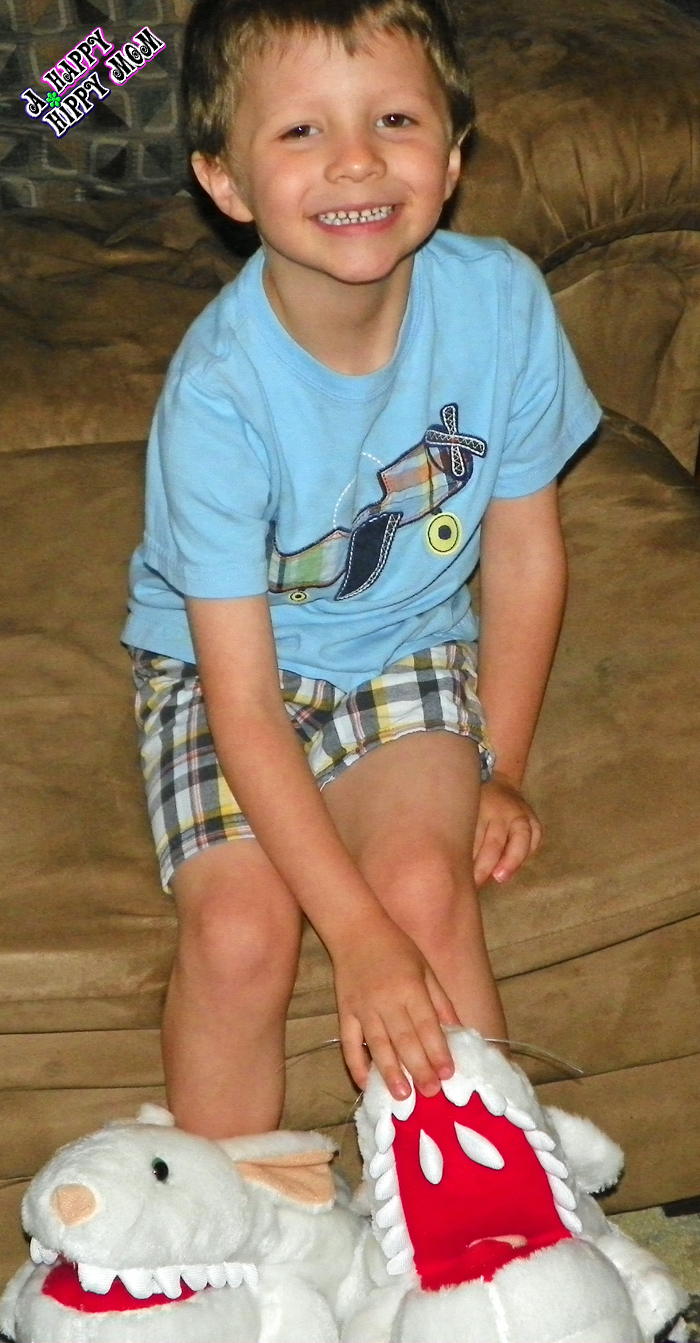 I additionally loved the look of the Blue Mouse Sock Slippers and made a decision to review them as my second choice.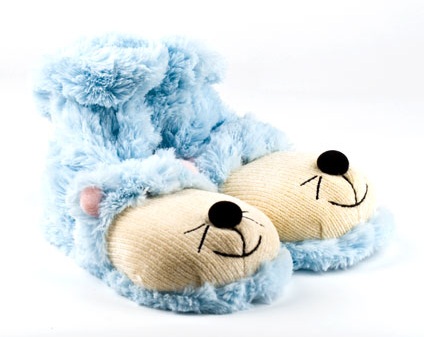 Description:
Slocks? Soppers? Sock Slippers or Slipper Socks? No matter what you call them, this Blue Mouse design, a new product at Bunnyslippers.com, represents a breakthrough in plush technology, enveloping both the foot and its attached ankle in soft, fuzzy and self-contained comfort. Rendered in a berry shade of blue, they make perfect accessories for the animal enthusiast. One size fits most, with internal elastic bands to keep feet in their place.
I'm extremely delighted with these slippers.  They're quality built, silky soft, and designed beautifully!  There is absolutely no worries of stubbing your toes when wearing these lovely Blue Mouse Sock Slippers.  The toe area is super cushioned and your feet are pampered in the softest fabric. The slippers are GORGEOUS!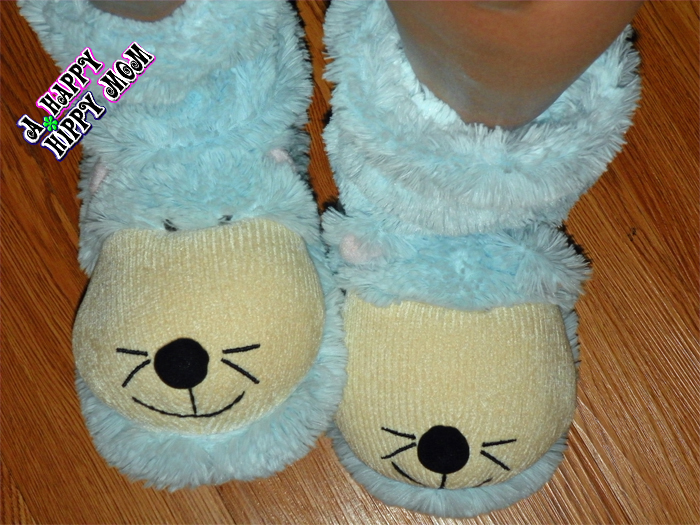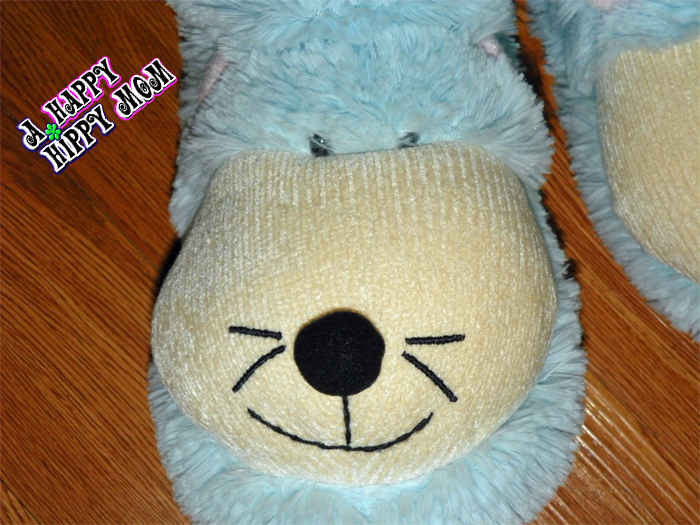 Slippers make a wonderful gift idea regardless of the special occasion or time of year!  I know many people associate giving slippers as items during the Christmas season, yet they also make great birthday presents, wedding and anniversary gifts, baby shower gifts, get well items, and humorous gift ideas to give at company parties.  For instance, for that coworker who has a tendency to arrive  late to work each morning giving the impression  he hasn't slept in weeks and the king leader of the walking dead, surprise him with a pair of eye-popping Zombie Slippers to get his heart pumping again. The ghoulish silky green slippers come complete with chipped teeth, a tongue that protrudes from the mouth and faux hair.  He may just convert back into part of the living world once he engulfs his feet in these super deluxe slippers.  Who knows he might even get some work done!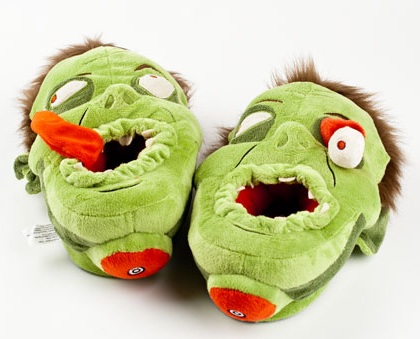 Bunnyslippers.com has slippers for the entire family!  From ages 1 to 100, there is something for everyone there!  Check them out using these social media sites:
Bunnyslippers.com on Facebook
Bunnyslippers.com website
Bunnyslippers.com blog
Monty Python's Killer Rabbit Slippers Giveaway!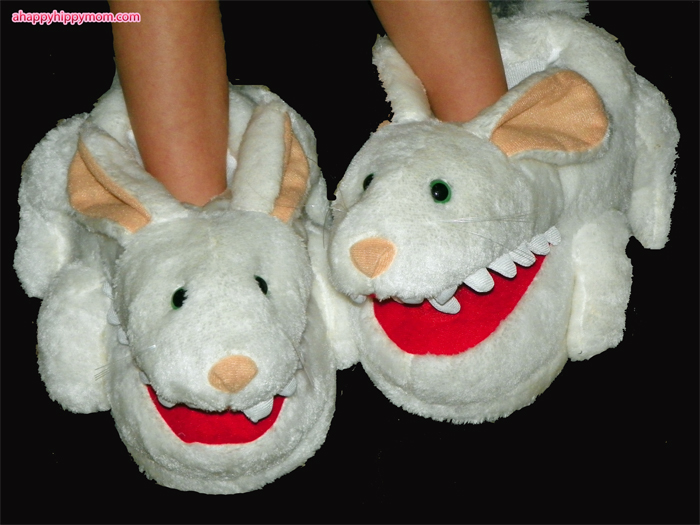 Courtesy of Bunnyslippers.com, a lucky reader is going to receive a pair of Monty Python's Killer Rabbit Slippers!  To enter the giveaway please follow the instructions provided on the Rafflecopter form. Any comments are welcomed below, but won't count towards the giveaway. Only entries using the Rafflecopter form will be eligible for prize. Thank you!
[field name= iframe]