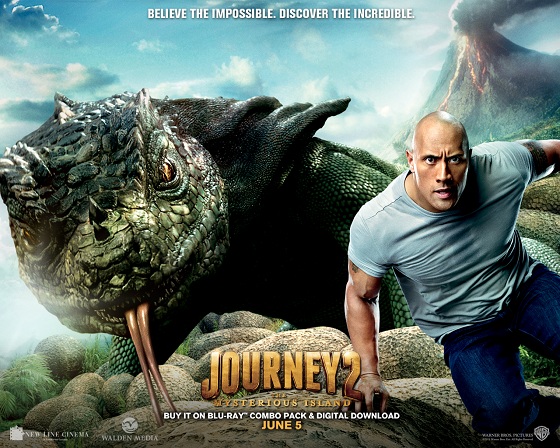 Warner Bros. proudly announced the release of Journey 2: The Mysterious Island on DVD and Blu-Ray; yesterday (June 5th 2012) along with the Journey 2: The Mysterious Island Blog App!
Movie Synopsis
Sean Anderson (Josh Hutcherson, The Hunger Games) finds a hidden signal that he believes will lead him to his long lost grandfather (Michael Caine, Miss Congeniality). With the help of his new step father (Dwayne "The Rock" Johnson, The Scorpion King), Sean finds a map and starts his adventure which leads him to Kailani (Vanessa Hudgens, High School Musical) and the island of Atlantis! Sean and his friends battle giant bees, killer lizards, a volcano of gold, and electric eels to escape the lost city and make their way home!

[field name= iframe]
In celebration of the release of Journey 2: The Mysterious Island on DVD and Blu-Ray, I have this fun Journey 2: The Mysterious Island Blog App to present you.  The app. features:
Activities: Choose Your Own Adventure! Spin the wheel to get your own personalized adventure! Will you brave the wilds of Family Movie Night or map your house and have your own treasure hunt!
Quiz: Would You Survive The Mysterious Island!? Are you a Wilderness Warrior or a Timid Trekker? Take the Mysterious Island quiz and find out how you would fare in the outback of Atlantis!
[field name= iframe1]
My Results
The wheel landed on Shrink Tag for the activity.  I think this activity would be especially fun to play with your children during a birthday party to win prizes, or perhaps just to keep them active and busy this summer!
The first rule of island biology is that small animals become large, and large animals shrink and become small. Well… in Shrink Tag you have to "shrink" all of your friends to win!
[field name= iframe2]
Where: Outside (backyard, playground, park)
Objective: Shrink your friends to win!
Number of Players: Three or more
How to play:
1) Pick straws, roll dice, or flip a coin to determine which player will be "it".
2) The player who is "it" must tag other players to shrink them.
3) Shrunken players must get down on their hands and knees and stay still on the ground and wait for their teammates to un-shrink them.
4) Players who are not "it" can un-shrink their teammates by leap frogging, or jumping over them.
5) The player that is "it" must shrink all of his friends to win!
Survival Tips:  Dress up in your best adventure gear before playing the game. Grab a hat, canteen, and maybe even some adventure boots — anything that will get you ready for a Shrink Tag adventure!
I'm a Timid Trekker!
I answered honestly on the Mysterious Island quiz and the results show I'm a "Timid Trekker!"
Well… with you sense of adventure, we may need to call in the rescue team. Your definition of an outdoor adventure is probably a long day of tanning on the beach : ) You would need some serious training in smoke signals, and fire starting before starting your "journey" on The Mysterious Island!
I definitely would not survive the island and would most likely be the first to get eaten by something hideous!
Journey 2 The Mysterious Island DVD Giveaway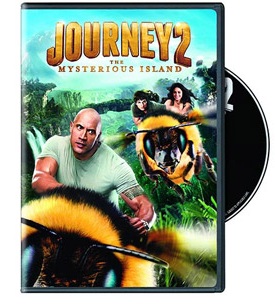 Courtesy of Warner Bros, a lucky reader will win a Journey 2 The Mysterious Island DVD!  To enter for the chance to win, please take the Mysterious Island quiz on the app above and share your results on the Rafflecopter form.  Any comments are welcomed below, but won't count towards the giveaway. Only entries using the Rafflecopter form will be eligible for prize. Thank you!
[field name= iframe3]