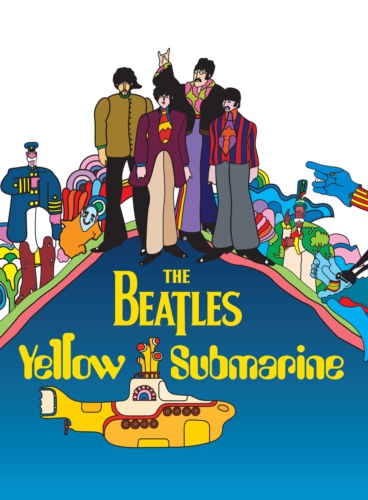 Here is something that might take you back to memory lane!  Remember the 1968 Beatles film animated feature film Yellow Submarine?  Previously out of print, the animated feature film was digitally restored in 4K digital resolution for the first time by Paul Rutan Jr. and his team of specialists at Triage Motion Picture Services and Eque Inc.  The new restored version of Yellow Submarine makes its worldwide digital release debut today, exclusively on  iTunes!  How cool is that!
I'm a Beatles fan and ashamed to say I have never seen Yellow Submarine.  However, the restored version on iTunes is tempting me to watch it.  Apparently, because of the fine design of the hand-drawn original artwork, no automated software was utilized in the digital clean-up of the film's restored graphic elements. It was all completed by hand, frame by frame.  In a recent review by the Times of London, it acclaimed the film as "a masterpiece of Pop Art."  The movie sounds interesting!
Additionally, the film includes iTunes Extras and bonus features including a short making-of documentary titled "Mod Odyssey", the film's original theatrical trailer, audio commentary by producer John Coates and art director Heinz Edelmann, a number of brief interview clips with others involved in the film, storyboard sequences, 29 original pencil drawings, and 30 behind-the-scenes photos.
The movie's soundtrack album is also available today on iTunes, along with various iTunes-exclusive Yellow Submarine song ringtones and alert tones of classic audio clips from the film. The restored film is also available on DVD and Blu-ray, and the soundtrack album has also been reissued on CD.
Personally, I would watch the film just for the music alone,  which inspires love, peace, and hope.  Songs in Yellow Submarine consist of favorite Beatles tunes including "When I'm Sixty-Four," "Lucy in the Sky With Diamonds," "All You Need Is Love," "It's All Too Much," "Eleanor Rigby,"  and of course "Yellow Submarine!"
Yellow Submarine synopsis:
Once upon a time… or maybe twice, there was an unearthly paradise called Pepperland, a place where happiness and music reigned supreme. But all that was threatened when the terrible Blue Meanies declared war and sent in their army led by a menacing Flying Glove to destroy all that was good. Enter John, Paul, George and Ringo to save the day! Armed with little more than their humor, songs, and of course, their yellow submarine, The Beatles tackle the rough seas ahead in an effort to bring down the evil forces of bluedom.
Production credits
Running Time: 89 minutes
Director – George Dunning
Producer – Al Brodax
Screen story – Lee Minoff
Screenplay – Lee Minoff, Al Brodax, Jack Mendelsohn, and Erich Segal
Art Director – Heinz Edelmann
Animation directors – Robert Balser and Jack Stokes
Production Executive – John Coates
Music Producer and Supervisor – George Martin
Extra features:
– Mod Odyssey documentary [TRT: 7:30]
– Original theatrical trailer [TRT: 3:30]
Storyboard sequences:
– Sea of Monsters (split screen footage) [TRT: 4:20]
– Battle of the Monsters [118 images]
– Pepperland [64 images]
Interviews:
– Paul Angelis (voice of Ringo and Chief Blue Meanie) [TRT: 1:39]
– John Clive (voice of John) [TRT: 2:03]
– David Livesey (key animator) [TRT: 1:11]
– Millicent McMillan (Heinz Edelmann's assistant) [TRT: 1:12]
– Jack Stokes (animation director) [TRT: 3:42]
– Erich Segal (co-writer) [TRT: 1:38]
Original pencil drawings [29 images]
Behind-the-scenes photos [30 images]
Yellow Submarine Songtrack [iTunes Album, CD]
Yellow Submarine
Hey Bulldog
Eleanor Rigby
Love You To
All Together Now
Lucy In The Sky With Diamonds
Think For Yourself
Sgt. Pepper's Lonely Hearts Club Band
With A Little Help From My Friends
Baby, You're A Rich Man
Only A Northern Song
All You Need Is Love
When I'm Sixty-Four
Nowhere Man
It's All Too Much
Yellow Submarine Ringtones and Alert Tones (iTunes)
Ringtones
All Together Now
All You Need Is Love
Baby You're A Rich Man
Eleanor Rigby
Hey Bulldog
It's All Too Much
Love You To
Lucy In The Sky With Diamonds
Nowhere Man
Only A Northern Song
Sgt. Pepper's Lonely Hearts Club Band
Think For Yourself
When I'm Sixty-Four
With A Little Help From My Friends
Yellow Submarine
Alert Tones
Apple Bonkers
Don't Touch That Button
Glove Laugh
Meanie Laugh
Snapping Turks
FREE Yellow Submarine Picture Book
A free enchanting illustrated book containing clips from the movie can be downloaded at The iTunes Store.
But It
Yellow Submarine is available for purchase at iTunes for $12.99!