Message from MyBlogSpark:
Looking for ways to spice up your snacking routines? Pillsbury knows just how you feel and wants to awaken your taste buds with their new Pillsbury Baguette Chips! These hearty chips are sliced from oven baked bread and topped with savory seasonings bringing the unique and contemporary flavors of Italian Cheese & Herb and Cheddar Sun-dried Tomato to gourmet snack chips. The delicious flavors and perfect texture of these crispy chips can help you round out any recipe.

Enjoy Pillsbury Baguette Chips for a wide range of occasions: eat them alone, add a bit more flavor to your favorite dip, spice up soup, or add some crunch to your salad!
With 130 calories per serving (21 baguette chips), and 50% less fat than regular potato chips,  Pillsbury Baguette Chips are delicious snack chips that you can feel good about eating.

If that's not enough to get your mouth watering, then check out these delicious chips for yourself.  To download a printable coupon for $0.75 off one package, you  can visit http://bit.ly/PBCcoupon today!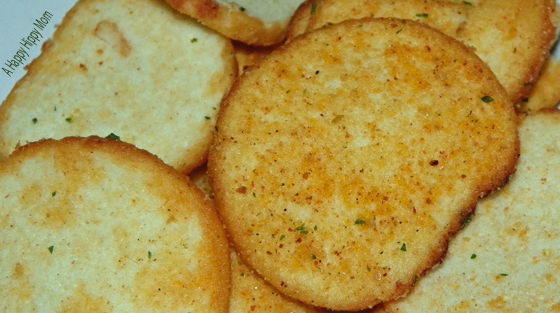 Oh these are soooooo yummy!  Pillsbury Baguette Chips are fantastic with hummus, tuna salad, in soups, on salads or great straight out of the bag!  Or go wild and top them with a bit of low-fat cream cheese!  Cut from oven-baked bread and then deliciously seasoned, the chips contain 50% less fat than regular potato chips and are perfect to serve at your summer gatherings.
What I like most about these baguette chips is they aren't overly crunchy and don't hurt your teeth when you bite down on them like other brands I have tried in the past.  Additionally, the chips are seasoned with yummy spices and the two varieties are completely distinctive in flavor.  If I had to choose one over the other,  I would select the Cheddar Sun-dried Tomato!
The trick is to keep yourself from eating half the bag  in one sitting!  One serving size is 21 chips,  which contains 130 calories with 45 calories being from fat.   My suggestion is to pair the chips with fresh-cut veggies such as cucumbers, tomatoes, and carrots to fill yourself up with fiber and to keep from overeating too many calories.
My daughter and son both love the Pillsbury Baguette Chips,  so they definitely appeal to kids,  as well as adults,  and make a good non-greasy snack to have on hand during school break!
Stay connected!
Stay connected with Pillsbury using these social media sites:
Pillsbury Baguette Chips Prize Pack Giveaway!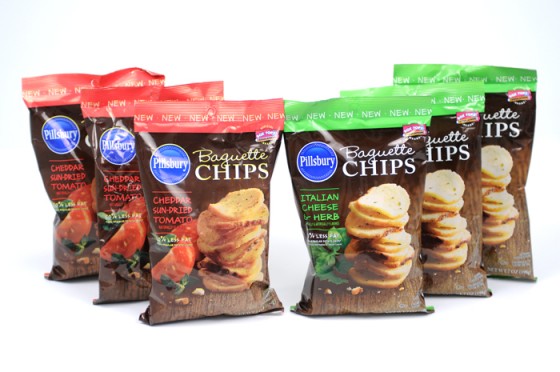 Courtesy of Pillsbury and MyBlogSpark, a lucky reader will win a Pillsbury Baguette Chips prize pack containing:
(3) Bags of Pillsbury Baguette Chips in Italian Cheese & Herb
(3) Bags of Pillsbury Baguette Chips in Cheddar Sundried Tomato
To enter the giveaway,  please let me know (on the Rafflecopter form) which flavor would you like to see Pillsbury Baguette Chips come out with next? Any comments are welcomed below, but won't count towards the giveaway. Only entries using the Rafflecopter form will be eligible for prize. Thank you!
[field name= iframe]
"Disclosure:  The product, gift pack, information, and additional sample have been provided by General Mills through MyBlogSpark.