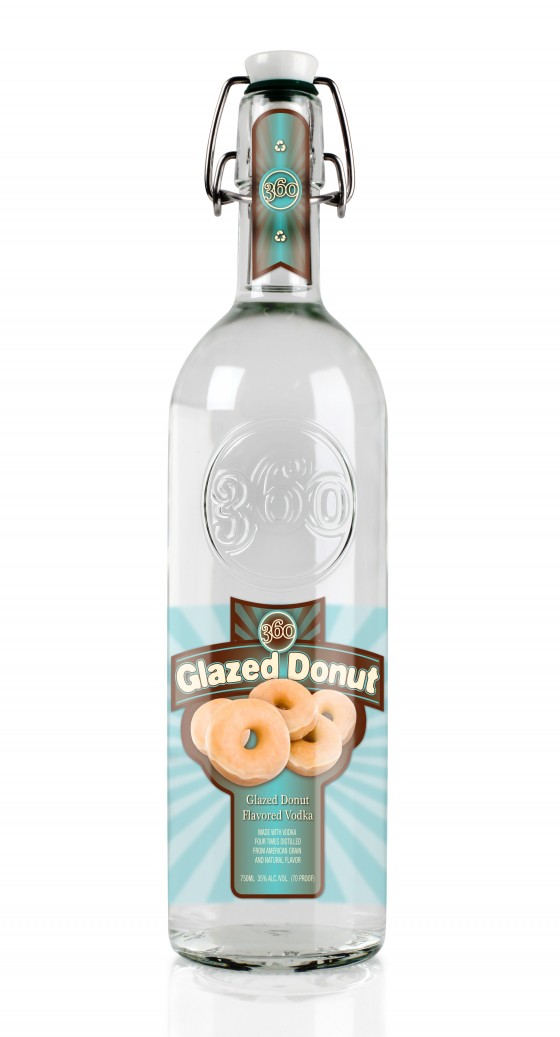 Happy Friday and National Donut Day!  How many of you made the decision not to celebrate the sweetest day of the year simply because you were concerned about your waistline?  Did you pass by the donut shops having dreams about sinking your teeth into the O-shaped treat and hit the gas pedal whizzing by?  WELL I've got exciting news about something new that just may perhaps satisfy your donut hankerings and do it with less than half the calories!  Are you ready?  To  commemorate this "hole-iest of days,"  the world's only sustainable vodka, 360 Vodka proudly announced its newest mouth-watering flavor: 360 Glazed Donut!
Okay,  I must let you know I don't typically sip vodka, but the very idea of it tasting like a scrumptious glazed donut sparks my interest.  Not to mention, 360 Glazed Donut contains merely 80 calories per shot compared to the average pant-splitting 250 calories packed in a donut.  I might have to make a pit stop at the liquor store this evening and test it out.
Evidently,  I've been out of touch with the drinking aspect on the planet,  considering confectionery flavors are amongst the hottest trends in mixology these days.  360 Vodka,  The Earth Friendly Distilling Company,  offers a collection of  twelve eco-friendly flavored vodkas, including the multiple award-winning and consumer favorite 360 Double Chocolate. Personally, I haven't tried any of them, but I'm thinking I might purchase the 360 Glazed Donut and add it to my coffee for an extra zing!  I bet it would be delicious!
If your interested in trying out the new 360 Glazed Donut, here are a few decadent indulgent cocktails (courtesy of the company) to mix up tonight and enjoy over the weekend:
Boston Cream Donut
1 ½ oz 360 Glazed Donut
2 scoops Vanilla ice cream
Whipped cream
Add all ingredients with a scoop of ice into a blender and blend until desired consistency. Pour into a rocks glass and top with whipped cream. Garnish with chocolate sprinkles.
Apple Fritter Martini
1 ½ oz 360 Glazed Donut
3 oz Apple juice
1 tsp Maple syrup
Add all ingredients into a mixing glass filled with ice and shake. Strain into a chilled martini glass rimmed with sugar and cinnamon. Garnish with an apple slice.
Chocolate Glazed
1 ½ oz 360 Glazed Donut
3 oz Chocolate milk
Add all ingredients into a mixing glass filled with ice and shake. Strain into a chilled martini glass rimmed with sugar and cocoa (optional).
Leaving the Smallest Footprint
Each bottle of 360 Vodka is made with recycled glass, featuring reusable closures and recycled paper printed with water‐based eco‐friendly inks. As organic grain leaves a larger footprint, 360 Vodka uses local grain grown less than 95 miles from the country's most energy efficient distillery where 360 Vodka is crafted. This gives the brand its distinctive, smooth taste that has been awarded with multiple platinum and gold medals for taste from international spirits competitions. 360 Vodka is proud to donate one dollar from every closure returned to a dedicated environmental charity.
Buy it!
If you are interested in purchasing 360 Glazed Donut it retails for approximately $15.99 (750mL) and is available at liquor retailers across the USA.  Check the 'Where to Buy' section at www.vodka360.com for specific local retailers.