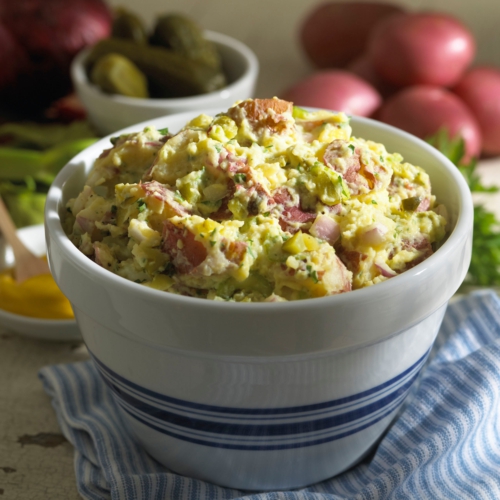 With the summer BBQ time of year well underway along with the greatest grilling holiday under a week away, Americans throughout the nation have pronounced potato salad their top rated favorite among nutritious barbecue side dishes.  Based on a survey conducted by CookingLight.com,  potato salad is the preferred  wholesome summertime side, surpassing other common sides such as coleslaw, baked beans, and pasta salad .
It's not easy to believe that potato salad can in fact be nutritious! For anyone who is like me and seems to be constantly on some type of weight reduction eating plan,  indulging in the tasty side could be a waistline nightmare!  On the other hand, I possibly could be looking at the spud all wrong!  According to scientists just a couple of servings of potatoes daily decreases blood pressure levels almost as much as oatmeal without producing weight gain. Not to mention, the starchy root vegetable has a very good amount of fiber, contains a multitude of healthful phytochemicals and vitamins, and it's only 110 calories.  Did you know one medium-size (5.3 ounce) skin-on spud has a lot more potassium compared to a banana and nearly half your daily value of vitamin C (45%), and absolutely no fat, sodium or cholesterol?  Run, get the forks!
Ordinarily, creamy potato salad has a great deal of calories, is loaded with carbohydrates,  and contains fat from mayonnaise-based dressing.  That's the problem!  It isn't actually the potato that's bad for you, but all of the junk you apply to it.  Even so, there are healthy alternatives to the traditional American side recipe and potato salad can be enjoyed even by health conscious individuals.
The USPB put a much healthier spin on the popular yummy  salad with their Quick & Healthy Classic Potato Salad recipe.  The dish is fantastic for serving alongside pretty much any summertime meal, from BBQ chicken and fish to Independence day faves, such as hot dogs and hamburgers. By using  low fat yogurt rather than mayo, this spud salad has just 180 calories and zero fat per serving.  I'm unquestionably gonna be whipping up a batch of this potato salad and serving the delicious side to my family and friends this 4th of July!
Quick & Healthy Potato Salad

Ingredients

 1 1/2 lbs. red potatoes*

1 cup nonfat plain yogurt*

1/3 cup minced red onion

1/3 cup thinly sliced celery

1/4 cup minced dill pickles plus 1 tablespoon juice from jar

1/2 tablespoon yellow mustard

1/4 teaspoon sea salt

Freshly ground pepper to taste

Chopped fresh parsley

Directions:

Place whole potatoes (do not poke) into microwave-safe dish. Cover dish. (If covering dish with plastic wrap, poke small hole in plastic.) Microwave on HIGH for 10 to 12 minutes depending on strength of microwave. Use oven mitts to remove dish from microwave; carefully remove cover from dish due to steam build-up and let cool. Cut potatoes into bite-size pieces and place in a large bowl with remaining ingredients; stir well to mix. Makes 4 servings.

*Russets, yellow or white potatoes can be substituted, but make sure to peel skins off potatoes after cooking and cooling, but before tossing with remaining ingredients
Recipe and photo credited to USPB