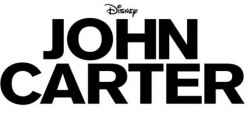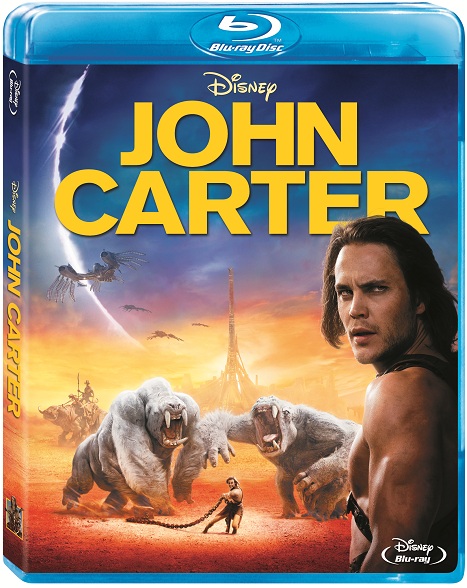 A Warrior On Earth Becomes a Hero On Mars
New On Disney Blu-ray  Combo Pack,  Blu-ray 3D,  HD Digital, DVD,
and On-Demand June 5th
"A Visual Marvel"
––Steven Weintraub, Collider.com
Disney brings to life an iconic hero, John Carter, in a visually stunning new world with heart-pounding action. The heroic epic adventure "John Carter" arrives on Disney Blu-ray Combo Pack, Blu-ray 3D, HD Digital, DVD and On-Demand June 5, 2012, just in time for Father's Day!

As a warrior lost on Earth, John Carter is magically transported to Mars, where the fate of the planet and its people ultimately rest in his hands. With surprising new powers, and epic battles, he rises to become the man he is meant to be and the hero he truly is.

From Academy Award-winning filmmaker Andrew Stanton (Best Animated Film, WALL•E, 2008) "John Carter" is a sweeping action-adventure set on the mysterious and exotic planet of Barsoom (Mars). John Carter is a war-weary, former military captain who's inexplicably transported to Mars and reluctantly becomes embroiled in an epic conflict. It's a world on the brink of collapse, and Carter rediscovers his humanity when he realizes the survival of Barsoom and its people rests in his hands. Stunning special effects, great characters and villains — and complete with extraordinary bonus features — "John Carter" is a heroic and inspirational adventure that will thrill audiences beyond imagination.

This ambitious and unforgettable screen adaptation of the classic novel "A Princess of Mars" by Edgar Rice Burroughs, stars heartthrob Taylor Kitsch ("Friday Night Lights," "X-Men Origins: Wolverine") in the title role, Lynn Collins ("X-Men Origins: Wolverine," "The Number 23") as Dejah Thoris, Willem Dafoe ("The English Patient," "Spider Man") as Tars Tarkas, and Dominic West ("300," "The Wire") as Sab Than. The screenplay is written by Stanton, Mark Andrews and Michael Chabon.

"John Carter" will be available to own and for in-home viewing as follows:

4-Disc Combo Pack (3D BD + 2D BD + DVD + Digital Copy)

Includes:

Blu-ray bonus features:

Disney Second Screen – Explore John Carter's journal with this innovative in-world experience and uncover a trove of fascinating details that extend the mythology of the movie.
360 Degrees of John Carter – Experience every aspect of the filmmaking process on one of the movie's biggest production days.
Deleted Scenes with Optional Commentary by Director, Andrew Stanton
Barsoom Bloopers
 Plus all DVD features

DVD bonus features:

100 Years In The Making – Follow the journey of Edgar Rice Burroughs' story, from its origins as a pulp novel to its arrival onscreen.
Audio Commentary with Filmmakers

*The 3D Blu-ray Disc & The Digital Copy Disc do not include bonus features on it

2-Disc Combo Pack (Blu-ray + DVD)

Includes:

All Blu-ray bonus features
All DVD bonus features

1-Disc DVD

Includes:

Digital 3D High Definition Digital

Does not include bonus features

High Definition Digital

Includes:

Life by the Second: The Shanzam Unit (digital premiere)
 Disney Second Screen
Barsoom Bloopers
 Deleted Scenes with Optional Commentary by Director, Andrew Stanton

Standard Definition Digital

Includes:

Life by the Second: The Shanzam Unit (digital premiere)
Disney Second Screen
 Barsoom Bloopers
Deleted Scenes with Optional Commentary by Director, Andrew Stanton

On-Demand

Does not include bonus features
[field name= iframe]
Loved it! Hope There Is A  Sequel!
Hubby and I are action sci-fi buffs, enjoying movies like Star Wars, Avatar, and television shows such as Fringe.  After viewing the John Carter trailer we were fired up to see the film.  The movie is largely based  upon  the book Princess of Mars, the first in a series of 11 novels written by Edgar Rice Burroughs 100 years ago.  I've actually never had an opportunity to read through the book so I wasn't acquainted with the storyline and didn't know what to expect.  What I did know was the fact that  the movie has a PG-13 rating and not your average fluffy bunny Disney film.  My son who gravitates to movies containing cool creatures wanted to desperately watch John Carter, but I was concerned the film might be too intense for him and he was not allowed to view it without me watching it first.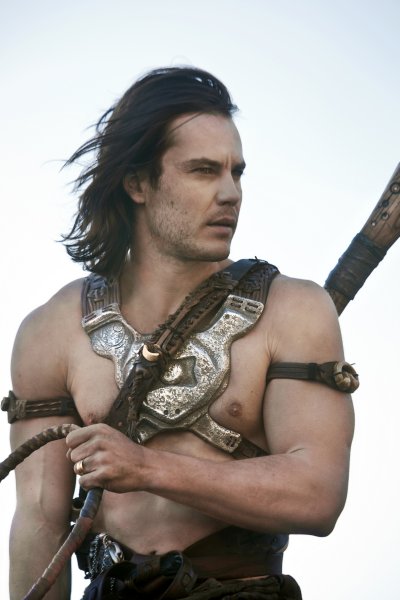 John Carter (Taylor Kitsch), a former Civil War Captain from Virginia who is in his 30's, was transported through space to  Barsoom (Mars) by a mysterious blue glowing lighted medallion he took from a Thern's hand after a deadly battle in a cave. After awakening in unfamiliar surroundings, Carter has difficulty walking and soon learns, due to his bone density and the planet's low gravity,  he is able to leap high and  posses incredible strength.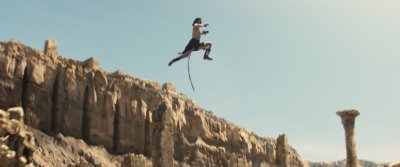 Not long after arriving at a rock formation, Carter sees a group of aliens riding beasts of some kind  fast approaching across the sandy plain.  As he begins to descend the hillside,  another alien charges and throws a spear at him.  John  leaps 30 feet up avoiding the weapon. His capability to jump so high intrigues the scaly green Thark alien with four arms and ram like horns.  The group of aliens begins shooting at John and Jeddak (meaning "king") Tars Tarkas orders them to stop shooting.  They ride off behind the rocks to prevent John from escaping.
Tars then dismounts his beast and puts down his weapons to try and communicate with Carter.   The king Thark asks John not to run away,  as he slowly makes his way up the hill towards him.   John looks down at the alien's weapons on the ground and comes out of hiding to talk to Tars Tarkas.  John pretends to surrender and hesitantly salutes the alien while giving his name and where he is from.  After some miscommunication, Tars asks him to "Sack" (jump) like he did before.  Carter nods then salutes and performs a massive leap over by Tars Tarkases gear.  He picks up a weapon and tosses at the Thark.  Next John grabs an alien gun as Tars yells at his men  "Don't shoot him!  Don't shoot him.!"  But an alien marksman aims and fires,  hitting John in the backside.
Next to an alien baby, John is bound to a beast and brought back to the Thark's city where a battle between Helium and Zodanga takes place.  John watches the battle with a telescope and notices what he thinks is a human woman dangling from the ship.  He then jumps to save her.  This is when he encounters the Princess of Helium Dejah Thoris (Lynn Collins) who is looking for a savior.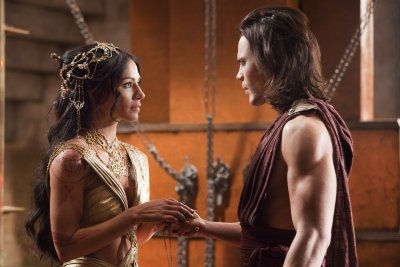 The movie is filled with intense battle scenes which are mostly sword fights.  There is lots of blue blood shed,  especially when John kills the white ape and emerges from its back.  In the arena a character gets beheaded, yet it isn't overly graphic.  I have to say the violence is a bit much for younger viewers, but I have seen much worse and it is mostly sci-fi stuff.  Nothing a 7 or 8 year old probably couldn't handle. Mild profanity is used a couple of times too.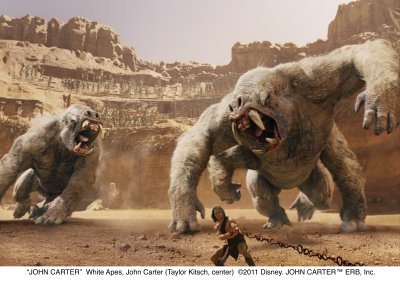 I allowed my son to watch a few scenes in the movie which included Woola, John Carter's pet  that use to be a guard-dog for the Tharks at Korad.  He loved it!  Anything other than that he didn't get to see and will have to wait until he gets a bit older!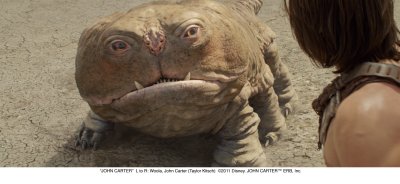 If you plan on watching the 132 minute movie make sure you don't get up during it, because you'll miss what's going on and become lost.  We enjoyed the movie and glad Disney is creating some action packed films which appeal to adults. Both of us  found the characters, graphics, and story to be awesome!   I'm hoping they make a sequel!
Social Media:
Stay connected with the latest news and information on Disney's JOHN CARTER
Like the Facebook page at www.Facebook.com/JohnCarterMovie
Follow us on Twitter at @JohnCarter
View videos at www.YouTube.com/DisneyMovies