Zoom Into Action-Packed Fun With Your Preschool Pals
AWESOME ADVENTURES: RACES, CHASES & FUN
On DVD, Digital Download And On Demand
June 12, 2012 From Lionsgate And HIT Entertainment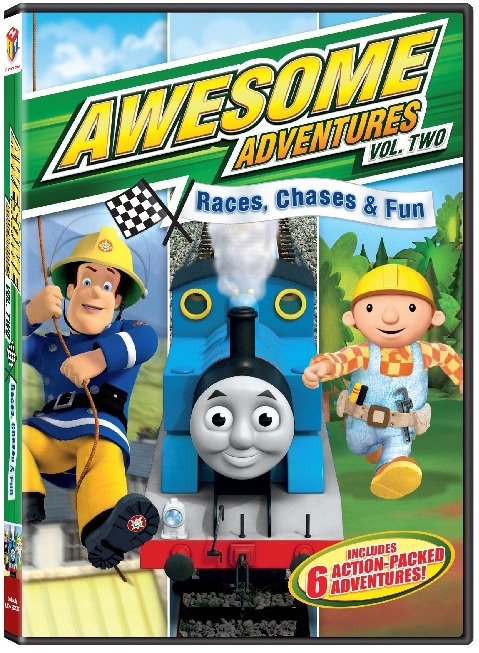 PROGRAM DESCRIPTION
On your mark … get set … go for all new fast and furious entertainment in Awesome Adventures: Races, Chases & Fun, racing onto DVD, Digital Download and On Demand June 12, 2012 from Lionsgate and HIT Entertainment. Zoom into action-packed fun with six rip-roaring adventures featuring preschool favorites Thomas & Friends, Fireman Sam and Bob the Builder. Always driving home lessons in friendship, loyalty, responsibility and teamwork, this trio takes the checkered flag every time!
DVD SYNOPSIS
Racing engines, run-away go-carts, and monster chases lead to thrills, spills and rescues! Thomas and Hiro discover there's no need for speed when trying to be a Really Useful Engine; Fireman Sam is rescue-ready when Norman and James forget to put safety first; Bob the Builder's Machine Team keep their eyes open to big adventure and big fun, putting the TEAM in teamwork and getting the job done. Get set and go with your favorite, fast friends in these six exciting adventures!
DVD EPISODES
Thomas & Friends – "Play Time"
Thomas & Friends – "Hiro Helps Out"
Fireman Sam –"Floating Cart"
Fireman Sam – "When Fools Rush In"
Bob the Builder – "Roley's Rovers"
Bob the Builder – "Lofty and the Monster"
 Three Extremely Popular Shows For Less Than $15!
I'm all about being economical and this DVD provides you with three extremely popular shows,  featuring six fun filled  episodes your kiddos will enjoy for less than $15.   Delivering approximately 62 minutes of non stop excitement, Awesome Adventures 2: Races Chases & Fun will quickly turn out to be  your preschooler's most viewed  DVD!
What I like most about this DVD is it contains shows that have some educational value which capture the attention of a preschooler long enough to teach important valuable lessons such as friendship, being responsible, fair play, team work, and safety.
No big surprise my son really loves Awesome Adventures 2: Races Chases & Fun  and has watched the episodes repeatedly ever since I received the DVD for review.  This is actually volume 2 within the series and I missed the initial volume when it was released.  I'd like to obtain each of the volumes to build him a fantastic collection of his favorite shows!
Oh,  I just want to quickly mention even though this DVD is geared toward little boys I think girls would equally enjoy the episodes as well!  It will keep them entertained for an hour so you can have a moment to get something done!
[field name= iframe]
AWESOME ADVENTURES 2: RACES, CHASES & FUN DVD Giveaway!
Courtesy of Lionsgate And HIT Entertainment, a reader will win the new AWESOME ADVENTURES 2: RACES, CHASES & FUN DVD DVD!  To enter the giveaway,  please follow the instructions provided on the Rafflecopter form.  Any comments are welcomed below, but won't count towards the giveaway. Only entries using the Rafflecopter form will be eligible for prize. Thank you!
[field name= iframe1]