Hit All the Right Notes With Everyone's Favorite Ballerina
ANGELINA BALLERINA:
MUSICAL MOVES
On DVD, Digital Download And On Demand
June 12, 2012
From Lionsgate And HIT Entertainment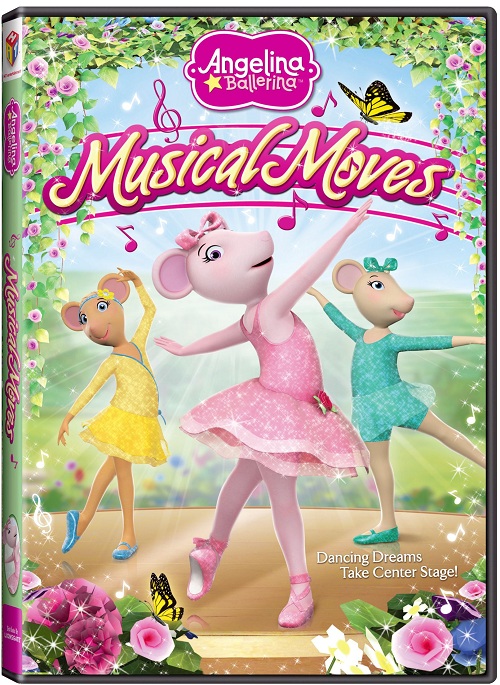 PROGRAM DESCRIPTION
Strike a delightful chord with your little dancer in the newest release featuring the mouseling with all the moves in Angelina Ballerina: Musical Moves, a new, five-episode collection on DVD, Digital Download and On Demand June 12, 2012 from Lionsgate and HIT Entertainment. Step up and have a great time with Angelina, Gracie, Alice and all their friends as they get their groove on!
SYNOPSIS
Move to the music with Angelina Ballerina and her friends as they explore the wonderful world of dance! Gracie loses herself to some disco grooves while Alice discovers the power of confidence through jazz! AZ hip-hops to a happy-birthday beat and Ms. Mimi takes her students on a modern dance journey. Angelina shows that friendship —like dance — is special, and best built one step at a time!
Episodes:
• "Angelina and the Disco Dance Craze"
• "Angelina and the Tummy Butterflies"
• "Angelina and the Magician"
• "Angelina and Ms. Mimi's Dance"
• "Angelina, AZ and Cheezy Z"
DVD BONUS FEATURES
• A Dance A Day Dance Club
 Gets Your Children Grooving!
Angelina will twirl, skip and leap herself into your child's heart in her new Angelina Ballerina: Musical Moves DVD!  Containing 5 delightful episodes, the DVD has an approximate running time of 61 minutes filled with  lots of great music to get your children grooving.  In this delightful DVD kids will become acquainted with jazz dance music, tap dancing, poetry, composers, joys of Disco Dancing, and more!  The series is based upon the critically acclaimed story books created by Katharine Holabird and Helen Craig and teaches children about the importance of friendship, helping others, and learning various forms of dance.
I assumed my son wouldn't be enthusiastic about this DVD, since it is primarily aimed at girls ages 2 through 7. But he seriously enjoyed the tunes within the episodes!  The DVD got him up and moving,  which was absolutely adorable!
Stay Connected
Stay connected with Angelina Ballerina using these social media sites:
"Like" Angelina Ballerina on Facebook
Follow Angelina Ballerina on Twitter
Visit the Angelina Ballerina website.
Buy It!
The Angelina Ballerina: Musical Moves DVD can be purchased  at Amazon.com for only $11.93!
Angelina Ballerina: Musical Moves DVD Giveaway!
Courtesy of Lionsgate And HIT Entertainment, a lucky reader will win a copy of Angelina Ballerina: Musical Moves on DVD.  To enter the giveaway for the chance to win it,  please let me know you want to win on the Rafflecopter form!  Yup,  that is all you have to do to be entered!
[field name= iframe]