Message from MyBlogSpark.
From offering a constant source of love and support to always being there when you need her, there are plenty of reasons to celebrate the mother figure in your life! With Mother's Day drawing near, it's the perfect time to start planning how to make your favorite lady feel special.
As a kid, the perfect Mother's Day surprise was breakfast in bed, so why not continue the tradition of cooking breakfast (lunch or dinner) this Mother's Day? Check out these recipes and ideas from UnitedHealthcare to help make this Mother's Day unforgettable!
A Healthy Twist on Breakfast in Bed
Fix her a healthy morning meal that she can enjoy from the comfort of her bed:
Friends and Family Brunch
Spice up brunch with these delicious new dishes:
Delicious Dinner
Give her a break from kitchen duty and end the day with these tasty dinner options:
Long Distance Grocery Shopping
Live too far away to visit? Send a gift card for a home delivery grocery store. She'll be thrilled to have food delivered to her door, courtesy of you.
Now that you're feeling inspired for Mother's Day, visit the Solutions for Caregivers website to download these recipes, find more tips, and learn about providing care for a loved one.
It's also important to take charge of your health and look out for your loved ones. Dr. Reed Tuckson explains how to keep yourself and your family healthy in his new book, Dr. In The Mirror.
Stuffed French Toast!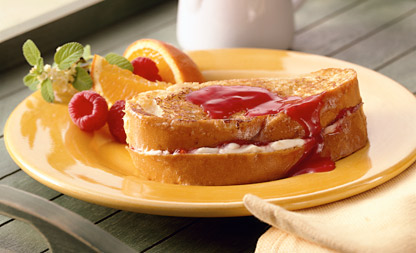 I checked out all the recipes and I couldn't stop drooling over the Stuffed French Toast!  It looks extremely easy to make!  One serving only contains 270 calories!  The recipe uses fat-free cream cheese, egg white, and skim milk, which makes it a lot more waistline friendly.  I've included the full recipe and instructions below just in case you might want to whip up a special delicious dish for your mom this weekend.  I  might actually treat myself with the Stuffed French Toast for dinner tonight!  YUMMY!
Prep Time: 15 Min | Start to Finish: 30 Min | 2 Servings
4 slices French bread, 1/2 inch thick
2 tablespoons fat-free soft cream cheese
4 teaspoons preserves or jam (any flavor)
1 egg white or 2 tablespoons fat-free cholesterol-free egg product,
slightly beaten
1/4 cup fat-free (skim) milk
2 teaspoons sugar
Directions:
1.  Spread one side of 2 slices bread with 1 tablespoon of the cream cheese. Spread one side of remaining slices with 2 teaspoons of the preserves.  Place bread with cream cheese and bread with preserves together in pairs.
2. Beat egg whites, milk and sugar with wire whisk until smooth; pour into shallow bowl.
3. Spray griddle or skillet with cooking spray; heat griddle to 325° or heat skillet over medium-low heat. Dip each side of sandwich into egg mixture. Cook sandwiches 2 to 3 minutes on each side or until golden brown.
"Disclosure: Information, recipe, and photos provided by MyBlogSpark."