Having a furry friend in your home can bring a great deal of joy, entertainment , and comfort to your whole family.  However, if the pet isn't trained correctly and not given constant attention along with positive reinforcement,  he/she can be extremely destructive and cause mass mess and chaos in the home.  It is essential from the moment a dog enters your home to set the boundaries that's expected of them and ensure the pet understands what good behavior is. This is successfully done by remaining consistent , establishing some method of dog obedience training, as well as a good supply of treats for dogs handy for a rewarding system.
We have a 6 year old Cairnoodle, 11 month old black Lab, and JUST two days ago adopted a beautiful 8 week blonde Lab puppy.  Each one of the dogs is entirely unique in personality.  Nevertheless,  they all have something in common…they LOVE dog biscuits!  I won't lie, teaching the dogs requires a great deal of love, patience, in addition to a stringent daily routine, but it's been definitely worth all the time invested.  The three pets give us unconditional love and therefore are a very important part of our family.  So,  rewarding them for their good behavior with plenty of toys, tummy rubs, and treats they enjoy only makes good  sense.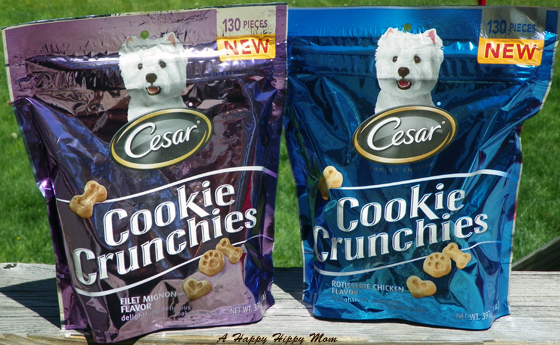 Recently, Cesar Canine Cuisine via Mom Central, sent my dogs two bags each of their new Rotisserie Chicken and Filet Mignon flavored Cookie Crunchies to try.  The savory baked treats for dogs,  offer a  tantalizing, mouthwatering (no I didn't try them myself and only assuming) snack perfect for rewarding your canine and letting them know how much you love them.  The 10 calorie biscuits  come in three fun bite-size shapes including paw prints, hearts and  bones.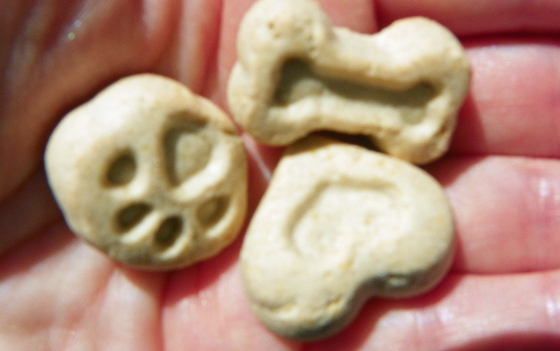 My dogs absolutely LOVE munching the Cesar Cookie Crunchies and think they are the best dog treats!  Just watch Sophie's reaction in the video below when my hubby asks her if it tastes good.  I also love them, due to the fact they are helping me housebreak her!
[field name= iframe]
My black Lab (Sam) was extremely easy to train to do his business outside, but he has a chewing obsession which needs to be tamed.  His last chew victim was my brand new Ralph Lauren Polo sneakers.  I probably only got to wear them twice before he some how made his way in the closet and decided to rip them apart.  He needs to learn only to chew his toys and not our shoes.  My husband has been working with him to stop being so destructive and  additionally teaching him to be gentle.  He is training Sam to eat the Cesar Cookie Crunchies out of his hand gently and only when he says it's ok to take it.
[field name= iframe1]
If you have dogs and looking for a treat to show them how much you adore them or want to reward them for good behavior try Cesar Cookie Crunchies!  You better pick up two bags, because your dogs will be BEGGING for more!
"I wrote this review while participating in a blog tour by Mom Central Consulting on behalf of Cesar and received a product sample to facilitate my review and a promotional item to thank me for taking the time to participate."