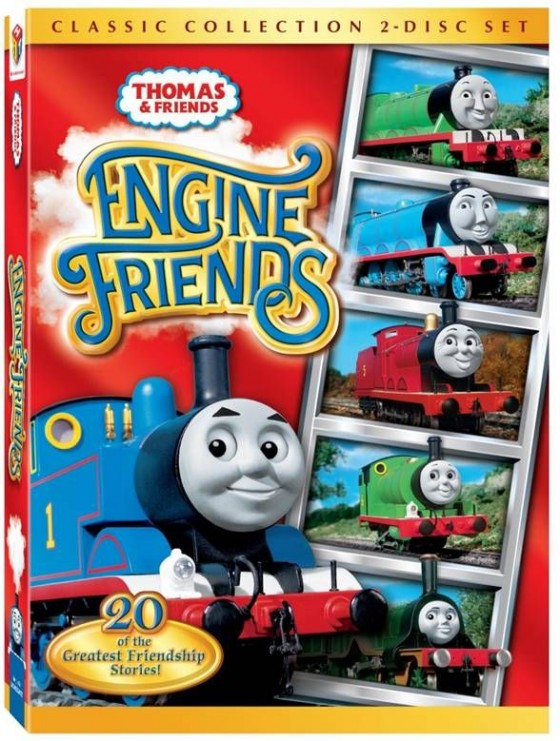 Experience The Epic Adventures And Tales of Friendship That Started It All!

THOMAS & FRIENDS®: ENGINE FRIENDS

CLASSIC COLLECTION 2-DISC SET

Available On DVD, Digital Download And On Demand
May 15, 2012 From Lionsgate And HIT Entertainment

PROGRAM DESCRIPTION

Aspiring engineers will thrill at over 20 favorite Thomas & Friends episodes on two DVD discs when Thomas & Friends: Engine Friends, comes to DVD, Digital Download and On Demand May 15, 2012 from Lionsgate and HIT Entertainment. Thomas, Toby, Percy and more favorite engine friends take you back to first meetings, learn about cooperation and discovery and realize the best adventures of all are the ones you can share with friends.  Thomas fans won't want to miss this timeless collection of Sodor's finest moments of friendship on the tracks.

DVD SYNOPSIS

All aboard for some of the most memorable stories of friendship from the Island of Sodor!  Join Thomas and his friends and learn how the Steam Team first came together; how Percy became Thomas' best friend, and how every engine tries to be Really Useful!  The greatest destinations are often those closest to home…as long as you have your Engine Friends.

 

Episodes include:

"Thomas and Bertie's Great Race"
"Trouble in the Shed"
"Saved from Scrap"
"A New Friend for Thomas"
"Granpuff"
"Sleeping Beauty"
"Make Someone Happy"
"A Bad Day for Harold"
"Twin Trouble"
"Edward the Really Useful Engine"
"Rusty Saves the Day"
"Emily's New Coaches"
"Thomas and the Rainbow"
"Thomas and the New Engine"
"Thomas and the Statue"
"Follow that Flour"
"Toby's Afternoon Off"
"Edward Strikes Out"
"Hide and Peep"
"Emily and the Garbage"

DVD/VOD BONUS FEATURES

Sir Topham Hatt's Scrapbook
Picture Puzzle Fun
Who Am I? Trivia Game
Gordon's Memory Game
Which Island Picture is Different?

ABOUT THOMAS & FRIENDS™

Thomas the Tank Engine™ was created by a father for his son over 65 years ago and today is enjoyed by families in more than 185 territories and in 30 languages.  The #1 blue engine and his friendsinvite children to enter a world of imagination through the tracks of a train and the words of a story. Children embark on adventures with their engine friends while experiencing timeless life lessons of discovery, friendship and cooperation.

Thomas & Friends is the number one preschool toy property in the UK, a position it has held for the past 12 years.  It remained the number one preschool toy license in the US for 11 straight years and has been the number one preschool entertainment brand in the US since 2009.  The unrivaled popularity of the global brand continues with Thomas also being the number one preschool toy license in Germany and Australia, as well as the number one foreign preschool brand in China, Japan and Korea.

PROGRAM INFORMATION

Title Copyright: © 2012 HIT Entertainment Limited. Thomas the Tank Engine & Friends™ Based on The Railway Series by The Reverend W Awdry.  Thomas the Tank Engine & Friends and Thomas & Friends are trademarks of Gullane (Thomas) Limited.  Thomas the Tank Engine & Friends and Design is Reg. U.S. Pat. & Tm. Off.

Type:  TV on DVD

Rating: NR

Genre: Children/Family/Ages 2-5

Closed Captioned: English

Format: 4X9 Full Screen

DVD/VOD Feature Running Time: 149 minutes

DVD Audio Status: English, Spanish and French 2.0 Dolby Digital

Website: www.lionsgate.com/thomasandfriends
We received an advanced copy of Thomas & Friends: Engine Friends 2 disc set.  My son has been watching the episodes over and over again. His favorite is "Thomas and the Rainbow" where Thomas is given the task by the Fat Controller to take engineers to fix telephone poles knocked down by a storm.  Along the way, Thomas sees a rainbow in the sky and Edward tells him according to legend "you will find something magical at the end of a rainbow".  Thomas gets so preoccupied with trying to find the end of the rainbow that he ignores Toby's warning something is blocking the track ahead and gets into trouble in the process.  It takes the help of all Thomas's friends working together to rescue him.
If your children love the Thomas & Friends television series they will definitely enjoy all the classic episodes on this 2 disc set! It will be available in stores for purchase tomorrow!
Thomas & Friends: Engine Friends 2-Disc Classic Collection Set Giveaway!
A Lucky reader win receive the new Thomas & Friends: Engine Friends 2-disc set!  To enter the giveaway,  please follow the instructions provided on the Rafflecopter form.  Any comments are welcomed below, but won't count towards the giveaway. Only entries using the Rafflecopter form will be eligible for prize. Thank you!