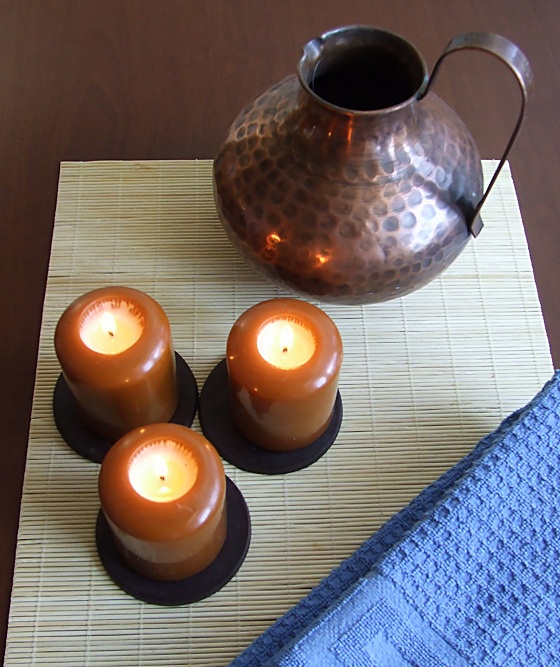 Herbal wraps are a good way to relax and soothe away the stress of the day.  They are also used to help tone and tighten the skin.  Additionally, herbal wraps are said to cleanse the body of toxins, improve circulation, and even promote weight loss.  Some people claim their aches and joint pains caused by inflammation and arthritis are relieved by applying the herbal treatment to the area of pain as well.  Yet, not everyone can afford the luxury of getting a herbal wrap at a spa.  However, most spa treatments can be mimicked right in the privacy of your own home for the fraction of the cost with the proper ingredients and supplies.
The next time you are in need of pampering and your cash flow is low, try this homemade warm herbal scented spa-style treatment using inexpensive tea bags and fresh herbs.
ingredients
8 cups water
4 chamomile tea bags or other gentle herbal tea
3 peppermint tea bags
Springs of fresh rosemary or sage
Directions:
Inside of a large pot bring the water to a boil. Remove it from the heat and drop in the tea bags and natural herbs. Cover the pot and steep the tea for approximately ten to fifteen minutes. As soon as the tea has cooled down to a comfortably warm temperature, take out the tea bags and herbs.
Place several clean but dispensable (they will get stained) hand towels into the tea. Let the towels absorb the mixture, and then wring them out. Wrap your upper legs and arms with the tea- soaked towels. You may even put a soaked towel on your torso, but don't place one on your face.
Lie down on a protected bed, sofa, or mat and relax for ten to fifteen minutes. Remove the towels and rest while cooling off for an additional ten to fifteen minutes. Shower off the residue.