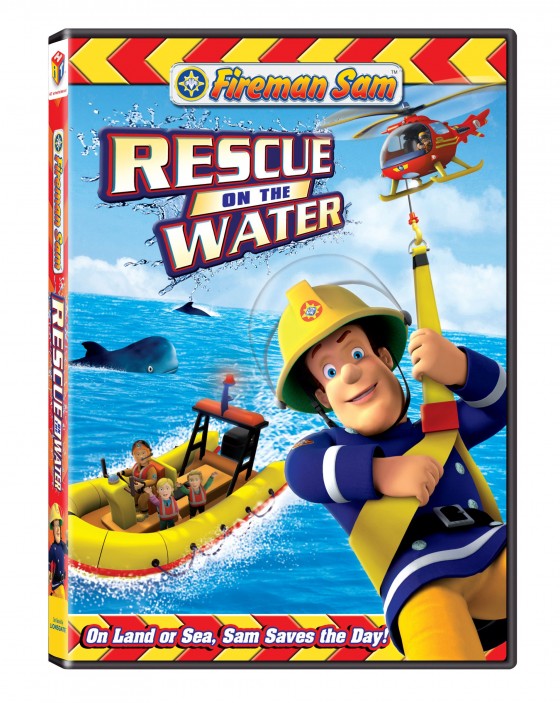 On land, in water and everywhere in between, you can always count on Fireman Sam to save the day … and bring the fun along, too! Join Fireman Sam, his courageous fire brigade and the citizens of Pontypandy for all new seafaring adventure in Fireman Sam™: Rescue on the Water, coming to DVD, Digital Download and On Demand April 3, 2012 from Lionsgate and HIT Entertainment. It's ready, set, rescue in six thrilling episodes filled with Sam's trademark lessons in safety, loyalty, leadership, cooperation and friendship.

DVD SYNOPSIS

 Sound the alarm! Fireman Sam and his heroic team are always prepared for rescues. Whether it's a flood in Pontypandy, dangerous shifting tides or trouble at sea for Norman and James, there's no challenge too big for Fireman Sam! Join the squad and save the day with this collection of daring seaworthy rescues.

Episodes include:

 · "Stranded"

 · "The One That Got Away"

 · "Pirates of Pontypandy"

 · "Norman's Ark"

 · "Sailor Steele"

 · "Dinosaur Hunt"

VOD SPECIAL FEATURES

Bonus episode: "Alarm on the Beach"
Fireman Sam: Rescue on the Water DVD Review
I sat down with my son and watched all six episodes with him.  If you are looking for an inexpensive DVD that will entertain your preschooler for 55 minutes, this is your gem!  Fireman Sam: Rescue on the Water,  is about a fireman named Sam, his firefighter pals, and other interesting townspeople who live in the fictional Welsh town of Pontypandy.   As you probably have already guest it by the title, the episodes all have a water based theme and a rescue from it.  The young characters in the animated British series learn about the importance of respecting the powerful forces of nature and water safety.  With summer fun and water activities approaching soon this would be a good DVD to have your youngster watch!
No big surprise, my son's favorite episode was the "Dinosaur Hunt," where Norman believes a dinosaur lives on the beach and convinces Sarah and James of the same.  The children go searching for the dinosaur,  find themselves stranded when the tide is coming in,  and need rescuing!
Buy It
Fireman Sam: Rescue on the Water DVD can be purchases at Amazon.com for just $6.99!
Fireman Sam: Rescue on the Water DVD Giveaway!
A lucky reader will win a new copy of Fireman Sam: Rescue on the Water DVD!  To enter the giveaway, please follow the instructions on the Rafflecopter form.  Any comments are welcomed below, but won't count towards the giveaway. Only entries using the Rafflecopter form will be eligible for prize. Thank you!
[field name= iframe]