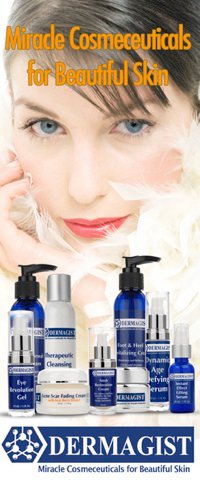 Ever wondered if the fountain of youth is actually out there?  The marketplace is inundated with anti-aging supplements, super foods, creams, and ointments guaranteeing to reverse the signs of aging and restore youth.  It's a considerable challenge to recognise which products to purchase and which of them are merely money suckers.  Some companies declare their items work instantaneously and those are definitely the products I'm inclined to stay clear of.  Any item that claims to supply astonishing results following the initial usage is typically nothing but a mask and washes away along with all your hard cash.  Wrinkles, age spots, and lack of elasticity develop over a number of years and absolutely nothing available on the market can immediately repair decades of damage and abuse unless of course it's operatively eradicated or tightened.   On the other hand, you will discover products out there which will deliver remarkable non permanent results by plumping up lines and wrinkles and making your skin appear smoother, therefore more radiant and a lot more young-looking.  These kinds of products need to be applied continuously to maintain the desired benefits and additionally may become a financially demanding expense.  Nevertheless, I do believe there are  certain products offered which often can generate astounding long-term results overtime and may perhaps help repair the skin and reestablish a more youthful appearance.
Dermagist Cosmeceuticals (formerly known as Dermajuv), a  long standing innovator within the anti-aging and anti acne communities,  approached me and inquired if I would consider reviewing any of their products from the Dermagist Skin Care line.  You've most likely have read about Dermagist before, due to the fact their products have been featured in very well-known magazines like Star, Weight Watcher's, InStyle, and Vogue.  Also, they are the exact same company that developed Metahylate Complex, a cutting edge compound sworn by a lot of consumers to noticeably eliminate the appearance of wrinkles and skin imperfections.  Furthermore, the Dermagist anti-aging solutions incorporate palmitoyl pentapeptide-4 (Matrixyl),  extremely effective peptide molecules found in the hottest generation of high-end anti wrinkle skin care products.  Matrixyl is scientifically thought to stimulate the "matrix" layers within the skin, mainly collagen and fibronectin, and as a consequence produce more collagen. The decline of collagen is what causes thinning skin and wrinkles.  Matrixyl helps combat the process of aging by strengthening the dermal matrix of the skin's support structure. Research indicates the substance to be just as effective as retinol, but manages to do it without resulting in redness and irritation.  Needless to say, I was very excited to try ANY of Dermagist's products!
I decided to try out  the Dermagist Complete Rejuvenation System with the goal in mind of being able to banish some troublesome lines round my eyes, shrink pores, and improve the overall texture of my skin.   The anti-aging skin care regimen consists of three high-powered uniquely effective formulas including,
One (1) Jar of  Original Smoothing Cream
Wrinkle Smoothing Cream Ingredients:
Aqua, cetearyl alcohol, glyceryl stearate (and) PEG-100 stearate,stearic acid, acetal hexapeptide-3, palmitoyl pentapeptide-4 (Matrixyl) dimethicone, sodium hyaluronate, citrus aurantium dulcis (orange) fragrance, phenoxyethanol, caprylyl glycol, potassium sorbate.
One (1) Bottle of Dynamic Age Defying Serum
Dynamic Age Defying Serum Ingredients:
Aqua, Cetearyl Olivate, Sorbitate Olivate, Cetearyl Alcohol, Glycerine, Octyl Palmitate, caprylic/capric triglyceride and teprenone (Renovage) Palmitoyl Pentapeptide-4 (Matrixyl), Dimethicone, Sodium Hyaluronate, xylitol, Boron Nitride, Sclerotium Gum, citrus aurantium dulcis (orange) fragrance, phenoxyethanol, caprylyl glycol, potassium sorbate.
One (1) Bottle of  Instant-Effect Lifting Serum
Instant-Effect Lifting Serum Ingredients:
Aqua, hydrolyzed sesame protein(Sesaflash), dimethicone, palmitoyl pentapeptide-4 (Matrixyl), acrylates copolymer, iodopropynyl butylcarbamate, phenoxyethanol, caprylyl glycol.
Along with the three products came an instruction sheet explaining in detail the exact use of the products.
The thing I liked right from the start regarding the company was how the Dermagist Representative explained  "Be aware our products are not an "over-night fix"  but you will begin to  notice improvements within 7 to 14 days and it will continue on from there!"  YEAH! No claims of instant improvements!
I've been applying the three products for approximately a week and haven't noticed my lines disappearing at this point, but can inform you my skin feels considerably more softer!  In addition, following the application of the Dynamic Age-Defying Serum my enlarged pores appeared smaller and my face felt wonderful.  The products possess a slight clean fragrance which isn't overwhelming and they absorb quickly with no greasy sensation remaining on the skin.  What I really LOVE,  is after using  the Original Smoothing Cream my mineral makeup looks flawless and goes on much easier.  Before,  the mineral powder would emphasize my fine lines, but with the cream it blends beautifully.   I haven't experienced any irritation, such as acne breakouts, redness, or itchiness and definitely will continue using the products till they're completely gone.  I'm enthusiastic after just the initial seven days and can't wait to see what the results are in 4 weeks!
Please visit Dermagist Cosmeceuticals website for additional information on ground breaking anti- aging and anti-acne products,  as well as detailed reviews from real customers including stunning before and after photos!
Stay connected with Dermagist with these social media sites
"Like" the Dermagist Facebook page
Watch Dermagist on Youtube
Visit the Dermagist website
Dermagist Complete Rejuvenation System Giveaway!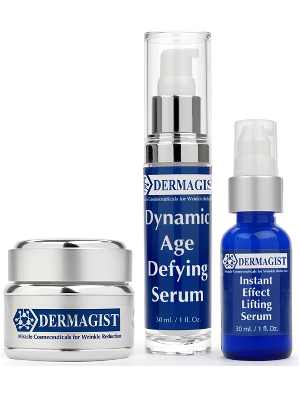 Courtesy of Dermagist Cosmeceuticals, a lucky reader will receive the Dermagist Complete Rejuvenation System! A $130 value!  To enter the giveaway for the chance to win this fantastic prize, please check out the Dermagist Skin Care product line and let me know which item you are most interested in trying.  Leave your answer on the Rafflecopter form. Any comments are welcomed below, but won't count towards the giveaway. Only entries using the Rafflecopter form will be eligible for prize. Thank you!
[field name= iframe]