It's almost time to honor the special men in our lives!  I always feel there is so much emphasis on Mother's Day and not enough on Father's Day.  However, our parents should not be just honored and celebrated one day out of the year, but all 366 (this year is a leap year) days.  I lost my father almost two years ago and there is not a single day that passes by without me thinking and smiling about the great times we spent together.  He will always be apart of me and nothing can change that!  The parental bond lasts forever.  I pray you take time to let your dad know how much you love him and cherish the moments you share with each other.
I love this poem and hope you do too!  After enjoying the poem,  please enter the giveaway below for the chance to win some fantastic prizes for dad!  A big thanks to the gals you took the time to put this wonderful giveaway together and to Black & Decker for providing the awesome prizes!  Good luck!
Footprints
"Walk a little slower, Daddy,"
said a child so small.
"I'm following in your footsteps
and I don't want to fall.
Sometimes your steps are very fast,
Sometimes they're hard to see;
So walk a little slower, Daddy,
For you are leading me.
Someday when I'm all grown up,
You're what I want to be;
Then I will have a little child
Who'll want to follow me.
And I would want to lead just right,
And know that I was true;
So, walk a little slower, Daddy,
For I must follow you."
~ Author Unknown
It's finally here…. the Dad's Backyard Oasis Father's Day giveaway event!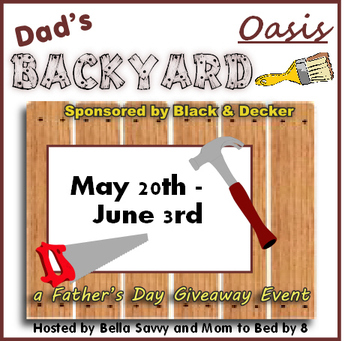 Hosted by Bella
Savvy, and Mom to Bed by 8

Co-hosted by Giveaway Bandit, To Sew With Love, Living Unrefined, Mumblebee Inc.,
What  Mommy Wants
WOW YOUR DAD ON FATHER'S DAY!
This year, Black & Decker is making Father's Day extra special for one lucky dad by offering an amazing prize pack full of everything dad will need to create an oasis in his own backyard for summer-long grilling, entertaining and just plain, good ole relaxing. AHH!

PRIZES:
20V MAX Lithium Drill/Driver — MSRP: $122
2-speed Quick Clean Sprayer — MSRP: $100

Garden IQ Hand Tools Series

— including pruners, hedge shears, steel trowel, culti-hoe, heavy duty hose nozzle, water hand hose attachment, and miscellaneous safety items — MSRP: $108 (includes work gloves)
Work gloves
TOTAL VALUE: $500+
EVENT DATES:
This event will run from May 20th at 12:01 pm. EST to June 3rd at 11:59 pm. EST
A huge THANK YOU to our sponsor… BLACK & DECKER for offering these amazing prizes!
* SPECIAL OFFER: *
Cant wait to win these fabulous prizes? Black & Decker is offering all entrants a special 10% discount + FREE shipping on the purchase of items included in the Black & Decker's Father's Day Gift Guide. So get your orders in for dad, and be ahead of the game when Father's Day rolls around. Use code: FATHER10 at checkout.
Now head on down there and get your entries in because you can't win if you don't enter…
[field name= iframe]