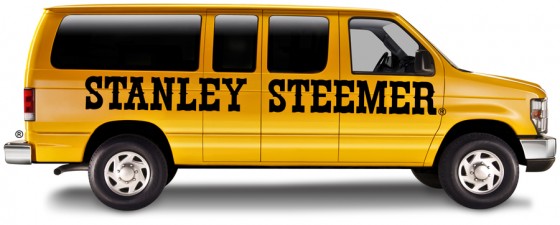 Message from MyBlogSpark:
Despite their good intentions and best efforts, Americans doing their spring cleaning might make the home look or smell better on the surface, but vacuuming and cleaning machines only remove some of the dirt, dust and particulates that cause allergic reactions.  In a recent national poll commissioned by Stanley Steemer, the nation's largest deep cleaning service, nearly half of respondents predicted spending less than four hours total on this year's spring cleaning.  But only 19 percent reported having ever used a professional for cleaning.

To combat this difficult allergy season this spring plus truly make your homes clean, consumers should consider a deeper cleaning twice a year by the professionals at Stanley Steemer.

Not just for carpet cleaning, Stanley Steemer's expertise extends to hardwood, tile, air ducts, water damage restoration, and more!
Stanley Steemer's proprietary equipment and cleaning processes remove more than 98% of dry soil from floors
With over 70 branches  and 220 franchise locations in 48 states, Stanley Steemer services 95% of the country

Want to see Stanley Steemer in action? Check out the Stanley Steemer van and crew as they visited fellow blogger Corine Ingrassia's home of Complicated Mama:
[field name= iframe]
Stanley Steemer Review
When you think of spring cleaning and doing away with dirt you most likely contemplate going on an all day long cleaning adventure in which you purge your home of grime, clutter, and dust that built up during the winter season.  However, I don't know about you but my vehicle takes a severe beating far more than my house throughout the filthy winter months.  The upholstery and carpet in the car become caked in  dirt from tracking in the messy snow and salt.  Not to mention, the four months of my son's snacking leads to a nauseating bed of old stinky food crumbs and fruit juice stains on the backseat.  Regardless of how many hours I could dedicate to wiping or attempting to vacuum up the mess the automobile would nevertheless require an expert touch to get out the odor and embedded stains.  This was a job for Stanley Steemer!
Scheduling Stanley Steemer to come out and clean the car was as simple as phoning 1-800-STEEMER (800-783-3637) and informing the dispatcher on what I needed performed.  Not every Stanley Steemer provides the same services, so be sure you inquire if your local Stanley Steemer offers it.  For instance, when I heard  I was gonna review Stanley Steemer I was intending on placing the $100 gift certificate towards getting my hardwood floors sanded and refinished to restore them back to their originally beauty.  On the other hand, although the service is listed on the Stanley Steemer website my neighborhood store did not supply that service and I settled upon getting my car cleaned professionally instead.
I'm a tad embarrassed to share this, but here's the truth.  The evening before Stanley Steamer was planning to come out and rid our car from the filth,  my city dumped an enormous pile of mulch down by the waterfront for residents to take free of charge.  Ummm…FREE MULCH?  How frequently does that occur? My motto never to pay retail kicked in and the very thought of saving $4 on bags of mulch led my husband and myself to go and fill up containers of it in the back of our car.  Well approximately 7 trips later, the entire car smelled just like a farm and reeked from the cow manure that was evidently blended in together with the landscaping material. YUCK!  The following day my better half thought he needed yet another batch of mulch to fill in the areas around our home and he proceeded to go back to get more .  When he pulled back into our driveway with the pungent stuff the Stanley Steemer team had just pulled in ahead of him.  Hubby removed the messy mulch container and one of the Stanley Steemer guys chuckled and said it was good timing!  The way the car smelled he probably thought we had been hauling cows! Ha ha ha! Cleaning more than 200 tons of dirt last year, Stanley Steemer knows dirt.  Nonetheless they probably never smelled anything comparable to our automobile before and were in for a tough task!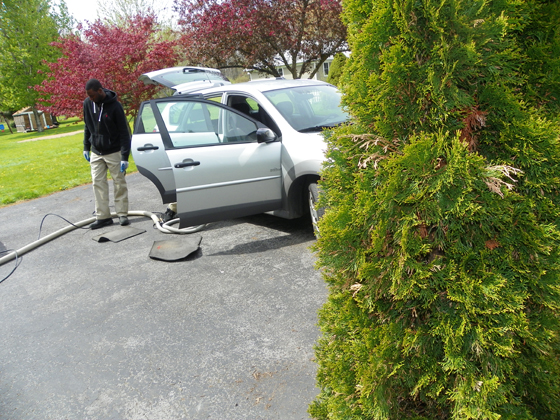 The crew got busy steam cleaning the mess out and about  a half-hour later the car looked and smelled fresh again!  How did they do?  I believe they did a very good job getting the stains and smell out.  Yet, they didn't  thoroughly clean underneath the seats, which was rather disappointing and left a little dirt beneath there.  Even so, I would undoubtedly have them come out next year and spring clean the car again!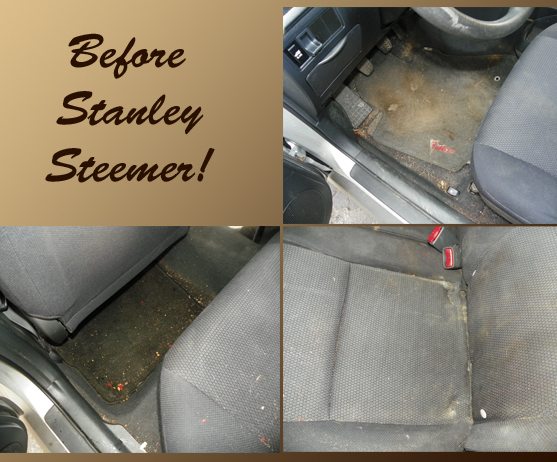 Stay connected with these social media sites
Stanley Steemer Website
Like Steemer on Facebook
Follow Stanley Steemer on Twitter
Stanley Steemer $100 Gift Certificate Giveaway!
A lucky reader will win a Stanley Steemer $100 gift certificate to go towards a desired cleaning service.  To enter the giveaway, please leave me a comment on the Rafflecopter form letting me know what you would like Stanley Steemer to professionally clean.  Any comments are welcomed below, but won't count towards the giveaway. Only entries using the Rafflecopter form will be eligible for prize. Thank you!
[field name= iframe1]
"Disclosure: The gift certificate, information, and additional gift pack have been provided by Stanley Steemer through MyBlogSpark."