Message from MyBlogSpark:
As a savvy Club member, you can recognize the value of buying Cheerios cereal at your local Costco, Sam's Club or BJ's. While buying Cheerios at Club is already easy and affordable, new 2 box Cheerios packaging format makes Cheerios an even better purchase! You can cheer on the value by purchasing the new 2 box Cheerios packages in Club!

What's so exciting?

New 2 box Cheerios contains two individual boxes, making them easier to store and easier to pour!

Not to mention…

By reducing the amount of air in each individual bag, these enhanced containers fit 10% more cereal than before and use less packaging
While each box contains more cereal, packaging material has been reduced by over 200,000 lbs, saving 1,000 trees and taking 130 Cheerios trucks of the road, decreasing CO2 emissions.

You don't have to take our word for it, check out all the benefits of new 2 box Cheerios packaging!
[field name= iframe]
New and improved 2 box Cheerios are now available on the shelves of Costco, Sam's Club and BJ's nationwide.
My thoughts!
We go through a lot of Cheerios in our household!  The cereal is one of my son's favorite snacks and my husband usually grabs a bowl full of the delicious O's first thing in the morning before going to work.  The new and improved packaging is a pleasant welcome in our home, because it contains more cereal, is much easier to pour, and is better for the environment.  Having two individual boxes not only makes the cereal more easy to store, but additionally keeps it fresher longer due to the fact my son won't accidentally open both boxes like he does the bags. What's not to like?
Cheerios Prize Pack Giveaway!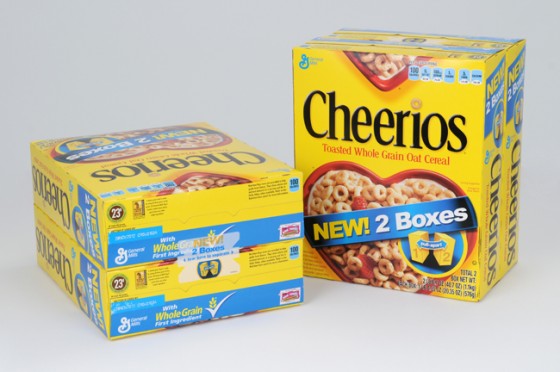 One lucky reader win a Cheerios Prize pack containing two new 2 box Cheerios packaging (four boxes)!  To enter the giveaway,  please leave me a comment on the Rafflecopter form letting me know how the new 2 box Cheerios packaging will benefit you and your family.  Any comments are welcomed below, but won't count towards the giveaway. Only entries using the Rafflecopter form will be eligible for prize. Thank you!
[field name= iframe1]
"Disclosure:  Cheerios® cereal, information, and giveaway have been provided by General Mills through MyBlogSpark."