If you are searching for that perfect gift this Easter to stuff inside your child's goodie basket pick-up a HOP Blu-ray DVD Combo Pack!  From the makers of the blockbuster Despicable Me, HOP is a hilarious comedy about the Easter Bunny's 17 year old (in human years) hare known as E.B. (voiced by Russell Brand).   On the eve of being ordained as his father's successor.  E.B. high-tails from his home under the giant stone heads on Easter Island to pursue his dream of becoming a rock star drummer.  The rebellious  young rabbit destined to follow within his dad's footsteps, ends up in the streets of Hollywood where he inadvertently meets up with Fred (James Marsden). Fred,  a 30-year-old, is an underachiever slacker who is out of work and was recently lovingly kicked out of his parents' home for failing to pull his life together.  The two take up shelter together and encounter a series of hilarious mishaps and misadventures.  The improbable match help each other recognize the incredible importance of family and friendship.
[field name= iframe]
HOP is a treat for all ages loaded with laughs, piles of pooped jelly beans,  an over sized chick named Carlos who has a sneaky plan, and an Easter Bunny sleigh pulled by hundreds of cute little fluffy chicks.  There is even an appearance from the HOFF (David Hasselhoff) himself and cameo appearances of several unexpected guests! We loved it!  The stunning imagery of the candy factory is absolutely fabulous!
I highly recommend you definitely get the Combo Pack if you decide to purchase HOP.  It includes an all-new, never-before-seen, music-filled mini-movie, extensive bonus features and interactive games to keep the kids busy on Easter day. The Combo Packs also contain a Digital Copy of the film for a limited time, compatible with iTunes, iPad, iPhone, iPod touch, Android or online retail partners.  This is such a great feature to have and especially comes in handy when you are away from home and needing something to entertain your children. Additionally, included is an UltraViolet  copy, the revolutionary new way for consumers to collect movies and TV shows by storing them in the "cloud." The new technology lets you instantly stream and download the movies to computers, tablets and smart phones,  which can further be viewed anytime, anywhere on the platform of your choice!
Here is more information via the press release on the Combo Pack's exclusive bonus features.
Phil's Dance Party

—

An all-new mini-movie

starring fan-favorite chicks Phil and Carlos. Phil eats so much candy that he crashes, leaving Carlos to perform a solo of the big dance finale…the Merengue!

The World of

HOP

—

Explore an interactive map of Easter Island to experience the making of

HOP

.

All Access with Cody Simpson

—

The best-selling teenage heartthrob performs the film's catchy theme song, "I Want Candy" and attends the

HOP

world premiere, his first Hollywood movie red carpet event.

Russell Brand: Being the Bunny—

A wacky look at what happens in Russell's brain as he prepares to become THE Easter Bunny.

Russell Brand's Kid Crack Ups—Russell Brand interviews kids with comedic results.

Carlos on Carlos: The Premiere According to Carlos

—

Experience the world premiere of

HOP

from the POV of Carlos. Viewers are given a guided tour of the party, where they can meet celebs and see all the fun!

Emotion in Motion: The Dance of Ken Daurio

—

Writer Ken Daurio sits down to discuss his inspiration for everyone's favorite dancing chick and reveals just how hard it was to teach Phil those awesome moves.

Post Coup Commentary: Carlos & Phil Tell All

—

Actor Hank Azaria reveals the truth about Carlos' and Phil's relationship, and how they imagined Easter Island would be if their coup had been successful.

Games:

E.B.'s Candy Challenge

—

The first one to the finish line in this virtual board game wins!  There are some challenges along the way, including mini-games like Picture Challenge, 3 Egg Monte, and Candy Fix.

Drum Along

—

E.B. can hit some tasty beats.  Viewers compete to keep up with him as he plays a sequence of rhythms on four drums.

Pink Beret Skill Tester

—

Fans can find out if they have what it takes

to become a Pink Beret with the skill tester! Challenges will test memory, observations skills and logic as players earn the rank of Pink Beret, Carlos' right hand chick, or Phil's intern.

ADDITIONAL EXCLUSIVE COMBO PACK FEATURES:

Digital Copy

– Viewers can redeem a digital version of the full-length movie to watch on an array of electronic and portable devices.

UltraViolet™:

The revolutionary new way for consumers to collect movies and TV shows, store them in the cloud and stream instantly to computers, tablets and smart phones.  Currently available in the United States only.

U-Control:

Universal's exclusive feature that lets the viewer access bonus materials without leaving the movie!

BD-Live

TM

: 

Access the BD-Live™ Center through your Internet-connected player to watch the latest trailers and more.

uHear™: 

Never miss another line of dialogue with this innovative feature that instantly skips back a few seconds on your Blu-ray™ disc and turns on the subtitles to highlight what you missed.

pocket BLU

™

:

  The groundbreaking pocket BLU™ app uses iPhone

?

, iPod

?

touch, Android™, PC and Macintosh to work seamlessly with a network-connected Blu-ray™ player.  Also available on the iPad™, owners can enjoy a new, enhanced edition of

pocket BLU

™

made especially to take advantage of the tablet's larger screen and high resolution display. Consumers browse through a library of Blu-ray™ content and watch entertaining extras on-the-go in a way that's bigger and better than ever before. 

pocket BLU™

offers advanced features such as:

Advanced Remote Control: 

A sleek, elegant new way to operate your Blu-ray™ player. Users can navigate through menus, playback and BD-Live™ functions with ease.

 

Video Timeline: 

Users can easily bring up the video timeline, allowing them to instantly access any point in the film.

Mobile-To-Go: 

Users can unlock a selection of bonus content with their Blu-ray™ discs to save to their device or to stream from anywhere there is a Wi-Fi network, enabling them to enjoy content on the go, anytime, anywhere.

Titles: 

Users will have access to a complete list of pocket BLU™-enabled titles available and coming to Blu-ray™ Hi-Def.  They can view free previews and see what additional content is available to unlock on their device.

Keyboard: 

Entering data is fast and easy with your device's intuitive keyboard.
My son received a HOP Family Screening Kit filled with a HOP Blu-ray Combo Pack, along with an  E.B. plush, Hop Activity Sheet, Hop Sticker Sheet, and Hop Drumstick pencils. Aiden had so much fun watching the film and playing with the HOP products!  He is seriously geared up for Easter time now! Check it out!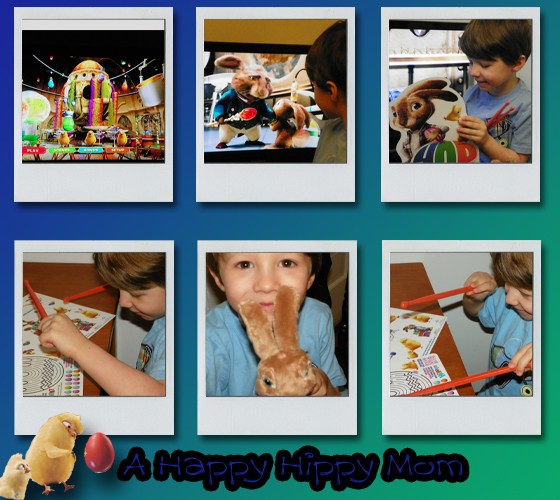 Buy It!
The HOP Blu-ray DVD Combo Pack can be purchased at Amazon.com for $22.95!  Also check out retailers such as Walmart, Target and Best Buy that are offering limited time special offers when you purchase HOP!  The movie would make an eggcellent holiday gift for Easter!
HOP Blu-ray DVD Combo Pack Giveaway
A lucky reader will win a HOP Blu-ray DVD Combo Pack!  To enter the giveaway please leave me a comment on your favorite Easter candy you look forward to every year!  Any comments are welcomed below, but won't count towards the giveaway. Only entries using the Rafflecopter form will be eligible for prize. Thank you!
[field name= iframe1]