What's for dinner?  I normally dart whenever I hear those words! Why?  Primarily because my inventiveness is lacking in the cooking department.  After all how many different ways is it possible to cook poultry, beef, pork, or fish without losing interest?  Particularly after having a hectic day and all I wish to do is relax, dinner is the very last thing I want to think about.  Needless to say I could certainly use a little help in the kitchen!
If you happen to be like me and require a helping hand with dinner,  give Hamburger Helper a try.  For four decades, Hamburger Helper  has helped in making family dinner time easy, and now with two new scrumptious varieties, Ultimate Beef Stroganoff and Cheesy Italian Beef, Hamburger Helper delivers even more selections for simple family style dishes. With naturally- flavored blends and rich, yummy sauces, Hamburger Helper creates a meal all your family members will be glad to gather around.
Hamburger Helper  Ultimate Beef Stroganoff
NEW Hamburger Helper Ultimate Beef Stroganoff provides rich roast beef flavor and pasta with a decadent sour cream flavored sauce mix.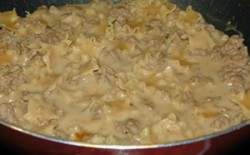 Hamburger Helper Cheesy Italian Beef
NEW Hamburger Helper Cheesy Italian Beef features real Italian herbs and pasta enhanced with naturally flavored Italian-style sauce mix.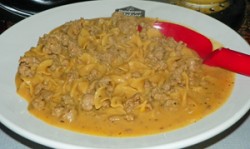 The best part is you most likely currently have the ingredients you'll need to make the meal right in your kitchen.  Just add one pound of cooked lean ground beef, water and a bit of milk to the Hamburger Helper sauce mix and uncooked pasta within a 10 inch skillet and you are all set to go!  Heat the ingredients to boiling,  making certain to stir occasionally,  Heat and cover on simmer for 10 to 16 minutes per packaging instructions and you've got a scrumptious meal!  It's that simple!
Pretty much everything that requires ground beef gets substituted with ground turkey in my house. It's much healthier plus the meal comes out less greasy.  I made both the Ultimate Beef Stroganoff and Cheesy Italian Beef using the turkey and the meals tasted delicious.  To be even more creative and transform the dish into something unique, toss in a  cup of green beans or peas.  Visit BettyCrocker.com for more yummy recipe ideas to help you get creative in the kitchen.
In addition, visit http://bit.ly/HamburgerHelperCoup to download a printable coupon for $0.70 off the purchase of one box of Hamburger Helper and be sure to share this coupon with your family and friends,  so they too can take advantage of the savings and try these new varieties today!
Hamburger Helper Prize Pack Giveaway!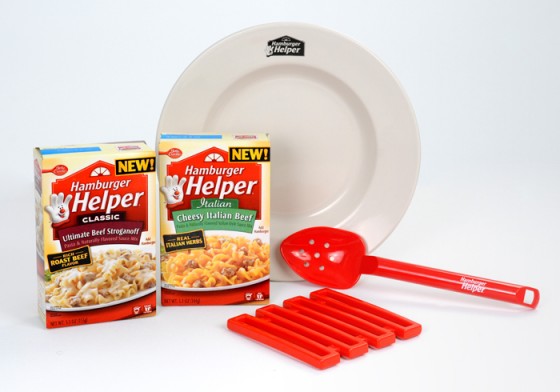 Courtesy of Betty Crocker and General Mills, through MyBlogSpark, one lucky reader is going to win a Hamburger Helper prize pack including:
Box of Hamburger Helper Ultimate Beef Stroganoff
Box of Hamburger Helper Cheesy Italian  Beef
Serving dish
Slotted serving spoon
Trivet
To enter the giveaway please follow the instructions on the Rafflecopter form.  Any comments are welcomed below, but won't count towards the giveaway. Only entries using the Rafflecopter form will be eligible for prize. Thank you!
 [field name= iframe]
"Disclosure:  The Hamburger Helper New Varieties information, product, and prize pack have been provided free of charge by Betty Crocker® and General Mills®, through MyBlogSpark."