Vintage Vinyl Journals are handcrafted American-made quality notebooks for writers of all types, but especially for those who love great music.  Upcycled from old vintage LPs to the latest vinyl releases, each notebook is unique and brings back memories of a simpler time when records and turntables were king.  All journals are made from recycled materials and 100% acid-free paper. Each journal contains 240 high quality pages measuring 7 1/2″ x 7 1/2″ on 70 lb. paper.  Adding to the uniqueness of each journal is a carefully handcrafted cover and finish work.
Greatest Hits Volume 2 is the new collection of original recordings by the mega-platinum band Journey, and is now available as a single CD, digital download, and as a special gatefold double-vinyl edition (which includes a code for a free digital download of the vinyl remastered album),  This new package from Columbia/Legacy, a division of SONY MUSIC ENTERTAINMENT, spans singles and album tracks recorded between 1978 and 1996.
Journey's original Greatest Hits collection is one of the top-selling American rock albums of all time with worldwide sales in excess of 25 million. In conjunction with the double-LP version of GREATEST HITS VOL. 2, the original Greatest Hits album was also issued as a gatefold double-vinyl edition.
GREATEST HITS VOL. 2 by JOURNEY (Columbia/Legacy 88697 77986 2) Selections: 1. Stone In Love  2. After The Fall  3. Chain Reaction  4. The Party's Over (Hopelessly In Love)  5. Escape  6. Still They Ride  7. Good Morning Girl  8. Stay Awhile  9. Suzanne  10. Feeling That Way  11. Anytime  12. Walks Like A Lady  13. Little Girl  14. Just The Same Way  15. Patiently  16. When I Think Of You  17. Mother, Father (Live In Houston, 1981).
For more info, visit Vintage Vinyl Journals and Sony Legacy.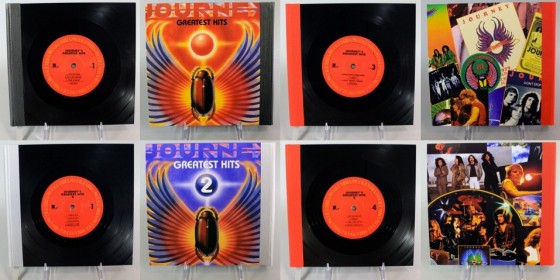 Journey Greatest Hits Vintage Vinyl Journal Giveaway!
Courtesy of  Vintage Vinyl Journals and Miles High Productions one very lucky reader is going to win a unique handcrafted Journey Greatest Hits Journal that features the actual vinyl as the front cover and part of the album artwork as the back cover!
To enter the giveaway please follow the instructions on the Rafflecopter form.  Any comments are welcomed below, but won't count towards the giveaway. Only entries using the Rafflecopter form will be eligible for prize. Thank you!
[field name= iframe]