Valentine's Day is 13 days away!  I'm here to help you find the perfect gift for that special someone in your life.  As we all know chocolate, roses, and cards are all great gift ideas, but what do they really say 10- 20 years down the road?  Will your sweetie remember you gave them a box of chocolate after they take the last sickening bite or a dozen roses once the last petal falls?  Probably not for very long.  The gift fades as fast as your money did when you bought it.  However, a beautiful piece of jewelry can last forever and be past down for generations to come.
Coming from a woman's point a view,  the more unique the pendant, locket, ring, necklace, earrings or bracelet is — the more I tend to remember the occasion it was given.  Over the years I have collected several pieces of jewelry, as I'm sure you have probably done as well.  I have a box filled with jewelry which was purchased to coordinate with  various outfits, but I hardly wear those items.  The jewelry I wear the most has some sentimental value behind it and touches my heart.
Recently I had the pleasure of being introduced to PicturesOnGold.com, a manufacturer providing an extensive variety of  fine men, women, and children's photo jewelry designs in 14k Yellow Gold, 14k White Gold, 18k Gold, Sterling Silver, Platinum, and 14k Gold Filled Metals.  The company uses patented laser engraving technology to permanently laser-print full color, sepia, or black and white cherished photos onto lockets, pendants, bracelets, rings, and more!  All products can be personalized to include initials, fingerprints, clipart, names, or sayings!
PicturesOnGold.com offered to make me a customized Sterling Magic "Sweetheart" Heart Photo Locket which holds 2 photos on a Sterling Silver 18inch Box Chain.  I searched frantically through my photos to find something I assumed would be able to squeeze into a locket.  However, I didn't need to due to the fact PicturesOnGold.com can take any size photograph and crop it down to fit flawlessly!  They even can bring two people closer together, remove backgrounds, touch up photos, and take out a person or object.  The entire process is remarkable and makes the most stunning and unforgettable heartfelt Valentine's Day gift!
Here are the two photos I gave the PicturesOnGold.com trained computer experts to imprint inside the locket.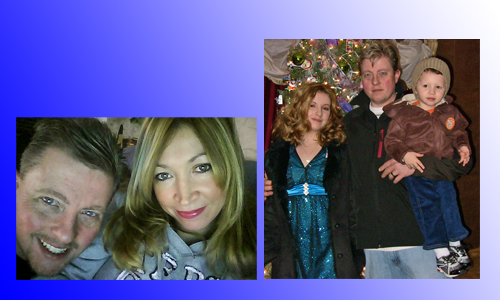 The turnaround time was astonishing!  I received the customized locket in the matter of no time!  The locket came beautifully packaged in this GORGEOUS high line jewelry box.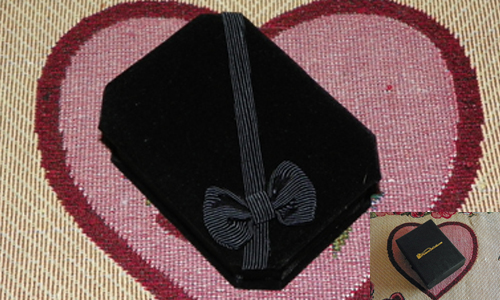 Take a look at the beautiful locket!  See how PicturesOnGold was able to move the pictures to make them fit?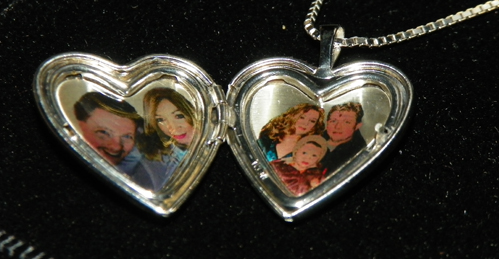 The Sterling Silver is protected with a tarnish resistance to help it last for years without tarnishing and the best part—the pictures inside the locket are waterproof, scratchproof and age-proof.  Meaning, I don't have to take off my locket when entering the shower!
On the outside of the locket I had the option of Script or Block Letters for the engraving on the front, or backside.  I selected Script and requested to have the saying " Forever Within My Heart" engraved on the front.  The final results and workmanship are extraordinary. It really is a beautiful piece of jewelry I will treasure for ever!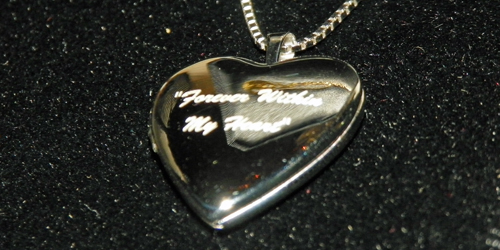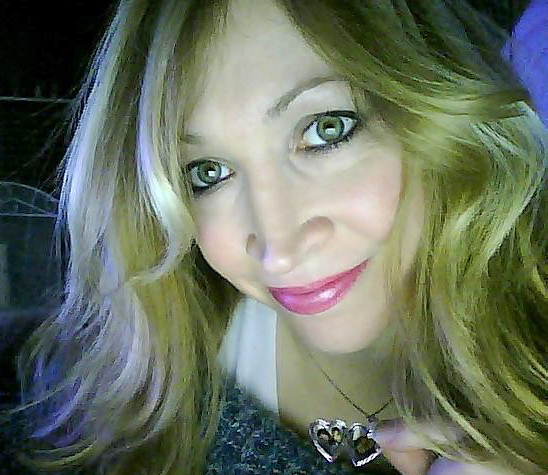 PicturesOnGold.com provides quality jewelry gifts for any occasion and is able to transform a precious moment into a memory that will last a lifetime!  They also make customized Sports Jewelry, Fingerprint Jewelry, Police and Fire Department Jewelry, Medical Jewelry, and more!  There is something for everyone there! Check them out!
Save
Save 5% off your PicturesOnGold.com order when you apply the promo code patty13 at checkout!
Stay Connected With PicturesOnGold.com
Like PicturesOnGold.com on Facebook
Follow PicturesOnGold.com on Twitter
Sterling Silver "Sweetheart" Heart Photo Locket and Sterling Silver 18inch Box Chain Giveaway ($155.85)
PicturesOnGold.com would like to give one reader the most precious Valentine's Day gift of a Sterling Silver "Sweetheart" Heart Photo Locket  (which holds 2 photos)  on a gorgeous  Sterling Silver 18inch Box Chain! TO ENTER THE GIVEAWAY PLEASE USE THE RAFFLECOPTER FORM INSTEAD OF LEAVING BLOG COMMENTS HERE. Any comments are welcomed below, but won't count towards the giveaway. Only entries using the Rafflecopter form will be eligible for prize. Thank you!
[field name= iframe]
[field name= iframe1]