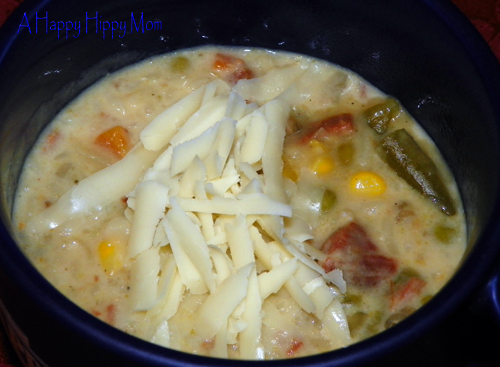 This is another great Weight Watchers Crock Pot favorite recipe in my home!  If you are looking for a hearty soup that sticks to your ribs and warms you up on a cold winters day, try the Ham and Wild Rice Soup! I know you can't tell from the picture above, but the soup is filled with wild rice!  It absolutely delicious!
Ham and Wild Rice Soup
2 cups diced cooked ham
3/4 cup uncooked wild rice
1 medium onion , chopped (1/2 cup)
1 (16 oz) bag frozen mixed vegetables , thawed, drained
13/4 cup  chicken broth
1 (10 3/4 ounce) can condensed low sodium cream of celery soup
1/4 teaspoon pepper
3 cups water
1/2 cup fat-free half-and-half
Directions:
In 3- to 4-quart slow cooker, mix all ingredients except half-and-half.
Cover and cook on Low heat for 8 to 9 hours.
Stir in half-and-half. Increase heat setting to High.
Cover and cook 10 to 15 minutes more or until hot.
Garnish with low fat shredded cheddar cheese (optional)
Provides 8 servings