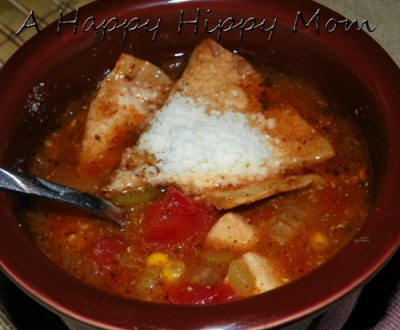 Crock-pot meals are delicious, flavorful, and healthy! What I really love about using my slow cooker is that I'm able to just drop the ingredients into the pot and it cooks everything to perfection without the need of even being required to stir the meal. What this means is I can walk away from the crockpot and dinner cooks itself while I'm carrying out other important things throughout the house.
Weight Watchers has a bunch of fantastic Crock-pot soup, stew, and chili tasty recipes,  which I intend on testing this week. The first one I'd like to share with you is the Weight Watchers Chicken Tortilla Soup! This is a delicious, hearty soup packed with wholesome ingredients your entire family will love!
INGREDIENTS:
1  lb chicken, cooked and shredded
1 can (14.5 ounce size) whole tomatoes, undrained, mashed
1 can (10 ounce size) enchilada sauce
1 medium onion, chopped
1 can (4 ounce size) chopped green chile peppers, drained
2 cloves garlic, minced
2 cups water
1 can (14.5 ounce size) chicken broth
1 teaspoon ground cumin
1 teaspoon chili powder
1 teaspoon salt
1/2 teaspoon black pepper
1 bay leaf
1 package (10 ounce size) frozen corn
1 tablespoon dried chopped cilantro
2 tablespoons vegetable oil
7 corn tortillas
Grated Parmesan cheese, (garnish)
PREPARATION:
1. Place shredded chicken, whole tomatoes, enchilada sauce, onion, green chilies and garlic into a slow cooker.
2. Pour in the water and chicken broth. Add cumin, chili powder, salt, black pepper and bay leaf. Stir in corn and cilantro. Cover and cook on LOW 6 to 8 hours or on HIGH 3 to 4 hours.
3. Preheat oven to 400 degrees.
4. Lightly brush both sides or tortilla with vegetable oil. Cut tortillas into strips or wedges and spread on a baking sheet.
5. Place the tortilla strips in oven and bake for 10 to 15 minutes until crisp.
Garnish soup with tortilla strips and grated Parmesan cheese. Serve immediately.
Provides  8 servings
Weight Watchers PointsPlus+=7
Nutritional Info
Calories 258
Carbs 24.5 g
Fat 10.7 g
Fiber 3.8 g
Protien 17.7 g
*Recipe and nutritional information borrowed from Weight Watchers