DreamWorks Studios' Action-Adventure With Heart, "REAL STEEL," Starring Hugh Jackman, Enters the Home Entertainment Ring on

Blu-ray, DVD, Digital and On-Demand January 24, 2012

DreamWorks Studios' REAL STEEL, starring Hugh Jackman, muscles its way into the Home Entertainment arena on Blu-ray™, DVD, Digital and On-Demand on January 24, 2012. This visually stunning action-adventure filled with heart and soul is a "must-add" to every home movie collection, delivering a premium in-home experience complete with knockout bonus materials that dive deeper into the action.

The Blu-ray Combo Pack, with its perfect picture and sound, delivers the ultimate punch, offering viewers a variety of supplemental bonus features that take them ringside with Director Shawn Levy on the making of the film. Exclusive features include a bare-knuckled exposé of the life story of Charlie Kenton (Hugh Jackman), deleted and extended scenes that go deeper into the film and storylines, and a riveting profile with legendary boxing champion Sugar Ray Leonard. Plus, the revolutionary Real Steel Second Screen app lets viewers sync their iPad or computer with the Blu-ray movie to peel back layers of effects with progression reels, check out 360-degree turnarounds of the robots, explore seamless branching pods that delve into the cutting-edge technology used to create the fights, and much more.

The #1 movie in the country for two consecutive weeks during its theatrical run, REAL STEEL is directed by Shawn Levy (Night At the Museum franchise, Date Night and What Happens in Vegas), produced by Steven Spielberg (Saving Private Ryan, Schindler's List), with a screenplay by John Gatins (Coach Carter, Summer Catch). Set in the not-so-distant future where boxing has gone high-tech and 2000-pound, 8-foot-tall steel robots have taken over the ring, the film stars Hugh Jackman (X-Men franchise, Australia) as Charlie Kenton, Evangeline Lilly (TV's Lost, The Hurt Locker) as Bailey Tallet, Dakota Goyo (Thor) as Max Kenton, Kevin Durand (I Am Number Four (Michael Bay Producer), X-Men Origins: Wolverine) as Ricky, and Anthony Mackie (The Adjustment Bureau, The Hurt Locker) as Finn.

REAL STEEL will be available to own and for in-home viewing as follows:

BONUS FEATURES:

3-Disc Blu-ray Combo Pack (1 Blu-ray Disc + 1 DVD + 1 Digital Copy)

All 2-Disc Blu-ray Bonus Features

All DVD Bonus Features

2-Disc Blu-ray Combo Pack (1 Blu-ray Disc + 1 DVD)

REAL STEEL SECOND SCREEN

Countdown to the Fight—The Charlie Kenton Story

Sugar Ray Leonard: Cornerman's Champ

Deleted and Extended Scenes with introductions by Shawn Levy

—Extended "Meet Ambush"

—Deleted "Butterfly" Storyline

PLUS All DVD Bonus Features

1-Disc DVD (1 DVD)

Making of Metal Valley

Building the Bots

Bloopers

HIGH-DEFINITION & STANDARD DEFINITION DIGITAL

Sugar Ray Leonard: Cornerman's Champ

PLUS All DVD Bonus Features

FILM SYNOPSIS:

Balancing gritty action and emotional heart, "Real Steel" is an inspiring and visually stunning film that takes audiences on an action-packed journey. Washed-up boxer Charlie Kenton (Hugh Jackman) scrapes by as a small-time robot-fight promoter as he tries to make a comeback. Against all odds he eventually succeeds—at least in the eyes of his son Max (Dakota Goyo). "Real Steel" is spectacular family entertainment that will have everyone cheering again and again.

[field name= iframe]
A Must See!
My family received an advanced Real Steel Blu-ray Combo pack.   From viewing the trailer I wasn't exactly sure what to expect.  Let me tell you…the movie is incredible! The visual special effects are exceptional and the motion capture technology was mind blowing!
Being that it was rated PG13,  I was very hesitant to let my 4 year old watch it , as I was afraid there would be moments  inappropriate or frightening for his age.  Yet, most the violence in this movie was mild and consisted of robot fights with some intense action scenes, such as robots being dismembered.  Another possible disturbing scene in the beginning of the film was when Ambush (first robot in the movie) fought Black Thunder,  a bull belonging to Ricky (Kevin Durand).  Ambush was ripped apart and the bull was also roughly handled,  which could be scary for young eyes.  The worst violent scene was probably when Charlie Kenton (Hugh Jackman) was beaten by three men "within an inch of his life," and his son was roughed up a little. It wasn't overly graphic, but did contain some punching and blood. Otherwise, the language was rather gentle for a PG13 rating.  Not proud of saying this, but it wasn't anything worse than what my son has heard at home a million times before.  I just recommend watching it first to be sure you think your youngster can handle it.  In my opinion the movie was an extremely soft PG13 and my son LOVED it.  He even already has two of the action robot figures (Atom and  Zeus) that are now his favorite toys.
Imagine,  if you will, the year is 2020 and the sport of boxing is no longer man vs man, but 8 foot tall steel robots bashing each other with humans controlling the action.  The thought of the concept alone is ingenious!  The movie opens with a small time fair in San Leandro County.  Charlie Kenton (Hugh Jackman), a washed-up fighter turned small-time promoter who lives out of his truck, is down on his luck,  and trying to make a comeback.  He makes a $20,000 bet that Ambush will win against Ricky's bull.  Ambush gets destroyed and  Charlie loses the bet and makes a quick escape without paying Ricky.
Charlie learns his ex-girlfriend, Caroline Fallon, has died and that he must attend a hearing to decide the fate of his eleven year old son Max (Dakota Goyo).  At the hearing, he meets up with Max's aunt Debra (Hope Davis) and her wealthy husband Marvin (James Rebhorn).  The two are wanting to adopt Max, which Charlie sees as prime opportunity to make some cash to buy Noisy Boy, a secondhand World Robot Boxing league robot that he purchases on the black market .  He makes a secret deal with Marvin to give Debra full custody of Max for $100,000, half in advance, on the condition that Charlie take care of Max for three months during the summer while the two vacation in Italy.  In August,  Charlie would receive the other half of the money upon returning Max in New York.
Charlie meets up with Max at Charlie's childhood friend and love interest, Bailey Tallet (Evangeline Lilly). Baily runs Tallet's Gym, a boxing gym of her deceased father who was Charlie's old coach.  Noisy Boy is delivered to the gym and Charlie plus Max set out to fight him at this place called Crash Palace, which is owned by his friend named Finn.  Charlie arranges a fight with Finn to have Noisy Boy go against Midas.  The winner walks away with a guarantee of fifty thousand dollars. Max begs Charlie to take an undercard fight instead and walk out with a little cash.  Charlie dismisses Max's suggestion and due to his overconfidence plus inexperience with Noisy Boy's boxing combinations, Midas demolishes his robot.
Charlie,  saving what was left of Noisy Boy's voice recognition board,  decides to sneak into the junkyard to steal some scrap metal to try and put together another robot.  At the junkyard, Max falls of a ledge where he is saved by an arm from an obsolete Generation 2 robot named Atom.  Charlie and Max set out with the unlikely G-2 sparring robot made in 2014 and amazingly beat the odds!
The movie is a father and son futuristic sports story that gets you up and cheering for the underdog.  Its fun, at times emotional, and highly entertaining.  A definite must see!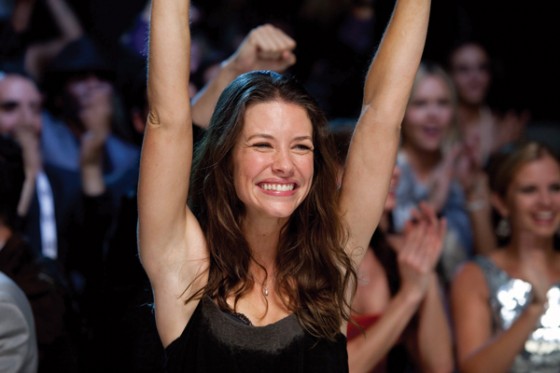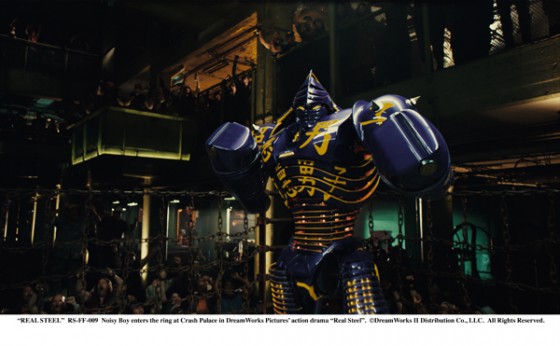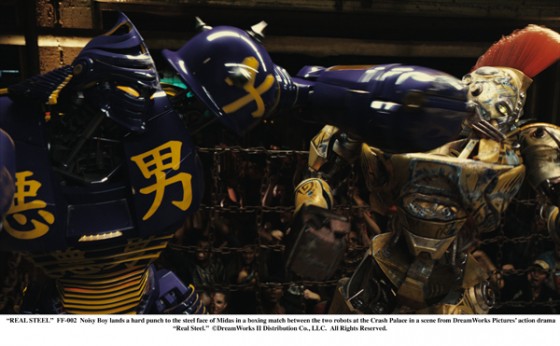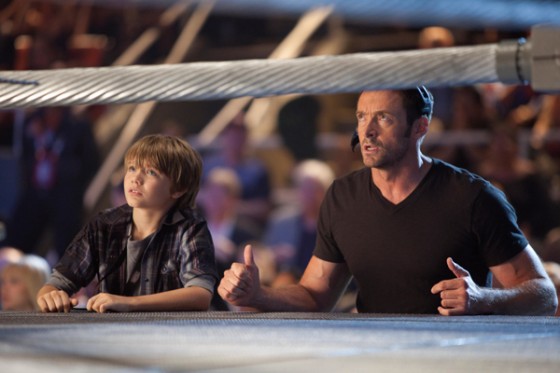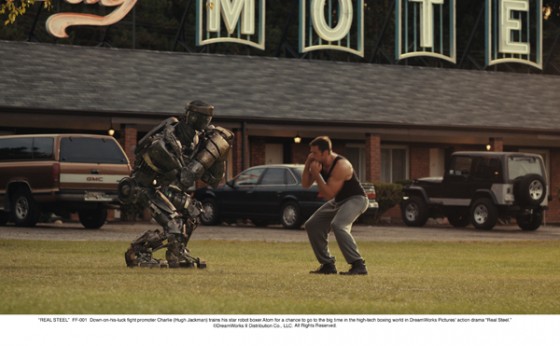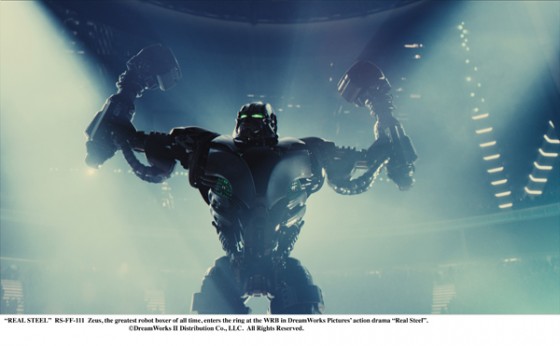 SOCIAL MEDIA:
Stay connected withREAL STEEL using these social media sites:
About DreamWorks Studios:
DreamWorks Studios is a motion picture company formed in 2009 and led by Steven Spielberg and Stacey Snider in partnership with The Reliance Anil Dhirubhai Ambani Group. The company recently released The Help, which has resonated with audiences around the country and earned over $100 million at the U.S. box office. Upcoming releases include Steven Spielberg's War Horse. DreamWorks Studios can be found on Facebook at http://www.facebook.com/DreamWorksStudios and on Twitter at http://twitter.com/dw_studios.
Reel Steal Blu-ray + DVD Combo Pack Giveaway!
Courtesy of DreamWorks Studios, one reader will win a Reel Steal Blu-ray + DVD Combo Pack. TO ENTER THE GIVEAWAY PLEASE USE THE RAFFLECOPTER FORM INSTEAD OF LEAVING BLOG COMMENTS HERE. Any comments are welcomed below, but won't count towards the giveaway. Only entries using the Rafflecopter form will be eligible for prize. Thank you!
[field name= iframe1]