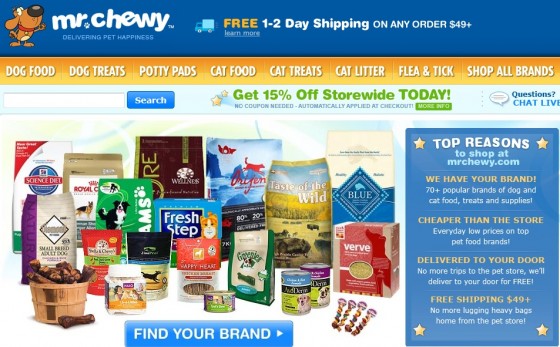 Did you make a New Year's resolution for 2012?  I made several, like attempting to save more money, spend extra time with my family,  get rid of the mommy muffin top, as well as eliminate any unneeded steps,  so I'm able to optimize my time to take pleasure from the fun things life can offer.  Fundamentally, I would like to take a smarter approach this year.  Therefore,  avoiding excess visits to the stores which lead to impulse buying.
Thanks to Mr. Chewy giving me a $50 GC to test their products and services, today I took the initial steps in keeping my vows and purchased my furry friend supplies online.  I use to like going to the local pet shop when I had just my cat.  But now that we have two cats and two dogs, the trip is usually a hassle as a result of having to haul back the heavy kitty litter and food bags.  I'm only 5′ 2″ and some of the dog food bags are about the size of me!  Furthermore, with the cold temperatures and snow, travelling 25 miles to get to the closest pet store isn't enjoyable neither.  I'd also find myself getting suckered into purchasing cute products my pets didn't need and shelling out considerably more cash than I anticipated.
Mr. Chewy  offers more than 70 brands of quality dry and canned pet food at everyday low prices, including Iams, Eukanuba, Beneful, Newman's Own Organics, Pedigree, and far much more!  The online pet store also provides shoppers with a large array of treats and supplies to keep your fur babies delighted.  They've got everything from potty pads, cat litter, flea & tick treatments, specialty items, along with plenty of yummy pet snacks to select from.  No matter what your four-legged friend demands, I bet Mr. Chewy has it!
Another feature I adore about Mr. Chewy (apart from the huge selection) is  instead of needing to drive to the store every couple of weeks, you are able to set up a totally free delivery schedule to have the stuff you want shipped directly to your home.  You determine the time frame and quantities. You can temporarily stop, cancel, or change any part of your schedule.  There's no membership fee and if you're not 100% entirely satisfied for any reason whatsoever, you may return the products. Additionally, if your order is over $49, they'll ship it free of charge anywhere in the continental US via FedEx and various other premium carriers!  Purchases under $49 cost a flat shipping rate of $4.95, which is extremely reasonable.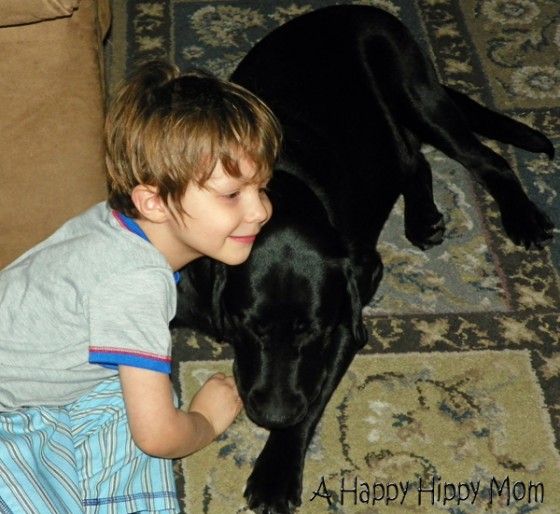 I've got a 5 month old black Lab puppy (Sammy) who loves to chew every little thing he is able to get his paws on and is at the moment eating Iams Proactive Health Smart Puppy Large Breed Dry Dog Food.  I ordered him a 8 lb bag of Iams, Dogswell Veggie Life Happy Hips Chicken & Apple Dog Treats, and a Merrick G.I. Bone Dog Chew.  My adult  Cairn-Poo dog (Pepper) has been eating Pedigree Dry Food ever since May 2010 when she became a Pedigree Ambassador.  I purchased her a 4 lb bag of Pedigree, One Natural Beef Chew, and Bil Jac Peanut Butter Nanas Dog Treats.  My two cats got a 6 lb bag of Chicken Soup for the Cat Lover's Soul Adult Dry Cat Food and Greenies Feline Savory Salmon Flavor Cat Treats.  The total cost of all eight items was just $49.92 and should arrive  within 3-5 days.  The entire shopping experience was enjoyable and pain free!  I was very impressed at all of the products the shop had that my neighborhood pet store didn't carry. FANTASTIC!  I most certainly will undoubtedly go shopping at Mr. Chewy again!
I highly recommend anyone who's got pets and is fed up with lugging heavy pet food bags to give Mr. Chewy a try.  You'll find hard to come by specialty products your pets enjoy, conserve gas and time by not having to travel to the pet store and from shopping within the comfort of your home.  This is an ideal service for busy individuals who have pets as well as the elderly who may have difficulty getting out to purchase pet food and lifting heavy pet products.
Stay Connected!
Donation Program