Are you a Tom Cruise fan?  If you are than you don't want to miss your chance to see him in Mission: Impossible – Ghost Protocol in mind-blowing IMAX theaters!  The action spy film is the fourth installment in the Mission: Impossible series and looks fantastic! Check out the trailer below.
[field name= iframe]
Since December 16th, a full five days before its North American premier, fans have been able to see Mission: Impossible – Ghost Protocol in mind-blowing IMAX experience in 300 theatres across the country. If you are not familiar with IMAX, the corporation  is one of the world's leading entertainment and technology companies, specializing in the creation and delivery of premium, awe-inspiring entertainment experiences.  Here is more about the movie in IMAX theaters via MyBlogSpark.
Join Ethan Hunt and his team of rogue IMF agents, in this awesome spy adventure that will keep you on the edge of your seat from start to finish. With 30-minutes of scenes shot with IMAX cameras, fans will be able to enjoy certain sequences of the movie in larger than life proportions. You will be right in the action as Ethan Hunt (played by Tom Cruise) scales the world愀 tallest building; the Burk Khalifa Tower in Dubai, as this and other thrilling moments expand to fit the entire IMAX screen. As an added bonus, IMAX will offer the first previews of the upcoming Batman film, The Dark Knight Rises, prior to Mission: Impossible Ghost Protocol.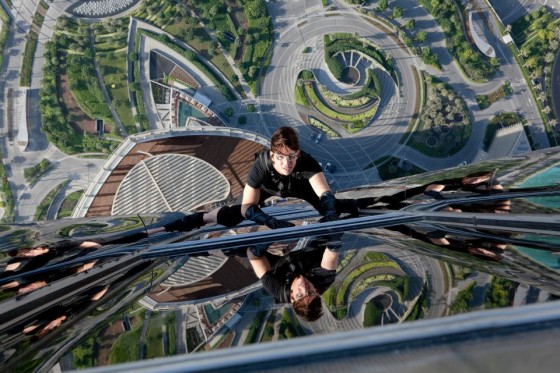 Are you going to see it?  I have seen all three of the Mission Impossible films and can't wait to see this one!  I don't want to miss the unbelievable stunt performed by Tom Cruise as he scaled the world's tallest building, the Burj Khalifa Tower in Dubai.  That scene alone is worth the price of admission!
Stay connected with through social media sites:
Like IMAX on Facebook
Follow IMAX on Twitter
Join IMAX on Youtube
FTC Disclosure: Information was provided by IMAX through MyBlogSpark.