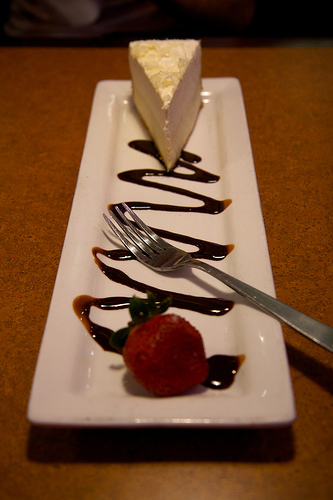 Hosting a party but unable to spend hours preparing in the kitchen? When life comes at you quickly, you need clear-cut solutions. Rather than complicate matters by planning an extravagant menu of luxurious, laborious desserts, these easy dessert recipes will please your guests and relax your schedule. Featuring a prep time of 15 minutes or less, they put the pleasure back into baking. Remember, life is meant to be enjoyed—keep it simple whenever possible.
Chocolate-White Chocolate Cookies
Prep time: 15 minutes
When it comes to cookies, you simply can't go wrong. Cookies are like bite-size happiness for those who choose to delight in their goodness. While some people prefer chocolate, others like white chocolate. So why not do both? These cookies blend chocolate pudding with white baking chocolate—a yummy combo! Easy dessert recipes like this one will fool your guests into thinking you put a lot of time and effort into baking them. Shhh…
Servings: 18
Ingredients
1 cup butter or margarine, softened
1 cup packed brown sugar
1 pkg. (3.9 oz.) chocolate instant pudding
2 eggs
1 tsp. baking soda
2 cups flour
1 pkg. (6 squares) white baking chocolate, chopped
Directions
Heat oven to 350°F.
Beat butter and sugar in large bowl with mixer until light and fluffy. Add dry pudding mix; beat until well blended. Add eggs and baking soda; mix well. Gradually beat in flour until well blended. Stir in chocolate.
Drop tablespoons of dough, 2 inches apart, onto baking sheets.
Bake 10 to 12 minutes or until edges are lightly browned. Cool 1 minute on baking sheets; remove to wire racks. Cool completely.
Turtle Sweet Treats
Prep time: 15 minutes
What do you get when you pair chocolate, caramel and pecans with cocoa-sweetened rice cereal and marshmallows? These mouthwatering confections! This is one of those easy dessert recipes that is not only a cinch to make, but the bars are great for sharing as well. Whether you're making them for a big celebration or a small gathering, Turtle Sweet Treats will surely be a hit.
Servings: 12
Ingredients
3 Tbsp. butter or margarine
1 square unsweetened baking chocolate
1 pkg. (10 oz.) jumbo marshmallows
6 cups cocoa sweetened rice cereal
1-1/2 cups caramel cubes, divided
1 Tbsp. water
1/2 cup chopped pecans, toasted
Directions
Microwave butter and chocolate square in large microwaveable bowl on high 45 seconds or until melted. Add marshmallows; toss to coat. Microwave 1-1/2 minutes or until marshmallows are completely melted and mixture is well blended, stirring after 45 seconds.
Add cereal and 1 cup caramel cubes; mix well. Press onto bottom of 13×9-inch pan sprayed with cooking spray.
Microwave water and remaining caramel cubes in small microwaveable bowl 45 seconds; stir until cubes are completely melted. Drizzle over cereal mixture. Sprinkle with nuts; press lightly into cereal mixture to secure. Cool completely before cutting into squares.
Cappuccino Cheesecake
Prep time: 10 minutes
What's sinful, smooth and completely irresistible? This cheesecake recipe, of course! Turn your guests' attention to the most anticipated part of the party: the desserts. Easy dessert recipes make planning a get-together simple and even fun. Rather than slaving in the kitchen, you can use that time to relax and unwind before the party commences. Serve with cappuccino and your guests may never leave!
Servings: 8
Ingredients
2 pkg. (8 oz. each) cream cheese, softened
1/2 cup sugar
1/2 tsp. vanilla
2 eggs
1 Tbsp. milk
2 Tbsp. instant coffee
1 Oreo Pie Crust (6 oz.)
Directions
Preheat oven to 350°F. Beat cream cheese, sugar and vanilla with electric mixer on medium speed until well blended. Add eggs; mix just until blended.
Microwave milk in small microwaveable bowl on high 15 seconds. Add instant coffee; stir until dissolved. Add to batter; mix well. Pour into crust.
Bake 40 minutes or until center is almost set. Cool. Refrigerate several hours or overnight. Store leftover cheesecake in refrigerator.
Super Speedy Tiramisu
Prep time: 2 minutes
Not everyone loves tiramisu, but if you want to satisfy those guests who do, overwhelm them with this easy dessert recipe. Instant Suisse Mocha coffee combines with vanilla pudding and shortbread cookies to create the ultimate low-fat treat. It's speedy, it's scrumptious and it's stress-free!
Servings: 2
Ingredients
2 tsp. Suisse Mocha Café instant coffee
2 vanilla pudding snack cups
1 pack (0.74 oz.) 100 Calorie Lorna Doone Shortbread Cookie Crisps
2 Tbsp. thawed whipped topping
Directions
Stir 1 tsp. flavored instant coffee into each pudding snack cup.
Top with cookies and whipped topping.
Strawberry Cream Cheese Freeze
Prep time: 15 minutes
Cream cheese is a wonderful addition to almost any dessert recipe, especially this one. And with a prep time of only 15 minutes, serving this pie at your next party is a no-brainer. Before you begin, make sure you have a springform pan—easy dessert recipes are fabulous for entertaining, but they're useless if you don't have the right bakeware.
Servings: 16
Ingredients
12 chocolate chip cookies
1 pkg. (8 oz.) cream cheese, softened
1/2 cup sugar
1 can (12 oz.) frozen berry juice concentrate, thawed
1 cup crushed strawberries
1 tub (8 oz.) whipped topping, thawed
2 cups whole strawberries, cut in half
Directions
Arrange cookies in single layer on bottom of 9-inch springform pan.
Beat cream cheese and sugar in large bowl with mixer until well blended. Gradually beat in juice concentrate. Stir in crushed berries. Whisk in whipped topping until well blended. Pour over cookies in pan.
Freeze 6 hours or until firm. Remove from freezer 15 minutes before serving; let stand at room temperature to soften slightly. Top with berry halves.
Piece-of-Cake P'Nut Butter Cookies
Prep time: 15 minutes
Peanut butter cookies often evoke feelings of comfort, and the delightful aroma they emit creates a cozy environment. Give your guests the marvelous option of peanut butter cookies, and prepare for them to disappear in no time. Comfort food rarely stays on any dessert table for longer than a few minutes.
Servings: 18
Ingredients
1 egg
1 cup creamy peanut butter
1 cup sugar
1/2 cup chopped cocktail peanuts
1 tsp. vanilla
Directions
Heat oven to 350°F.
Beat egg in large bowl with mixer until foamy. Add remaining ingredients; mix well.
Shape into 1-inch balls. Place, 2 inches apart, on baking sheets. Flatten, in crisscross pattern, with tines of fork.
Bake 10 minutes or until lightly browned. Cool on baking sheets 1 minute. Remove to wire racks; cool completely.
*Guest post by Sue C. –Photo credited to Marcin W.