Message from our friends at MyBlogspark
Searching for ways to mix up this year's holiday bash? Then why not host a Chex Party Mix-Change, a modern spin on the traditional cookie swap with a delicious and savory twist! With several Chex Party Mix recipes that can be made in just 15 minutes and Sam's Club stores providing you with everything needed to host a fabulous party, there's no excuse to not call on family and friends for a celebration.

In fact, with all of the extra prep time being saved, you'll be able to spend more time mingling with your guests this year than working in the kitchen.

How to throw the ultimate Sam's Club Chex Party Mix-Change:

Visit ChexPartyMixChange.com for even more party-planning tips and be sure to also check out Sam's Club, your one stop Chex spot that has everything you need to throw a Chex Party Mix-Change!
YUMMY and Fun Alternative To Cookies!
Every year I make eight different varieties of Christmas cookies and by the time the last cookie is taken out of the oven…I'm exhausted! Not to mention, I feel like I have missed precious moments each Christmas that could have been spent with my family and friends, because of having to be in the kitchen. Ditching a few of the cookie recipes and exchanging them with simple, delicious Chex Party Mix favorites is a fabulous alternative!  Most of the Chex Party Mix recipes take under 15 minutes to prepare and are less expensive to make than your average holiday cookie. Especially, if you shop at Sam's Club and pick up the ingredients you need in bulk!  You will be saving time and money
Getting friends together and having a Chex Party Mix-Change is a wonderful idea and fun way to bond this holiday season.  Each person can make their yummiest Chex Mix Party recipe, place the delicious mix in cello bags,  label them with friends names, and then pass them out at the party.   Everyone can have fun tasting the different recipes and enjoy each other's company without the hassle of baking and cookie cleanup.
Other packaging ideas include festive decorated takeout containers, cupcake liners filled with Chex Party Mixes neatly in a small gift box, Christmas tins, and placing cellophane bags inside an upside down party hat!  I picked up supplies at my local dollar store for almost nothing,  so if you have one in your area I would look there first.  The little snack bags are so cute and make an excellent inexpensive  gift!  Check out mine filled with yummy Chex Muddy Buddies.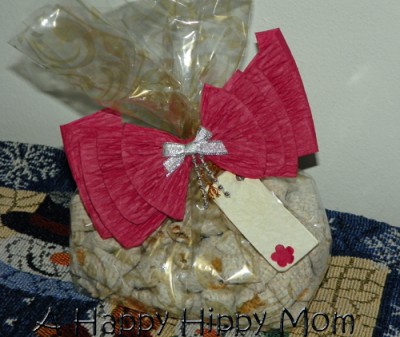 Chex Muddy Buddies Recipe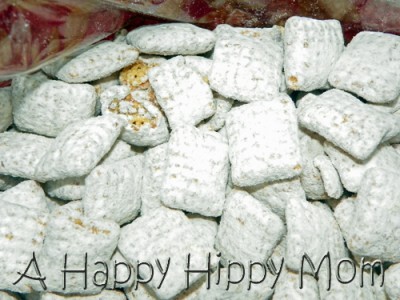 9 cups Rice Chex, Corn Chex or Chocolate Chex cereal (or combination)
1 cup semisweet chocolate chips
1/2 cup peanut butter
1/4 cup butter or margarine
1 teaspoon vanilla
1 1/2 cups powdered sugar
Directions:
1. Into large bowl, measure cereal; set aside.
2. In 1-quart microwavable bowl, microwave chocolate chips, peanut butter and butter uncovered on High 1 minute; stir. Microwave about 30 seconds longer or until mixture can be stirred smooth. Stir in vanilla. Pour mixture over cereal, stirring until evenly coated. Pour into 2-gallon resealable food-storage plastic bag.
3. Add powdered sugar. Seal bag; shake until well coated. Spread on waxed paper to cool. Store in airtight container in refrigerate.
A Modern Holiday Twist
I also made a huge bowl of the Gingerbread Party Mix.  Wow,  was it ever delicious! My family LOVED it!  I found the recipe in the December edition of Family Circle magazine on page 148.  Give it a try and delight your guests with this sweet modern holiday twist on Chex Mix!
Gingerbread Party Mix Recipe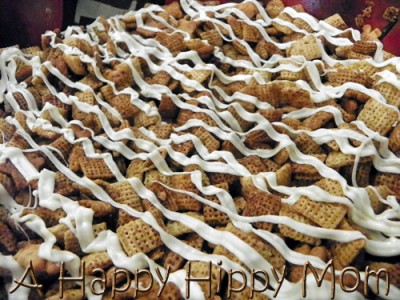 3 cups cinnamon chex cereal
3 cups rice chex cereal
1-1/2 cups cinnamon graham snacks
6 tbsp. butter or margarine
1 tsp ground cinnamon
1/4 tsp ground cloves
1/4 tsp ground nutmeg
2 tsp vanilla
2 tbsp crystallized ginger, chopped
1/4 cup white vanilla baking chips
Directions:
1. In a large microwavable bowl, add cereals and graham snacks; set aside. in a small microwavable bowl, microwave butter uncovered on high 40 seconds or until melted. stir in cinnamon, cloves, nutmeg and vanilla until blended. Pour over cereal and stir until coated.
2. Microwave uncovered on high 5 minutes, stirring every 2 minutes. stir in ginger until blended. Spread mixture onto paper towels. in small microwavable cup, microwave vanilla baking chips uncovered on high 1 minute, stirring every 30 seconds, until melted. Drizzle over snack; let stand until set. Store in airtight container.
Ditch the cookies this year and give the Chex Party Mix-Change a try!
Sam's Club Chex Party Mix-Change Prize Pack Giveaway
One lucky reader will win a $25 Sam's Club gift card to help purchase supplies for their Chex Party Mix-Change get-together and a box of Chex cereal. TO ENTER THE GIVEAWAY PLEASE USE THE RAFFLECOPTER FORM INSTEAD OF LEAVING BLOG COMMENTS HERE. Any comments are welcomed below, but won't count towards the giveaway. Only entries using the Rafflecopter form will be eligible for prize. Thank you!
[field name= iframe]
"Disclosure: The Sam's Club gift card, information, and giveaway have been provided by Sam's Club, Chex Party Mix and General Mills through MyBlogSpark."