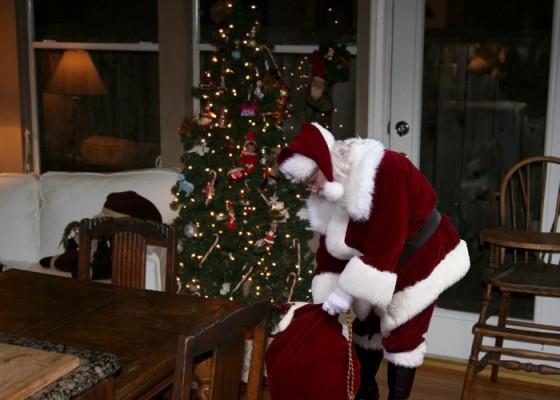 There comes a time when every child starts to wonder about the existence of Santa Claus. To put the questions to rest and keep the magic going,  head to iCaughtSanta.com!  Imagine the look of wonder and surprise when a child receives a photo of Santa caught in the act in his or her very own home. iCaughtSanta.com is a unique website that helps visitors create those memorable keepsake photos for as little as $9.99 (save 50% off…details further down post)!
In three simple steps anyone can upload a holiday photo, add Santa Claus and print it as proof.  All you need to do is take a digital picture of your Christmas tree or maybe your fireplace for your background, save it to your computer, and then upload it to iCaughtSanta.com.  Next, pick one of the many Santa poses available at the site and magically place him into your background photo. Then you can download, email or print your photo, automatically, for quick pickup at a store near you.   Plus you can share it instantly to more than 30 popular web sites like Facebook and Twitter!
Last-minute shoppers can purchase Gift Cards and eGift Certificates for loved ones with children, making iCaughtSanta.com a great gift idea even if you don't have kids yourself.
Save 50% Off Purchase!
Right now you can save 50% off your entire purchase at iCaughtSanta.com when you enter the code SANTA50 at checkout!
 Merry Christmas!
*I'm sharing this info to be eligible to enter a giveaway to win my dream prize…an ipad2, and because the site is really cool too!