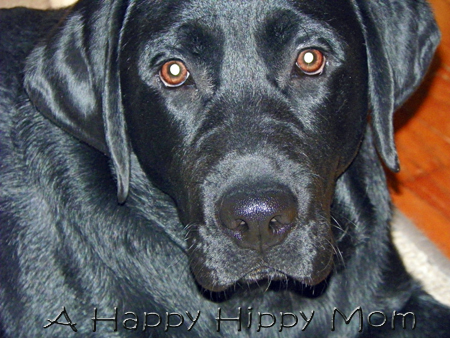 Looking for an inexpensive treat to surprise fido on Christmas?  Try this homemade"Dog Bark" recipe from Betty Crocker!  Just melt carob chips and peanut butter together and then top with your dog's favorite ingredients – bacon and cheese.   Your furry friend will sit up and beg for more! Bow-WOW!
Remember, even though dogs love the smell and taste of chocolate it contains theobromine, a substance extremely toxic for them to eat.  PLEASE NEVER GIVE YOUR DOG CHOCOLATE PRODUCTS! Not even a little bit!  Carob chips are a safe substitute and will satisfy your chocolate loving dog's sweet tooth.
Dog Bark Recipe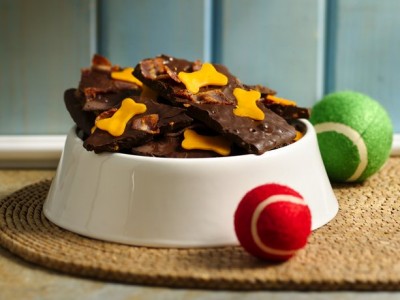 5 slices bacon
2 slices Cheddar cheese (3/4 oz each)
2 cups carob chips
1/2 cup crunchy peanut butter
Directions:

Line cookie sheet with foil. Spray lightly with cooking spray.

In 12-inch skillet, cook bacon over low heat 8 to 10 minutes, turning occasionally, until crisp. Drain on paper towels. Coarsely chop bacon; set aside.

Using 1 1/4-inch small dog bone cookie cutter, cut 15 dog bone shapes out of cheese slices. Set aside.

In medium bowl, microwave carob chips uncovered on High 30 seconds; stir. Microwave 30 seconds longer. Stir in peanut butter.

Spread carob mixture on foil to 1/4-inch thickness, about a 9-inch square. Immediately sprinkle with bacon and cheese; press lightly into carob mixture. Chill until set, about 15 minutes in freezer, or 30 minutes in refrigerator.

Remove from foil; break into 18 pieces. Store in airtight container in refrigerator for 5 days.

Makes 18 servings
 *Recipe and photo provided by Betty Crocker through MyBlogSpark.