Do I have any readers who watch the Dr. Oz show?  If you do, you might recognize the name Deepak Chopra!  Deepak is a world-renowned authority in the field of mind-body healing, an author of  more than sixty-four books, including eighteen New York Times best sellers, and the founder of the Chopra Center for Wellbeing.   You can also catch him on his Wellness Radio show that airs weekly on Sirius/XM Stars, Channels 102 and 155, which focuses on the areas – success, love, sexuality and relationships, well-being, and spirituality.  He is a huge inspiration to many people and has made a guest appearance on Dr. Oz several times.  Not to long ago,  Deepak demonstrated the law of attraction and meditation through a series of helpful videos that really sparked my interest.
Recently, Deepak Chopra collaborated with THQ on a unique groundbreaking interactive experience in a meditation game inspired by the ancient system of "chakras" -the body's seven energy centers through which the life force flows.
THE ROOT CHAKRA
"Muladhara, the root chakra, means "foundation or root" and is located at the base of the spine. Its element is earth and it affects our sense of stability and safety as well as our sense of smell. In this movement, you will help a planet survive and bloom by shifting your hips left and right to rotate the planet."
THE LOWER-BELLY CHAKRA
"Svadhisthana, the sacral chakra, means "self's dwelling place" and is located at the pelvis, just below the navel. The element of the sacral chakra is water and it guides our vitality, sensuality, and potency. This movement enables you to explore the environment and nurture your nest to create new life by twisting your hips to steer left and right."
THE NAVEL CHAKRA
"Manipura, the navel chakra, means "the place of the shining gem" and is located above the navel at the solar plexus. The element of the navel chakra is fire and it affects our ability to realize our desires. In this movement, harness and release your inner energy through your arms to blast through rock, transforming minerals into valuable gems."
THE HEART CHAKRA
"Anahata, the heart chakra, means "the place of openness" and is located at center of the body: the heart. Its element is air and it allows us to give and receive unconditional love. Ride air currents to collect energy and balance the earth and sky by twisting your upper body to the left and right to move. "
THE THROAT CHAKRA
"Vishuddha, the throat chakra, means "pure." It guides our creativity and powers of communication. An open throat chakra allows you to speak the truth and let your voice be heard. Build energy by creating harmonic chain reactions by gently reaching out directly in front of you to trigger the sound waves."
THE THIRD-EYE CHAKRA
"Ajna, the third-eye chakra, means "infinite power" and is located on the forehead, directly between the eyes. Its element is light and it affects insight and our sense of intuition – opening us to guidance and even clairvoyance. Learn the patterns to travel the channel of consciousness by moving your upper body left and right to spin the channel. "
THE CROWN CHAKRA
"The crown chakra, Sahaswara, means a "thousand-petaled lotus flower" and is located above the top of the head. Its element is pure thought which merges us with the infinite and is the seat of all consciousness – here we sense oneness with all. Glide as far as you can by using your arms to steer up and down, left and right."
Leela, much more than a game, utilizes the player's own abilities to help create a healthier, more harmonious and balanced life by teaching how to let go of stress and allowing the player to take a relaxing journey of mind and body via the use of  Kinect for Xbox 360 and Nintendo Wii.  The innovative game takes users through a visually stunning environment while they practice playful yoga-inspired activities, breathing exercises and meditation.  Their journey is set to mood-enhancing, original music and infused with Deepak's famous teachings and philosophies.
 Leela players may even create a personal mandala-"a representative of the unconscious self and focal point for meditation" and share it on Facebook with all their friends!
[field name =iframe]
Game Play
I received Deepak Chopra's Leela made for Wii to review and have been playing it for a few days.   The game has two main modes, Play and Reflect.  In the Play mode you engage with Leela through the use of
Movements: Seven games, each linked to a Chakra that engage your body, mind and spirit. Each movement has a series of seven levels, and you can unlock each one by completing the previous level.  The movements can be played in any order and unlock when you have completed the 4th level in every other movement.
1. Origin-Help a planet thrive and bloom by tilting the control pad left and right.
2. Life- Explore the world and nurture your nest to create new life by holding the Wii remote horizontally and steering your creature left and right with tilting motions.
3. Power-Create and launch powerful fireballs to mine and refine rocks into gems.  You do this by pressing the A Button to build energy, aiming the remote, and releasing the button to unleash your fireball.
4. Love- Ride air currents to collect energy and balance the earth and sky. Once again this is done by using the Wii Remote and control pad.
5. Harmony- Build energy by creating harmonic chain reactions by swinging the remote to activate the ring.
6. Intuition- Learn the patterns to travel the channel of consciousness by tilting the remote left and right to rotate the channel.
7. Unity- Glide as far as you can, passing through gates, until your energy runs out.  This is accomplished by holding the remote horizontally, tilting it left and right, forward and backward, to steer your avatar.
Sequences: A series of movements linked together.  When you complete all of the Movements levels that make up a Sequence, that Sequence becomes available for you to play.
Mandala:  Option to create a personal Mandala icon that appears throughout the Leela experience that is intended to express your  individual  essence and intentions.
The Reflect mode, Leela creates a space for additional still and meditative activities.
In Stillness,  you can engage with traditional meditation practices including:
Guided- Meditations that lead you step by step into mindfulness.
Silent-Sound meditations with a time limit that you set for yourself.
The Reflect Oracle & Ambient
Oracle allows the player to reflect on issues that are important in life.  It shares insights into better living and suggests areas of Leela to explore.
Ambient displays Leela's visuals and relaxing healing sounds.  It is designed to help create a meditative environment or simple background to explore.
Amazing!
I found Leela amazing!  I absolutely love the wonderful music and breathtaking  imagery in the game!  It is perfect for helping to relax and unwind, especially something I need to be able to do during the holidays!  What I like about Leela is there is no winning or losing and you control the game through simple movements at your own desired pace.  Leela is very easy to use and understand.  I recommend the game to anyone who is looking for a way to increase their peace and well-being. However, I wish I had a Kinect sensor for my Xbox 360, because I would like to be able to experience the game without having to use a remote control!
Leela Mandala Facebook App and Creativity Contest!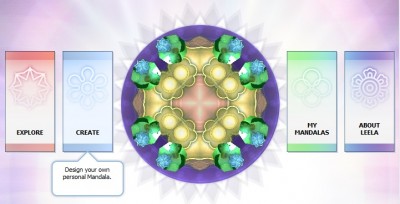 Create and enter your own personal mandala into the official rules and entry guidelines.
Buy It!
Deepak Chopra's Leela can be purchased at Amazon.com for the Nintendo Wii and Xbox 360 Kinect!  The game would make an excellent gift this holiday season!
[field name= iframe1]
Deepak Chopra's Leela Xbox 360 Kinect Game Giveaway!
One lucky reader will win a Deepak Chopra's Leela Xbox 360 Kinect version of the game ($50 value)! TO ENTER THE GIVEAWAY PLEASE USE THE RAFFLECOPTER FORM INSTEAD OF LEAVING BLOG COMMENTS HERE. Any comments are welcomed below, but won't count towards the giveaway. Only entries using the Rafflecopter form will be eligible for prize. Thank you!
[field name= iframe2]