Those who have a preschooler running around in the home almost certainly is very aware  of Disney Junior's  "Jake And The Never Land Pirates."     The animated  show is cable's #1 series for young boys ages 2-5, even though, I do believe most girls absolutely love viewing the show as well.  Since its launch this past February, Disney Junior continues to grow and break all preceding records for Disney Channel's preschool programming with the hit series currently being its most successful preschool show ever.  "Jake And The Never Land Pirates"   is among one of the most co-viewed preschool series, with an estimated 45% of moms watching with their child.
For the moms and dads who haven't seen the show yet, "Jake And The Never Land Pirates"  is a music-filled interactive treasure hunt about a young crew of kid pirates lead by a boy named Jake (voiced by Colin Ford) who is  accompanied by his buddies Izzy, Cubby, and pet parrot pal Skully.  They set sail through muddy swamps and enchanted jungles on their trusty ship, Bucky, looking for lost treasure and solving pirate problems.  Their main two adversaries are the notorious characters Captain Hook and Smee, from Disney's animated classic, Peter Pan, and Tick-Tock the Crocodile.  Captain Hook is always snatching the Kids' treasure and the crew has to use teamwork, problem-solving, and pixie dust to outwit him.   Each task they conquer earns them gold doubloons.  The series features original "pirate rock" music performed by Sharky and Bones of The Never Land Pirate Band.
Holiday Special "It's A Winter Never Land" Coming Friday, December 2!
Tune in Friday, December 2 (8:30-9:00 a.m., ET/PT) on Disney Channel for the holiday premier of "Jake and The Never Land Pirates," titled It's A Winter Never Land!  In this special episode Hook On Ice, Jake, Izzy and Cubby awake to find that Peter Pan has left the crew some presents and a tree to celebrate Winter Treasure Day, and Captain Hook invites the crew on a winter treasure hunt.  I received a sneak peek of the upcoming episode and have an exclusive short clip to share with you. Check it out!
[field name= iframe]
What's Next?
Following the December  holiday episode, in January the debut of the first-ever 45 minute series special and season two of the series will be released!
24-hour Disney Junior Channel Will Launch In Early 2012!
It's not always easy to find quality educational shows throughout the day, especially during those later afternoon/early evening hours when us moms are trying to make dinner and unwind from the day.  Well Disney Junior is listening to the needs of thousands of parents who have children ages 2 through 7  and as a result is launching a brand new standalone 24 hour Disney Junior channel in early 2012! I can't wait!  Thank you Disney! (The current Disney Junior programming block, which launched in February 2011 on Disney Channel, airs weekdays from 4:00 a.m. – 2:00 p.m., ET/PT and weekends from 4:00-9:00 a.m., ET?PT.)
About Disney Junior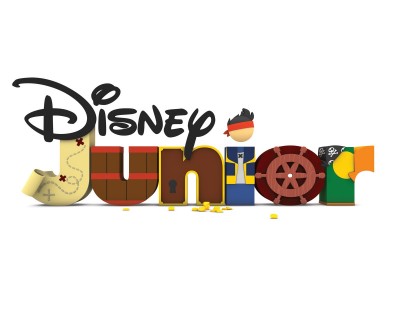 "Disney Junior reflects the emotional connection generations of consumers have to Disney, exemplified by programming that blends Disney's unparalleled ability to make you feel something in your heart through its timeless storytelling and beloved characters, both classic and contemporary. The multiplatform brand also includes specific learning components, such as early math and language skills, as well as healthy eating and lifestyles, with an emphasis on social and emotional development."
My Thoughts About "Jake And The Never Land Pirates."
Educational shows that continue to keep my four year old engaged are incredibly difficult to find.  He unquestionably really loves watching "Jake And The Never Land Pirates."  The series educates children about important challenges including working together, friendship, problem solving,  and mathematics in an entertaining way.  I'm able to feel great allowing him to watch the episodes while  I'm accomplishing hectic work around my home.  I never need to be concerned if their will be anything improper that displays on the television that 4 year old eyes and ears shouldn't be permitted to see.  The music, animated graphics, and fun characters are welcomed in my home!  To learn more about Disney Junior and "Jake And The Never Land Pirates," visit  www.DisneyJunior.com.
Cool Jake And The Never Land Pirates Products Great For Christmas!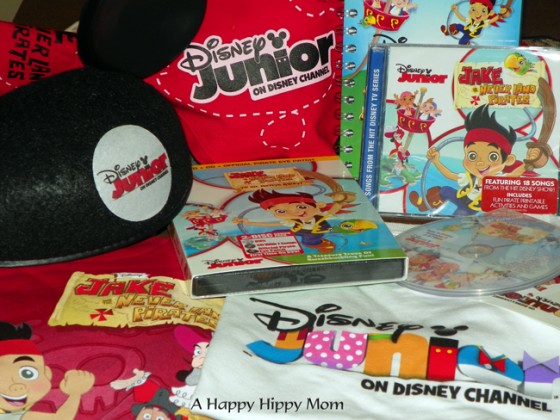 My son received an awesome swag bag filled with some Disney Junior and Jake And The Never Land Pirates products.  He loved the eye patch that was included in the Jake & The Never Land Pirates: Season 1 DVD+ CD package and watched the episodes as he dressed up like a pirate!  Now he is going about saying "Yo Ho, let's go!" when he wants me to get up and do something.  Too cute!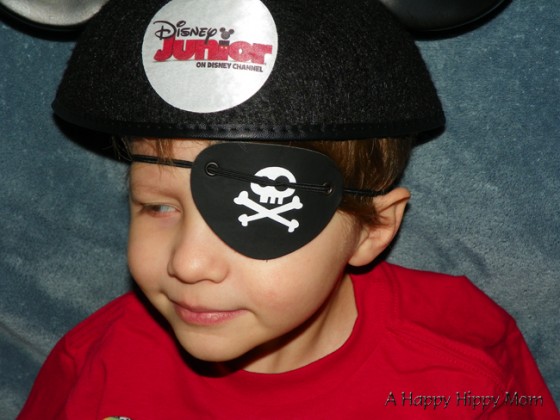 This holiday season treat your preschooler to a "treasure trove of swashbuckling fun" with Jake & The Never Land Pirates: Season 1 V.1
and Jake & The Never Land Pirates Soundtrack
!  Both items would make fantastic stocking stuffers!
"FTC Disclosure:  My son received a cool Disney swag bag filled with Jake And The Never Land Pirates products for me sharing this information.  However,  opinions and comments are of my own.  All information and Disney Jr. photos credited to Disney."