Back in 1992 when I got married,  wedding bands were basically all the same.  You could choose from a boring traditional gold, silver, or platinum band and possibly add a bit of bling with some diamonds.  The band was a symbol of love, unity, and the forever commitment to a relationship.  The marriage was set to last for a lifetime and the ring was also suppose too.  To bad the band was impractical for a hard working man and would scratch, dent, and have to be replaced.  During  the years of marriage to my husband, I have had to replace his ring three times.  The last time the soft gold ring had to be cut off, because he had smashed his finger at work while moving heavy machinery and the band bent into it.
Now 19 years later, rings have come a long way!    There are many different styles of wedding rings to select from, and couples have the option to either choose complementing sets or  bands much more trendy, stylish, and practical to match their personality as well as lifestyle.   For instance, Titanium Buzz , a unique wedding ring shop established in 2005 by Kevin Begola of Linden,MI, specializes in creating rings you most likely didn't assume existed and quite often  are not able to be obtained in local jewelry stores.  The trusted business provides the latest alternative metal wedding rings and offers titanium rings, black zirconium rings, damascus steel rings, carbon fiber rings, tungsten carbide rings, camo wedding rings, and other various designs and styles. The rings are fabulous and made to order!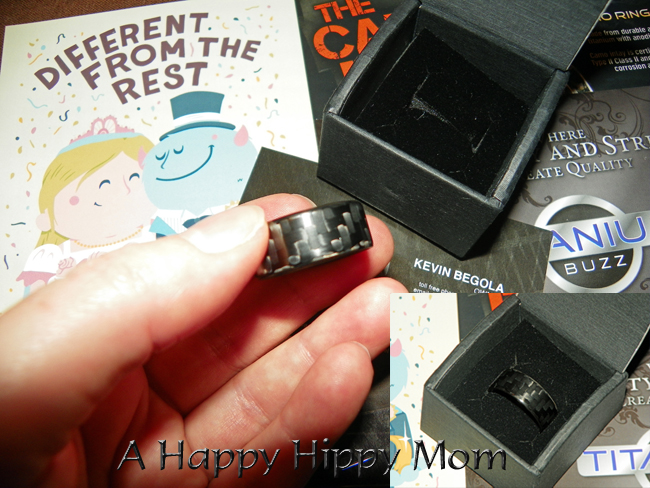 In all honesty, I've never seen anything at all like the wedding  rings offered by Titanium-Buzz.com!  There are actually bands for hunters, outdoor enthusiasts,  car lovers, and more!  I ordered (courtesy of  Titanium-Buzz) my better half a black carbon fiber wedding band.  The ring is utterly stunning and manufactured by hand out of 100% carbon fiber!  It is constructed from precisely the same material which is used to build Formula 1 racing cars.  This makes the wedding band incredibly light in weight and three times lighter than titanium and two times as hard.  The wedding ring features a glossy lustrous finish and is also post-cured to strengthen the epoxy,  to ensure that it resists scuffing and can last nicely over time.  As soon as the sun light hits the ring…it dazzles!  Being my husband is consistently doing work around heavy equipment and adores autos…this ring matches him beautifully!  If your partner is car savvy, trendy, and likes the feel of a weightless ring, this is the wedding band for him!
This Christmas season why don't you astonish the one you love with a breathtaking ring that reflects their persona?  Titanium-Buzz.com supplies the finest, cool,  and modern wedding bands,  which are not only exceptional, but additionally very affordable!
STAY CONNECTED WITH Titanium-Buzz
Follow Titanium-Buzz on Twitter
Like the Titanium-Buzz Facebook page
Sign up to receive the Titanium-Buzz.com  newsletter!
Titanium-Buzz Wedding Ring Giveaway!
Our wonderful friends at Titanium-Buzz would like to give a reader a gorgeous ring to help make this holiday season a bit more special!  The lucky reader will be able to choose their prize from the following styles below.
Titanium ring with hammered finish (arv $100)
Flat Titanium Ring with Three Stripes (arv $100)
Carbon Fiber Ring Narrow Endurance Finish (matte) (arv $120)
Black Carbon Ring (arv $125)
TO ENTER THE GIVEAWAY PLEASE USE THE RAFFLECOPTER FORM INSTEAD OF LEAVING BLOG COMMENTS HERE. Any comments are welcomed below, but won't count towards the giveaway. Only entries using the Rafflecopter form will be eligible for prize. Thank you!
[field name= iframe]