Cleaning dishes seriously isn't among my personal favorite things to do.  On the other hand, I detest a kitchen sink filled with filthy plates and glasses and find myself washing dishes at the very least  three times daily.  Somebody has to do it and it is typically me!  I know countless different ways I'd rather devote my time.  Therefore, if I must do the job I would like to ensure that my minutes at the sink are as pleasant as is possible.  Moreover, I want to be certain I'm working with effective products without harmful chemicals, considering that my hands will be exposed to the soap for a while and we put the eating utensils and cups in our mouths.
I'm confident most of us can agree with the fact the power of scent is remarkable. It can have beneficial effects on your mood, reduce stress, and perhaps help you sleep better. But don't assume all scents are created equal. Some fragrances are manufactured with harsh artificial ingredients that emit dangerous gases, which can  result in severe headaches and difficulty in breathing.   The very last thing I need is a sink packed with grimy dishes, along with a migraine on top of it,  on account of using a smelly detergent. However, the fruit, floral and herbal ingredients used to produce the scents in Seventh Generation's new natural dish liquid are derived from fields, not factories. The bio-degradable non-toxic formula is made up of only essential oils and botanical extracts, is free of dyes and synthetic fragrances, and is also highly effective in cutting grease. With authentic ingredients like lavender from the fields of Drome in the foothills of the Alps, handpicked clementines from sunny Calabria and lemons from the soils of Sicily, your hand dishwashing experience can be quite an enjoyable one rather than a hazardous mess.
I tried out the  Seventh Generation's  new natural dish liquid in the
Free & Clear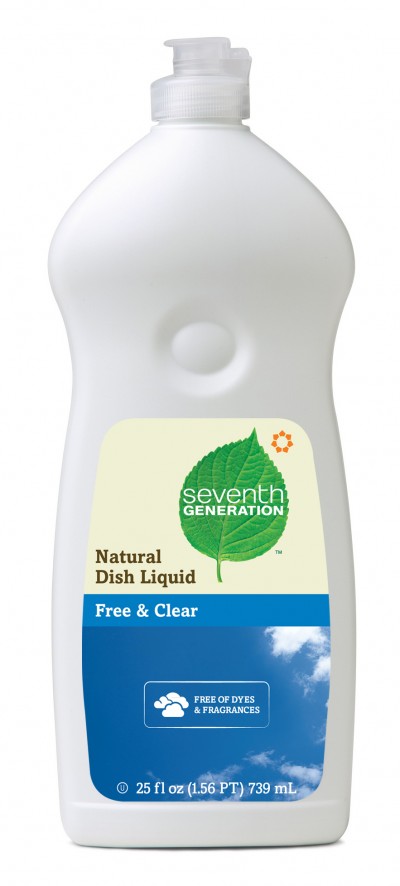 "For those who prefer unscented products, Seventh Generation offers Free & Clear Natural Dish Liquid. Free & Clear does not contain the essential oils we use to fragrance other varieties; but, like our other varieties, is is a non-toxic, hypoallergenic, biodegradable formula that is not tested on animals, contains no animal ingredients, and is delivered in a bottle made form 80-96% post-consumer recycled plastic"
Lavender Floral & Mint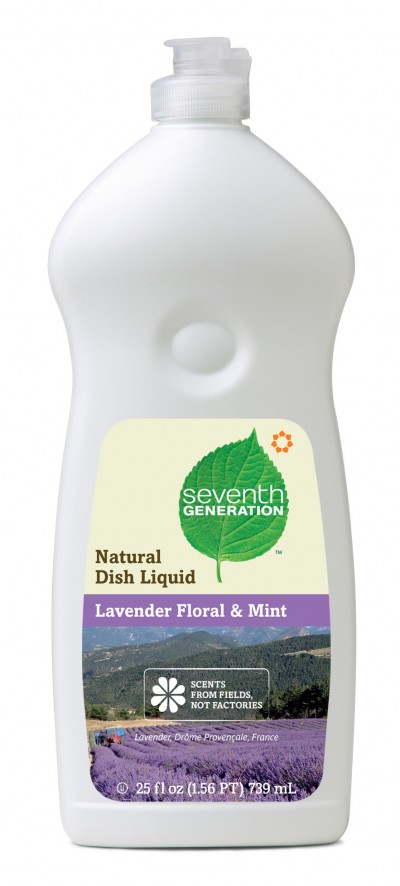 "Lavender: a calming, soothing earth essence Famous the world over for its fields of aromatic lavender bathed in golden light, Drôme Provençale rests high in the sunny foothills of the Alps. Carefully cultivated by local farmers, and warmed by the summer sun, lavender plants bloom between July and August and are harvested when they are at their most fragrant, ripe with essential oils."

Lavender, Drôme Provençale, France
Fresh Citrus & Ginger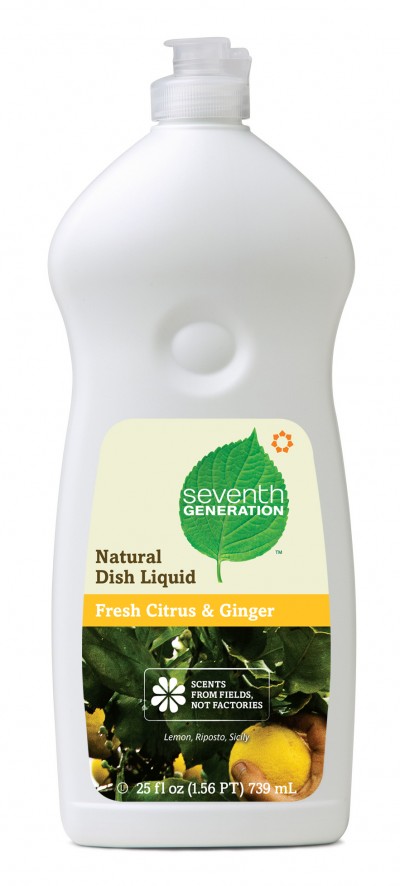 "Lemon: delivering a bright, energetic top note There's a saying in Sicily that lemons are not real lemons unless they're Sicilian. Introduced by Arab traders in the eight and ninth centuries, lemon cultivation is a tradition passed down through generations. Picked by hand to protect the ancient trees, Sicilian lemons are prized for their heady perfume and thrive in the sun-drenched Mediterranean climate."

Lemons, Riposto, Siciily
and Lemongrass & Clementine Zest scents.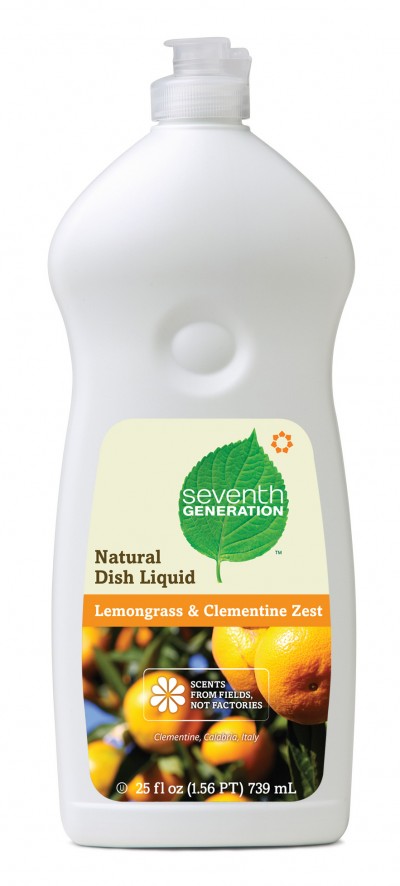 "Clementines: for a touch of sweetness On the Calabrese coast, facing the Ionian Islands, hundreds of Clementine orchards sparkle in the sun. Tradition has it that the highly aromatic fruit is the work of Father Clément Rodier, who combined two mandarin strains at the turn of the 19th century. We harvest this remarkable fruit at its ripest and extract the essential oils from the peel for a fragrance like no other."

Clementines, Calabria, Italy
My personal favorite from the four was the  Fresh Citrus & Ginger.  It smelled fantastic and did wonders on a  Le Creuset baking dish that had been used to cook stuffed salmon with spinach and cheese.  The plant-derived cleaner help dissolve and break up the baked on cheese without the need of me being forced to intensely scrub the dish!  Additionally, a little goes a long way!  A few drops of the soap provides enough lasting bubbles to wash a whole sink's worth of dishes!
 "Nature Makes Perfect Scents" Sweepstakes
Enter the "Nature Makes Perfect Scents" sweepstakes at seventhgeneration.com/scents and you can have the chance to take a trip for two to visit France, Italy, or Vermont – your choice(ARV: $10,000)!   The trip will include: round trip coach class airfare for the Winner and one  guest from the major airport nearest the winner's US residence selected by Sponsor to a destination airport selected by Sponsor that corresponds to the Winner's choice, four nights double occupancy lodging selected by Sponsor, breakfast for each day of the trip, airport transfers (transfers to be provided to/from the airport in the winner's choice destination) Trips in Europe will include a tour of one of the Seventh Generation source farms. The trip to Vermont may include a visit to the Seventh Generation, Inc. offices and time with employees, if Winner chooses to do so. Transporation to/from the Seventh Generation source farm or Seventh Generation offices will also be provided. Trip must be taken sometime between July 15, 2012 – December 15, 2012. Sweepstakes ends December 31, 2011 11:59:59 PM Eastern Time ("ET").  Entrants must be at least 18 or older at time of participation.
Seventh Generation Natural Dish Liquid Prize Pack Giveaway!
A lucky reader will win an AWESOME Seventh Generation Natural Dish Liquid prize pack consisting of:
(4) bottles of Seventh Generation natural dish liquid varieties in Free & Clear, Lavender Floral & Mint, Fresh Citrus & Ginger, and Lemongrass & Clementine Zest scents
Premium 3 Qt. 12" x 9" Baking Dish from Le Creuset
(2) Twist© loofah sponges
(2) Twist© scour pads made from 100% post-recycled materials
Set of 3 organic cotton dish towels
TO ENTER THE GIVEAWAY PLEASE USE THE RAFFLECOPTER FORM INSTEAD OF LEAVING BLOG COMMENTS HERE. Any comments are welcomed below, but won't count towards the giveaway. Only entries using the Rafflecopter form will be eligible for prize. Thank you!
[field name= iframe]
 "Disclosure: The Seventh Generation Natural Dish Liquid prize pack, product and information have been provided by Seventh Generation through MyBlogSpark."