Message from MyBlogSpark
Everyone can use a little pick me up now and then.  But for the millions of military families manning the fort at home while their loved ones are away serving, a gesture of Cheer is especially welcome.

When our troops are called to serve, their families must rise to meet the challenges of service as well. To thank them, Cheerios and the USO have partnered in a postcard campaign that spreads Cheer directly to these honorable military families and supports USO programs. Here's how it works:

During the months of October and November, 2011, specially-marked boxes of Cheerios cereal will feature Cheer postcards on the front of the box. Consumers can simply cut out the postcard from the Cheerios logo, write a message of thanks on the back, add a stamp and mail the pre-addressed card to the USO. The USO will deliver the Cheer card to military families across the country.

For each postcard received through November 2012, Cheerios will make a $1 donation to the USO to help fund programs that support military families.

To kick off the campaign, Cheerios has already donated $150,000 to the USO and will donate up to an additional $100,000 based upon the number of postcards received from specially marked boxes now through November 30th, 2012.

Sending a "Cheer" postcard is a simple way to say thanks and lift the spirits of our country's military families. So, take a moment out of your day to spread some Cheer and send a message of thanks!
My Thoughts!
My son knows one thing…he loves Cheerios!  However, this time around when he was munching on his favorite cereal,  I sat him down and attempted to explain that some moms and daddies are faraway from their own families throughout Christmas time and have jobs to do which keeps everyone safe.  He's only four and I doubt he wholly comprehends what I was saying, yet it's never to young to educate our children to respect and show gratitude towards the military families and soldiers.  They truly do sacrifice a great deal to defend the Nation and this time of the year is often particularly difficult for the military families, as it is a reminder of the lonesomeness that comes along with the duty.
A little bit of  kindness goes a long way!  Please consider two minutes from your holiday agenda and cut the pre-addressed postcard out of the specially marked box of  Cheerios , write a quick thank you, place a stamp on it, and mail the card!  Your  simple, personal gesture of appreciation will  help lift the spirits of America's troops and their families, plus raise money to support the USO to help fund programs for military families.
Cheerios Cheer Prize Pack Giveaway!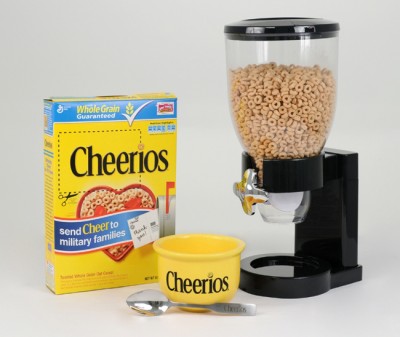 Enter for the chance to win a Cheerios prize pack containing:
1 Cheerios cereal bowl
1 Cheerios cereal spoon
1 cereal dispenser
1 "Cheer" box of Cheerios
 TO ENTER THE GIVEAWAY PLEASE USE THE RAFFLECOPTER FORM INSTEAD OF LEAVING BLOG COMMENTS HERE. Any comments are welcomed below, but won't count towards the giveaway. Only entries using the Rafflecopter form will be eligible for prize. Thank you!
[field name= iframe]
"Disclosure: Cheerios cereal, information, and giveaway have been provided by General Mills through MyBlogSpark."