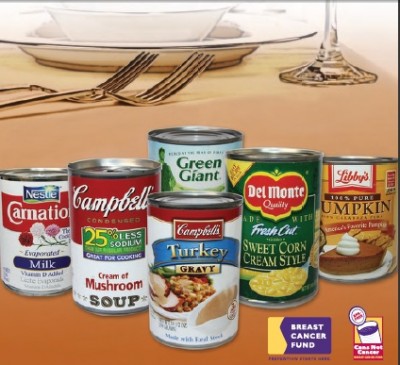 The Breast Cancer Fund wanted to know how much BPA may be in a typical Thanksgiving meal, so the organization tested canned foods used to make popular Thanksgiving dishes, such as turkey gravy,  creamed corn,  cranberry sauce, pumpkin and evaporated milk (for pie), and green beans and cream of mushroom soup (for green bean casserole).
[field name= iframe]
I understand this is actually the very last thing the majority of us desire to worry about throughout the holidays!  However,  it is safer to be informed,  so we can make good healthy  purchasing decisions this holiday season for our families.  I wanted to make you aware of  the findings,  in hopes those preparing Thanksgiving dinner can seek healthier alternatives to canned foods.  I believe the more consumers become aware of BPA in canned foods, the more likely it places the pressure on manufacturers to finally decide to take the nasty chemical out of cans.
The Breast Cancer Fund sent 28 canned food items – four cans of each product tested – to Anresco Laboratories, an independent testing laboratory in San Francisco.  The products tested were Campbell's Cream of Mushroom Soup, Campbell's Turkey Gravy, Carnation Evaporated Milk (by Nestle), Del Monte Fresh Cut Sweet Corn (Cream Style), Green Giant Cut Green Beans (by General Mills), Libby's Pumpkin (by Nestle), and Ocean Spray Jellied Cranberry Sauce.  The testing exposed tremendous variation among cans of the identical product produced by the same company, which happens to be consistent with other product testing information.  The report showed single servings of almost half of the products tested had levels of BPA comparable to levels that laboratory studies have linked to adverse health effects. For instance,  "BPA levels in Del Monte creamed corn ranged from non-detectable to 221 parts per billion, and levels in Campbell's Turkey Gravy ranged from 5 to 125 ppb."  According to scientists at the Breast Cancer Fund, these inconsistencies might be explained by variations in the canning processes across facilities and batches, as well as storage and transportation conditions.
The good news is testing detected no BPA in any of the four cans of Ocean Spray Cranberry Sauce, which I happen to love and use almost every Thanksgiving!   The company has stated that while it does use BPA in its cans, independent tests also indicate no leaching of BPA into the food. Never the less, I wish Ocean Spray would cease using containers with BPA to be safe.
As part of the Breast Cancer Fund's Cans Not Cancer initiative, consumers have sent in excess of 50,000 letters to canned food companies encouraging them to get BPA out of canned foods and replaced with a safer alternative, and several are starting to take notice. Quite a few companies which include a number of the can manufacturers featured in this report, such as General Mills and Nestle, have declared that they're working toward alternate options to BPA in canned foods. On the other hand, not all of the companies are revealing the substitute they are exploring. It is very important that manufacturers are clear about these other possibilities and ensure they are safe.
Eleven states have banned BPA from baby bottles and sippy cups, and three of those states in addition have prohibited it from infant formula and baby food. My query is if they are willing to ban the chemical from baby products and foods, why aren't they completely prohibiting the utilization in all food products? It seem sensible that when a mother who is breastfeeding a baby consumes BPA in canned foods she will most likely pass it by means of her breast milk to the infant.  Just food for thought!
For more information on the report about BPA in canned foods and for easy recipes for a can-free Thanksgiving meal, please visit www.breastcancerfund.org/thanksgiving.