Last year around this time, I was selected as a  brand ambassador for Hickory Farms and had the privilege of helping to spread the word about the wonderful wide selection of signature sausages and savory cheeses in beautifully packaged boxes and baskets the company had to offer.  Well I'm back again this holiday season to give you a quick reminder of the delicious food gifts Hickory Farms has available.  Hickory Farms is pleased to share some of its most popular offerings, all featuring the tasty new Farmhouse Cheddar Cheese and Signature Beef Summer Sausage, a recent American Masters of Taste Gold Medal winner.
Free shipping to APO/FPO military addresses

This collection of classics includes both beef and turkey Summer Sausages, as well as Hickory Farms' new, smooth and creamy Farmhouse Cheddar.
Free shipping to APO/FPO military addresses

As favorite for over half a century, this classic gift features Our Signature Beef Summer Sausage complemented by our new Farmhouse Cheddar, Smoked Gouda and Smoked Cheddar Cheeses.
Supports Share Our Strength's No Kid Hungry Campaign

This gift is a flavorful array of our savory Summer Sausage and smooth and creamy cheeses with all the trimmings. With every one sold this year, we will donate $5 to Share Our Strength's No Kid Hungry Campaign.
HOME FOR THE HOLIDAYS GIFT BOX, $55

Free shipping to APO/FPO military addresses

Enjoy the favorite gift sent to loved ones serving overseas, featuring the award winning flavor of Our Signature Beef Summer Sausage and Italian Recipe Summer Sausages. The combination pairs perfectly with our deliciously creamy cheeses, Sweet Hot and Honey Pineapple Mustards and savory crackers.
The fresh fruit lover will adore the Orchard's Bounty Basket filled with hand packed-to-order assortment of Fuji Apples, Mandarin Oranges, luscious Red D'Anjou and Crown Comice® Pears. Includes Our Signature Beef Summer Sausage, Farmhouse Cheddar and roasted mix nuts in a keepsake Peterboro® Basket.
THE TRADITION OF GIVING BACK
Once again this holiday season, Hickory Farms is carrying on the tradition of  giving back through its partnership with Share Our Strength, a leading national not-for-profit organization working to end childhood hunger in North America.  When customers purchase a Party Planner gift box, Hickory Farms will contribute $5 to Share Our Strength's No Kid Hungry Campaign. Customers will also have the option of including a $1 donation to the campaign with their purchase at a Hickory Farms store or at hickoryfarms.com.  The program has already generated more than $1.1M in contributions to Share Our Strength since 2008 and the company is expecting to donate an additional $700,000 this coming holiday season!  Additionally, Hickory Farms is a strong supporter of the U.S. Armed Forces serving across the globe and offers free shipping ALL YEAR LONG on select products to military addresses to ensure that families can send loved ones delicious food gifts and a taste of home throughout the year.
Hickory Farms A Cherished Holiday Tradition
Was Hickory Farms a part of your holiday traditions growing up?  I can always recall having Hickory Farms mouthwatering sausages and cheeses in our home throughout the holiday season while  I was a kid.  My parents use to bring us children to the nearby mall and we would enjoy visiting the Hickory Farms store to taste the different goodies that had been set out for the shoppers.  My personal favorite items to sample were the sesame sticks and cheese balls!   We would ALWAYS purchase a cheese ball, beef summer sausage stick, and sesame sticks to take home with us.  My mom would put together a platter with all the Hickory Farms treats and serve them to us on the evening we would decorate the tree. LOVED IT!  Now, I have carried on the tradition and do the exact same with my children.
The neat thing about Hickory Farms is the sausage tastes precisely the same now as it did a long time ago when I was a child.  I don't believe that the company has ever altered the recipe ingredients?  On the other hand, I noticed I can't seem to find the sesame sticks they use to sell  during my childhood and assume they must have discontinued them.  I'm hoping they sooner or later bring that product back again, since it was my favorite item to nibble on during the holidays.
I Was Sent The Home for the Holidays Gift Box!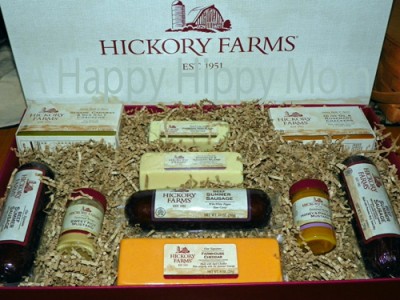 Hickory Farms,  via Mom Central, sent my family a beautiful Home for the Holidays Gift Box loaded with goodies including:
-Sesame, Caraway & Sea Salt Crackers 1.5 oz.
-Parmesan Herb Blend 4 oz
-Olive Oil & Rosemary Crackers 1.5oz
-Cheddar Havarti Blend 7 oz
-2 Signature Beef Summer Sausage 10 oz
-Sweet Hot Mustard 2.5 oz.
-Italian Recipe Beef Summer Sausage 10 oz.
-Honey & Pineapple Mustard 2.5 oz
-Farmhouse Cheddar 8 oz
As much as I wanted to dig into all the scrumptious goodies, I'm saving the items to serve to my family on the night we decorate the Christmas tree.  Knowing what they already taste like,  my favorite way to prepare the items is to slice the summer sausage extremely thin and serve it with a dash of hot mustard and cheese on a Olive Oil & Rosemary Cracker!  Yummy, it's making my mouth water just thinking about it!
What is your favorite Hickory Farms combination?
 About Hickory Farms
When Hickory Farms was founded in 1951 in the pastoral farm country of Ohio, the products quickly became a hallmark gift for those who appreciate rich and savory foods. For the past 60 years, Hickory Farms' commitment to personalized service and the legendary quality of its products have kept the company popular on gift lists everywhere.

Hickory Farms brings the best of Midwest values and unwavering quality to consumers in North America and the U.S. Armed Forces all over the world. Customers can find Hickory Farms' award winning sausage, cheese and other specialty items at 750+ Hickory Farms holiday stores, online at hickoryfarms.com, in catalogs, and at leading retailers throughout the holiday season.

Long time a trusted expert in holiday food gifts, Hickory Farms' is among the very top brands considered by shoppers when buying for their friends and family. This year, their perfectly matched gifts feature award-winning products as well as a new delivery program to make sure shoppers and recipients alike experience the Best Hickory Farms Ever. Hickory Farms will also be available in even more locations this year as the company adds 25 new locations, including its first ever corporate presence in Manhattan and a new location on the famed Market Street of San Francisco.

Committed to delivering the finest quality products with the freshest ingredients, all Hickory Farms gifts are hand packed and guaranteed to arrive in 3 business days or less at a flat rate of only $3 all season long.
"I wrote this review while participating in a campaign by Mom Central Consulting on behalf of Hickory Farms and received a product sample to facilitate my review."