Are you prepared for this?  There's ONLY 33 gift giving days till Christmas!  Having said that, there's no need to get your holiday stockings in a panic, because Santa's Hideout has you covered!  If you're not familiar with Santa's Hideout, it's a website launched by Conde Nast that is a safe, fun and FREE solution to make holiday gifting magical for the entire family!
The gift-giving service provides a modern take on the timeless tradition and takes the guess work out of giving gifts by allowing children to  securely make their lists for "Santa," parents, and friends.   Then family members can shop plus share from these lists  by means of email, Facebook, Twitter, Google+ or Tumblr. In addition, parents can monitor purchases in order to avoid duplicate presents, establish a spending budget and quantity limit, as well as adding or removing items from the list. Simply, the website is a one-stop magical environment which gives parents the complete control over the gift giving!  Plus, there is even a cool feature to have the ability to send special messages of encouragement from the big red guy himself!   Here's a video explaining Santa's Hideout in much more detail.
[field name= iframe]
Here Is How It Works!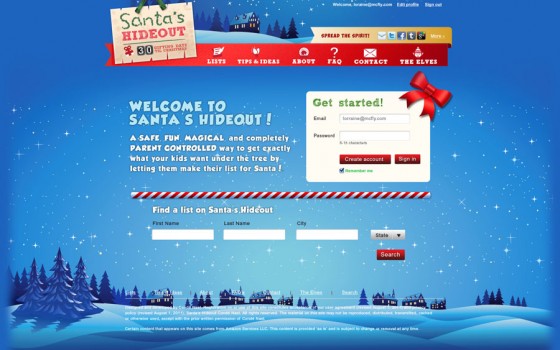 Step 1: In just a few simple steps, parents can create a private, password-protected account and set up individual lists for each child to fill. Lists can be controlled and customized by setting parameters that include gender, number of gifts, price range, types of gifts, quantity and more. Group lists can also be created for those gifts the whole household might share.

Step 2: Under the guise of Santa, parents can send an email to their kids inviting them to add items to their personalized holiday wish list, or the family can walk through the process together.

Step 3: The child can respond by adding gifts, using a fun, easy-to-use drag and drop interface, and parents are alerted when updates have been made to a list. That's it―set-up is complete!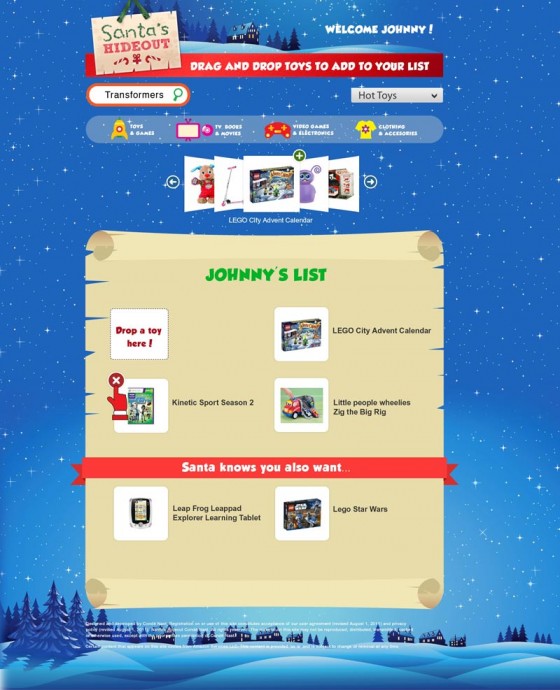 Key Features:
Gift requests can be reserved for "Santa only" while others can be sent to family and friends via email and social media.
Once purchased or reserved, the parent's view of the child's list is automatically updated, and if a reserved item hasn't been purchased within 48 hours, a gentle reminder email from "Santa" is sent.
"Santa's Desk" is a tool that allows parents to trigger email messages to their children from "Santa," encouraging them to share, do well in school, use kind words, be helpers at home or customize their own message.
Mom's secret weapon this holiday season!
I tested out Santa's Hideout and have a feeling it is going to be  mom's secret weapon this holiday season!  I easily registered a free account within minutes and constructed two lists for each of my children with a price limit per item and quantity of how many gifts they could add to their list.  Next an email message is sent to each child alerting them to come complete their Christmas wish list to let Santa know what they would like to see under the tree.  The kids than simply scroll through categories such as books, electronics, toys and games, and much much more!  When they see an item they like they just drag and drop it to their list.  Here is a sneak peek at my son's Christmas list.
As you can see from his list above, deleting an item or adding it to Santa's Sleigh can be accomplished with a quick click!  This allows you to easily change the list to avoid duplicates or  eliminate items that might go over your budget.  PLUS, what is really fantastic is  if you are on the go Santa's Hideout Lists are optimized for mobile, so you can easily take it to the store!
Furthermore, Santa's Hideout also provides parents with holiday tips and ideas on decorating, baking and crafts, along with an assortment of helpful gift guides to make Christmas more fun and less of a hassle.
With the holidays being extremely hectic it is sometimes difficult to be able to remember what everyone would like and the communication with relatives can be challenging.  Santa's Hideout is a great way to end the confusion and keep the entire gift giving in one safe place for the entire family.  Not to mention it is completely FREE, meaning you have nothing to lose and your sanity to gain!  Check it out!
Stay Connected!
Follow on Twitter – @SantasHideout
Like Santa's Hideout on FB – Santa's Hideout
Blog Santa's Hideout on Tumblr – SantasHideout.tumblr.com
and Santa's Hideout us on Google + – Santas Hideout
FTC Disclosure: "This post is in association with our friends at Santa's Hideout."