If you have a child who is a picky eater,  you probably know how challenging dinnertime can be.  My preschooler is definitely the king of fussy eaters and simply likes to eat six foods,  with pizza and pasta being his ultimate favorites.  He is so finicky that when he is famished and I feed him anything he does not recognize.. .he would rather starve than eat it.  This doesn't leave a great deal of room for creativity for me at dinnertime and I typically need to make two different meals to satisfy him and the rest of the family.  Moreover, I must ensure that the meals I make  not just taste terrific, but are nutritious as well!
However, on pasta night everyone is happy and cooking is as easy as whipping up a batch of all natural Barilla Whole Grain Pasta!  Unlike traditional white pasta, Barilla Whole Grain pasta is made with 51 percent whole wheat,  has three times the fiber of regular pasta, and tastes fantastic.  Each 2 ounce serving delivers 6 grams of fiber and 7 grams of protein!  Splash the pasta with a bit of sauce, add a handful of vegetables, sprinkle with a dash of cheese, and you have a tasty and healthful meal the entire family will love!
What I adore about Barilla Whole Grain Pasta essentially the most,  is though it may be an excellent source of fiber and the main ingredient is whole durum wheat flour, the pasta carries a pleasing flavor plus texture comparable to traditional white – flour pasta.  Other whole grain pasta brands can be awful, having a chewy consistency and cardboard taste.  Barilla makes switching from a white pasta,  which most Americans are use to,  to a heart healthy whole grain pasta that is packed with nutrients much simpler!   Even kids,  such as my picky son,  will find  the pasta to be delicious!
Barilla Whole Grain Pasta comes in six fun shapes, including  Whole Grain Linguine, Whole Grain Medium Shells, Whole Grain Penne, Whole Grain Rotini, Whole Grain Spaghetti, and Whole Grain Thin Spaghetti!
Barilla Dinner Kit
Need a healthy whole grain  recipe?  Try out Barilla's Whole Grain Dinner Kit!  The company has tools that make it easy to put healthy and extraordinary meals on your table!  Search for recipes that are kid friendly, quick and easy, and take under 30 minutes to prepare!  Or find a recipe for a special occasion using a particular pasta shape!  All this and more can be found using the Dinner Kit!
I decided to try to make the Barilla Whole Grain Medium Shells with Roasted Cauliflower and Cherry Tomatoes!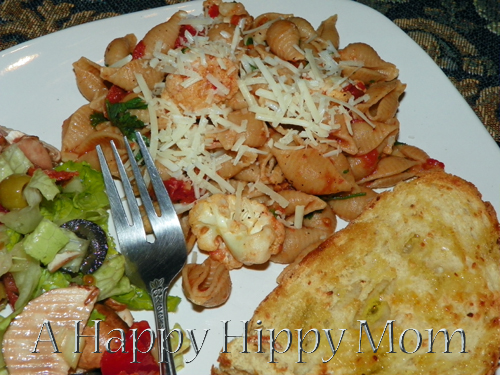 Ingredients
1 BOX Barilla Whole Grain Medium Shells
2 TABLESPOONS Olive Oil
1 CLOVE Garlic, Chopped
1 CUP Cauliflower Florets
1 PINT Cherry Tomato, Halved
1/2 CUP White Wine
1/2 CUP Parmigiano Reggiano Cheese, Freshly Grated
1 TABLESPOON Fresh Parsley, Chopped
TO TASTE Salt
TO TASTE Black Pepper, Freshly Ground
Cooking Instructions
BRING a large pot of salted water to boil.
SAUTÉ garlic in olive oil in a large skillet until garlic turns slightly yellow.
ADD cauliflower florets to the skillet and brown well.
ADD cherry tomatoes and sauté for 5 additional minutes.
Meanwhile, COOK Whole Grain Medium Shells according to package cooking time.
ADD white wine to the skillet and continue cooking until the liquid is reduced by ¾.
DRAIN pasta, reserving 1 cup of the cooking liquid. Add pasta and liquid to the skillet and toss well. Continue cooking until the sauce has thickened.
SEASON with salt and pepper. Top with grated cheese and fresh parsley.
This pasta dish is extremely mild.   I had to add a few dashes of Tabasco sauce to give it a little zing.   I wouldn't recommend trying to serve it to very young children and believe it is more appealing to a mature palette.  My son noticed the cauliflower florets and green parsley as soon as I sat the plate in front of him. He immediately turned his nose up at it and I had to make a separate dish of just plain buttered whole grain noodles with cheese.
I paired the Barilla Whole Grain Medium Shells with Roasted Cauliflower and Cherry Tomatoes with some toasted garlic grain bread,  drizzled with a bit of Academia Barilla olive oil, and a fresh portobello mushroom side salad.  Oh my goodness was it ever good!  I would make the recipe again for us adults, but with a pinch of more spice and an extra splash or two of wine to give it additional flavor.
Whole Grain Taste & Share Challenge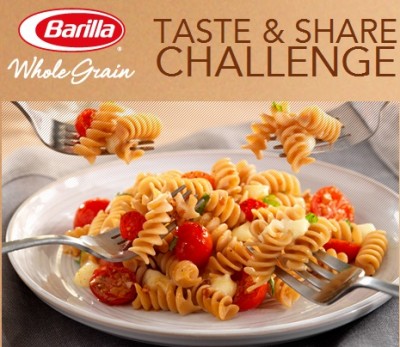 This fall, Barilla has created the Whole Grain Taste & Share Challenge to encourage sharing Barilla's Whole Grain pasta with your family, and to see how they enjoy the flavor while you enjoy the added benefits.   Here is how it works in three easy steps….
Try Barilla Whole Grain, then look for the code on your box or enter the FREE box code 1129.
If you love it, login to Facebook and like Barilla US.   Allow the Taste & Share Challenge app.  Then select two friends with whom you want to share Barilla Whole Grain.
Barilla will reward your friends with a $1 coupon off their next box.  You will also be rewarded with a coupon for $1 off when you buy two boxes.
That's it!  What are you waiting for?  Take the challenge and join the millions of others who have already tried Whole Grain.
Barilla Whole Grain Taste & Share Challenge Kit Giveaway!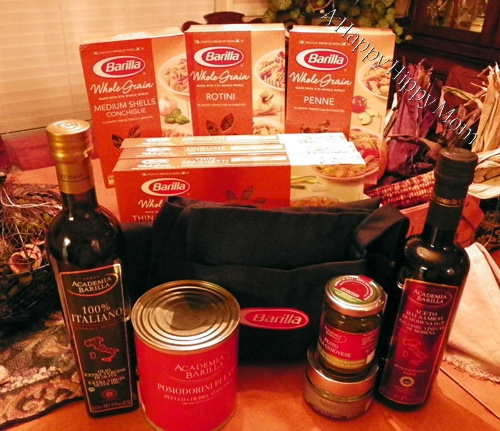 The kind people at Barilla have generously offered to give three lucky A Happy Hippy Mom readers a  Barilla Whole Grain Taste & Share Challenge Kit ($70 value each)!  The prize includes:
Six boxes of Barilla Whole Grain pasta consisting of  Whole Grain Linguine, Whole Grain Medium Shells, Whole Grain Penne, Whole Grain Rotini, Whole Grain Spaghetti, and Whole Grain Thin Spaghetti!  ($7.68)
 Academia Barilla olive oil – 100% Italiano. "Fresh, full olive flavor with well-rounded body." ($13.59)
Pesto Alla Genovese. "A unique non-pasteurized fresh pesto direct from the seaside town of San Remo in Liguria. Made with the freshest basil of the Riviera, top quality extra virgin olive oil, Parmigiano Reggiano and whole pine nuts." ($8.49)
Pomodorini Pelati – Peeled Cherry Tomatoes. "Hand picked from Naples, Italy, an area renowned for their succulent tomatoes, Academia Barilla Peeled Cherry Tomatoes are naturally sun ripened to award an exceptional freshness and expose the brilliant flavor and terrain of the land. These tomatoes are an excellent base for fresh Italian sauces in numerous pasta courses and delicious when accompanying meat, fish and vegetables. Flawlessly selected and innovative, these tomatoes are luscious and authentic." ($4.99)
Sicilian Sea Salt with Italian Black Olives. "Academia Barilla's Natural Sea Salts are hand harvested in Trapani, Sicily, home of the world famous natural reserve saltpans because of the purity of their salt and their ideal protected location away from pollution. Unlike traditional salts, Academia Barilla's Natural Sea Salt contains naturally occurring, healthy minerals and, as a result, boasts lower sodium content, natural iodine and magnesium, which are essential to human health. Academia Barilla's Natural Sea Salts are hand blended using only fresh ingredients, unlike many other salts that contain dehydrated ingredients, which allows for a more intense flavor and freshness to any dish. Due to these attributes and the consistent care and attention through the harvesting, only a small amount is needed to refresh any plate. The harvesting is done with extreme care, so that the salt doesn't become dirty in the process; it is directly packed without any processing and because of this, the product keeps some marine blended moisture. Academia Barilla's Natural Sea Salt with Italian Black Olives is made with only the freshest and most perfumed Italian olives that are hand chopped and typical of the Italian territory. " ($7.79)
Barilla apron (approximate value $16.99)
TO ENTER THE GIVEAWAY PLEASE USE THE RAFFLECOPTER FORM INSTEAD OF LEAVING BLOG COMMENTS HERE. Any comments are welcomed below, but won't count towards the giveaway. Only entries using the Rafflecopter form will be eligible for prize. Thank you!
[field name= iframe]
"I wrote this review while participating in a blog tour by Mom Central Consulting on behalf of Barilla and received a Taste & Share Challenge Kit to facilitate my review, kits to giveaway, and a promotional item to thank me for taking the time to participate."