Following a challenging workout nothing is better to me than a speedy pick me up such as a delicious ice cold smoothie.  On the other hand, I'm already exhausted from all the exercising and the very last thing I desire to do is wash and slice  fruit.  A great alternative to making a smoothie from scratch is to whip up a Yoplait Frozen Yogurt Smoothie.
Yoplait makes it simple to enjoy a tasty smoothie by doing all the work for you!  Available in your grocer's freezer aisle, each package is made up of the correct amount of fresh frozen fruit and measured frozen yogurt pieces to create two refreshing 8 oz  servings.  Just add 1 cup of skim milk to the contents, blend on high-speed 1 to 1 1/2 min's!  In seconds you're soon on your way  having a scrumptious, low-cal frosty treat that not only tastes fantastic, but also has live and active yogurt cultures, plus provides 50% of the recommended daily value of calcium!  Oh and since almost everything is basically measured out for you, cleanup is a cinch too!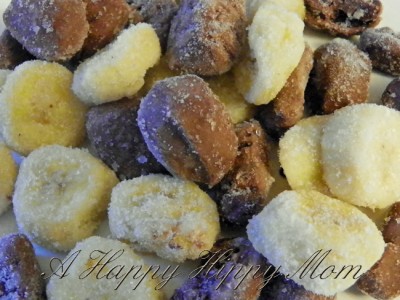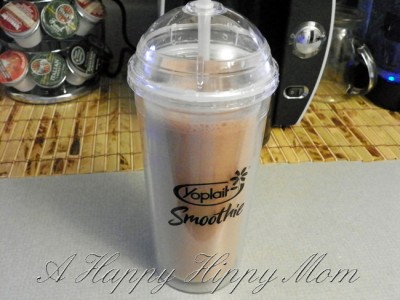 Beginning this September, Yoplait Chocolate Banana Smoothie joins four yummy flavors of Yoplait Frozen Fruit and Yogurt Smoothies: Triple Berry, Strawberry Banana, Blueberry Pomegranate, and Strawberry Mango Pineapple. Yoplait through MyBlogSpark sent me a complimentary coupon to try the brand new flavor and I've got to say it was incredibly good! Without a doubt, I already love the Triple Berry Smoothie, so I'll be including the Yoplait Chocolate Banana flavor to my favorites as well!
Save $1.00!
Visit http://www.myblogspark.com/uc/main/707b to download a printable coupon for $1.00 off one package of Yoplait Chocolate Banana Smoothie!
Yoplait Smoothie Prize Pack Giveaway!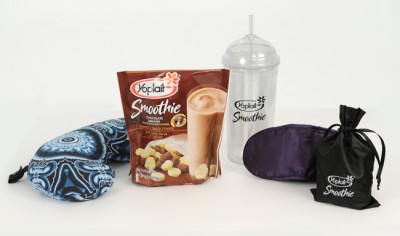 Yoplait would like to give one of my readers a Yoplait Smoothie Prize Pack including…
A VIP coupon for a sample of Yoplait Chocolate Banana Smoothie
Neck pillow
Smoothie tumbler
Lavender eye mask
TO ENTER THE GIVEAWAY PLEASE USE THE RAFFLECOPTER FORM INSTEAD OF LEAVING BLOG COMMENTS HERE. Any comments are welcomed below, but won't count towards the giveaway. Only entries using the Rafflecopter form will be eligible for prize. Thank you!
[field name= iframe]
"Disclosure: The Yoplait VIP Coupon, information, and giveaway have been provided by Yoplait through MyBlogSpark."